courtesy of singtao.com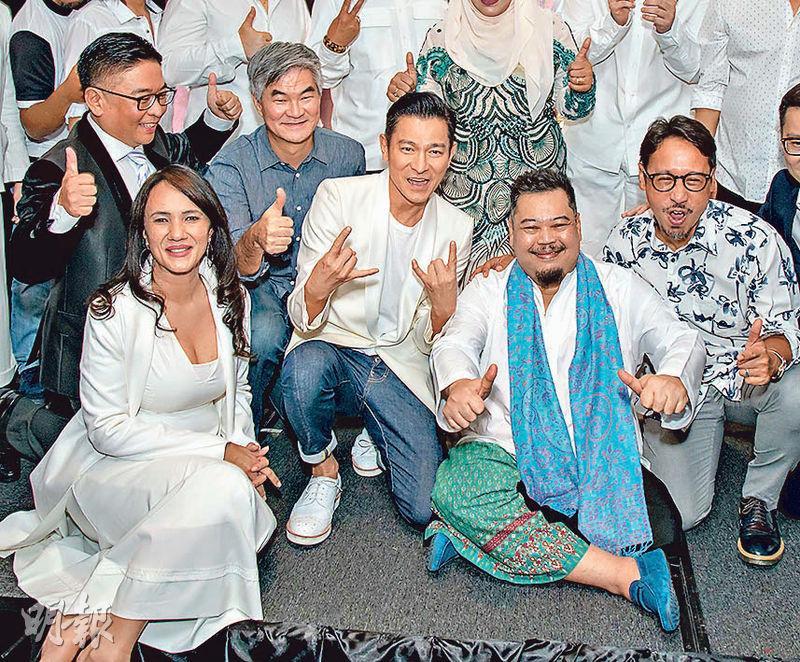 courtesy of mingpao.com
The Malaysian comedy HANTU KAK LIMAH just broke 36 million RM at the box office. One of the Infinitus Entertainment Limited founder Andy Lau Tak Wa two days ago flew to Malaysia for a surprise appearance and took a "family portrait" with the entire cast and team. He also revealed that he would plan to invest in Chinese Malaysian films.
Wa Jai's film company Infinitus participated in the investment and the production as it teamed up with Astro Shaw on the Malaysian flm HANTU KAK LIMAH. Since its release last month it not only topped the box office many times but also exceeded many Hollywood blockbusters' word of mouth and box office in the same period. This crazy comedy was a big hit. As the production and marketing total estimate was under 1.8 million RM but after 24 days in release it mad 36 million RM. With shocking speed it kept setting new film box office records to become the highest grossing domestic film in Malaysia history.
To thank the entire team, the film company earlier held a celebration at a Kuala Lumpur hotel. As one of the behind the scene masterminds, Wa Jai made a surprise appearance in a white suit. During his thank you speech he excitedly screamed 3 times, "Let's work together again!" The celebration included Malaysia Infinitus creators and employees, Wa Jai made a low key appearance as the boss. His brief cheer made the attendees very excited.
At the celebration, when another box office record was announced, Wa Jai stood up and applauded all the workers. He witnessed the joy when the workers received their bonuses. Later he even went to the stage for a lucky drawing. Workers who received presents from Wa Jai screamed "Lucky".
Wa Jai was asked if he would invest in Chinese Malaysian film. He replied with certainty, "Yes!" After this, Heavenly King Lau was even more confident about the Malaysian film market. When asked if he would perform concerts in Malaysia, Wa Jai had reservations and said that was being planned.