courtesy of on.cc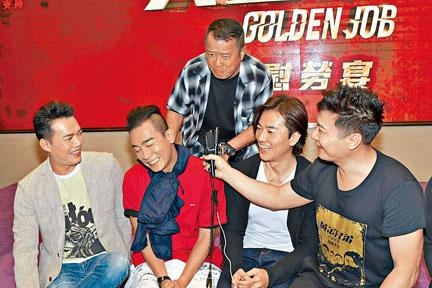 courtesy of singtao.com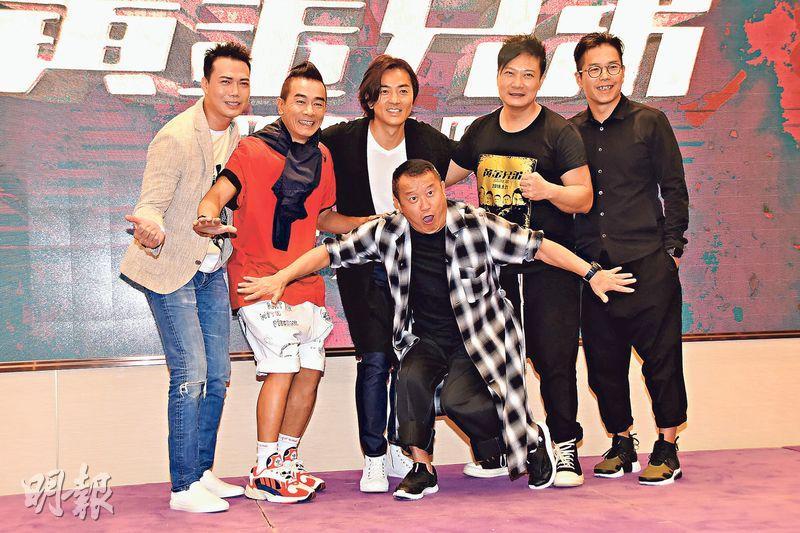 courtesy of mingpao.com
The film GOLDEN JOB (WONG GUM HING DAI) since its opening made over 240 million RMB in Mainland and Hong Kong. Producer Eric Tsang Chi Wai, director Chin Ka Lok, actors Dior Cheng Yi Kin, Jordan Chan Siu Chun, Michael Tse Tin Wa and Jerry Lamb Hiu Fung two nights ago attended a celebration. Charmaine Sheh Sze Man rushed over as soon as she got off the plane and Chi Wai immediately told her to take out money for the lucky drawing. Ah Sheh said that she prepared cash for everyone. Siu Chun was unable to attend the audience appreciation events due to work, the brothers demanded commission and an European vacation. Even Chi Wai joked that Siu Chun had more money than he knew what to do with. Siu Chun asked everyone not to be all about money like this.
The film GOLDEN JOB made over 240 million. Since both Ekin and Lam Hiu Fung celebrated their birthday in September. Two nights ago the celebration brought out cake for them and sang the birthday song. Cheng Yi Kin gave away his jacket to the audience earlier and showed off his muscles. Ekn said that it was not deliberate. Because the viewer spoke from the heart very well, he gave him the jacket. What if another viewer would be even better? He sad, "First I didn't deliberately take off my clothes, but I really was very happy because the audience spoke too well!"
Speaking of Siu Chun being unable to attend audience appreciation events due to work, he stressed that he was not just money hungry. He was busy with song rehearsals for his November concert. Would he invite the brothers to be his guess? He said, "No chance, now I am working on the schedule to see how to stuff them in!" Ekin pretended to be angry and said, "He wants to 'stuff' us in!" Siu Chun explained, "'Stuff' doesn't mean anything bad, just that everyone have different managers and everyone is very busy."
How would he thank the brothers for going to thank the audience? Ekin suggested for Siu Chun to strip, Chin Ka Lok wanted to take a commission. Siu Chun asked everyone not to make it all about money. Some suggested for Siu Chun to take the brothers on an European vacation. Everyone asked producer Tsang Chi Wai for his opinion. Chi Wai said, "For Siu Chun, he has so much money he doesn't know how to spend it." He even imitated what Siu Chun's son Jasper said to Siu Chun. "Don't angry!" Siu Chun helplessly replied, "What does the Euro trip have to do with me?"
Tsang Chi Wai said about the box office success, "I am very happy, not because how much it made at the box office but because the box office grew everyday. It represents good word of mouth, word of mouth beats everything. I also thank the five of them to go to the moves everyday for audience appreciation. We just went to Yuen Long. Each time our audience appreciation event is a surprise. The audience response is they never imagine it would be so entertaining. They said that they haven't seen such an entertaining large scale Hong Kong film in a long time. They felt that Hong Kong film is back, so each time they were very happy at the audience appreciation events. After that everyone would go for late night snacks together." Speaking of Ekin taking off his clothes for audience appreciation, what would Chi Wai do? He said, "I would take off my pants too, not really!"
Jackie Chan, Sammo Hung Kam Bo, Yuen Woo Ping and Yuen Biao praised Chin Ka Lok as their successor, Chin Ka Lok happily said, "I really didn't expect that. For the four of them to praise the same person at once, the pressure is enormous. It was my Mid Autumn Festival, maybe the best gift in my life, I don't know if Chi Wai made that happen?" Tsang Chi Wai said, "The four of them are very tight lipped, it came from them. This prove that they really love you!" As for a sequel, Ka Lok said that Chi Wai would have to be the producer again.