Mani Fok, Albert Yeung ,Teresa Mo, Emperor Entertainment CEO Shirley Hughes
courtesy of on.cc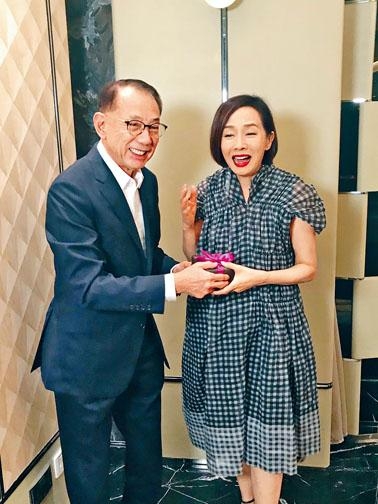 courtesy of singtao.com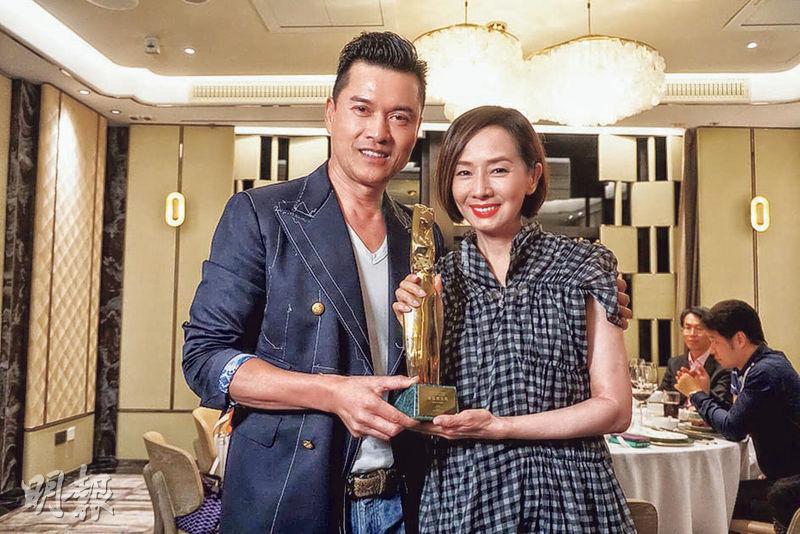 Ray Lui presents the Asia Pacific Best Actress award to Teresa Mo
courtesy of mingpao.com
Emperor Group chair Albert Yeung Sau Sing two nights ago celebrated Teresa Mo Shun Kwan's Asia Pacific Best Actress award for the film TOMORROW IS ANOTHER DAY (WONG GUM FA). Joining Emperor earlier, Mo Shun Kwan received a necklace from Yeung Sau Sing as a victory gift. Mo Shun Kwan remembered because Leung Lee Siu Ha's comment, "If your former manager can't help you, then join Emperor!" So she did. Sister Mo said that now she felt very fulfilled. She did not need to worry about anything because she had this big family to help her. She was also very moved.
Sister Mo said, "My former manager Helen has always been helping me as a friend. One day she suddenly tells me that due to health problems, she is very worried that with more and more work she would not be able to help me. At the time I was at a loss. When I had dinner with Mrs. Leung I brought this up as I didn't know what to do. She says, 'Then join Emperor!' and made it happen. Mr. Yeung very sincerely invited me to join. I feel very fulfilled. I no longer have to worry. From now on I have a big family supporting me. I am very grateful." At the celebration Boss Yeung Sau Sing presented a necklace to her as a gift. Mr. Yeung said, "Yet another Best Actress joins Emperor, didn't you see how much brighter the neon sign is in Wanchai?"
As for becoming the Asia Pacific Best Actress, Sister Mo said that big brother Ray Lui Leung Wai was a key figure. Sister Mo said that she was destined to win. When the Asian Pacific Film Festival invited Brother Lui to be the guest presenter, Brother Lui asked if our TOMORROW IS ANOTHER DAY was nominated. After that he learned that actually we didn't even apply. Brother Lui said that it had to wait for our movie no matter what, because the movie was great. His sister (Mo Shun Kwan) performed very well. Sister Mo said, "So the event asked us to hand over the film. The film company immediately did, at the time it was only two days before the application deadline. After all that today I am Best Actress. I feel I really have to thank Brother, it is because of what he said. If not then I wouldn't have won. When I won the Hong Kong Film Award, Brother took me to dinner. He said if I would win the Asia Pacific he would accept the award for me on stage because I knew that I wouldn't be able to attend in person. My daughter would start at the university and I would have to keep her company. I thought it wouldn't be such a coincidence, I never expected that it would be." The blue ribbon kitchen god Sister Mo promised to cook for Ah Lui in appreciation. Brother Lui who attended the celebration with his wife Yang Xiaojuan presented the award to her. Brother Lui joked, "I presented the award over thousands of miles."
Currently, Sister Mo is busy with the Wong Cho Lam directed NEI MAI LEI, NGOR OI NEI (NEVERMIND YOU, I LOVE YOU) "I have never been in a Lunar New Year film that required dancing and singing. This is Cho Lam's first film as a director. I really want him to succeed because I saw how much heart this director has. He really knows what he wants. I am very happy for him."