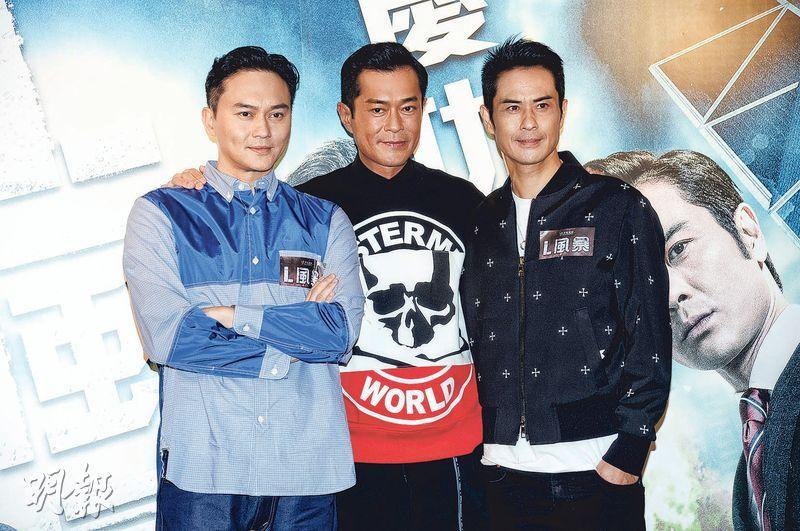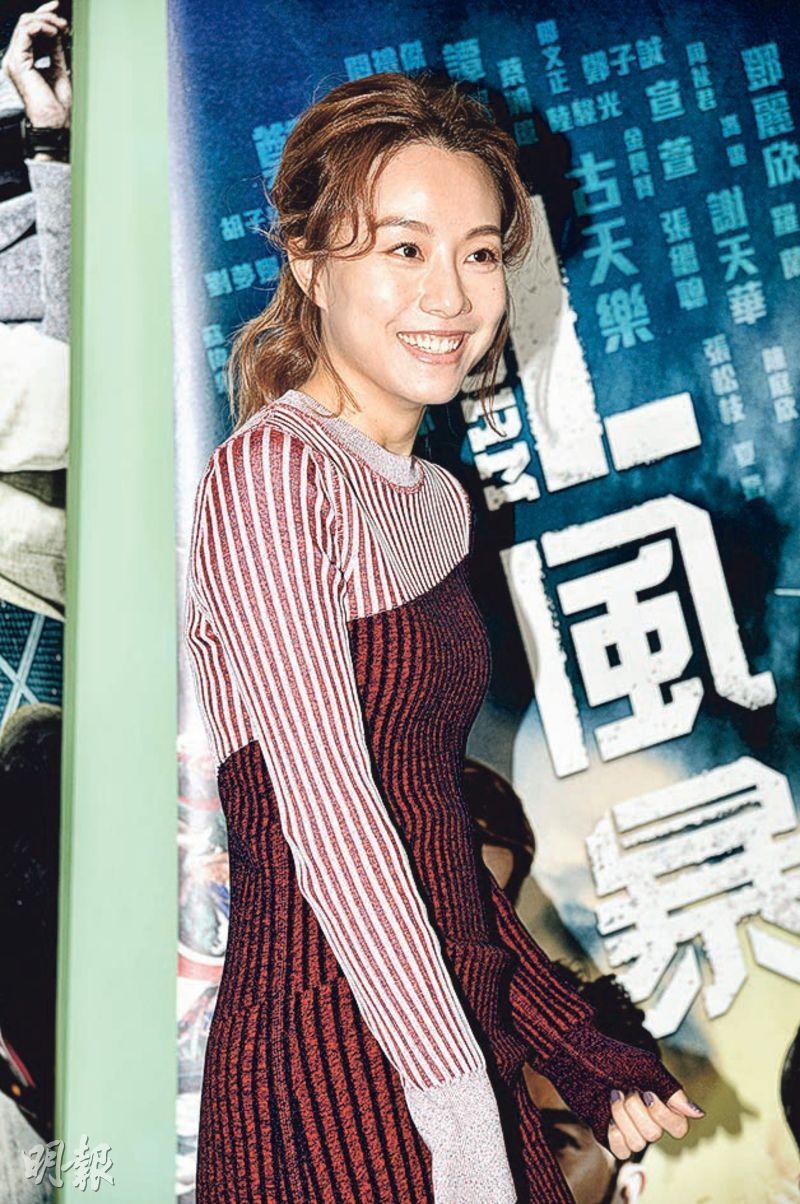 courtesy of mingpao.com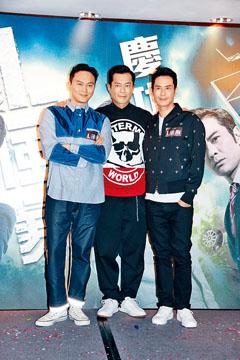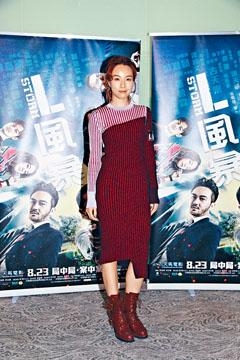 courtesy of singtao.com
The Louis Koo Tin Lok, Julian Cheung Chi Lam, Kevin Cheng Ka Wing, Stephy Tang Lai Yan starred film L STORM (L FUNG BO) opened for 11 days. As of two days ago it already accumulated HK$ 11,382,048 at the box office. Two nights ago the actors held a celebration. Ka Wing has often been accused of looking upset since he started in the business. Speaking of Miss Hong Kong candidate Yutori Kudo's incident, Ka Wing felt that no one could compare to himself as he had to look upset from the beginning to the end. Yet he would not look upset in front of his wife Grace Chan Hoi Lam, but he would only do so with people he disliked.
Chan Hoi Lam earlier was on the Miss Hong Kong judging panel, Ka Wing said that his wife's picks were all qualified. Did Grace mention about Yutori Kudo's "upset hea dance"? Ka Wing said, "No one can look more upset than me, I am the most famous for that. Can anyone be more known for that than me? (Yet you won't look upset on camera?) No, it would depend on my mood. It's not about being on camera or not. People who have known me for over 20 years would know. That night I didn't watch Miss Hong Kong, I didn't know whether she danced halfheartedly. Perhaps someone would say that I danced halfheartedly as well. Because I don't know how to dance, when I do I have a lot of pressure. I am not certain about the Miss Hong Kong incident so I have no comment."
Ka Wing spoke from experience. "To look upset and be yourself, it still requires a period of time for acceptance. It's not overnight, and you can't look upset in one moment and laugh in another. You have to continuously be the real you, so viewers who have known me for over 20 years should be able to accept it. (Did you change after marriage?) It still depends on my mood, if you do that you have to accept the consequences. You make your own choice. (Have you looked upset in front of your wife?) I wouldn't in front of her, usually I only look like that with people I dislike." Speaking of his A FISTFUL OF STANCES siblings celebrating his belated birthday, Ka Wing revealed, "Every year we would get together a few times, like birthday dinners, Christmas and New Year we would see each other. Grace has already recovered from the flu but was unable to attend that day due to work."
Cheung Chi Lam was very grateful for the film's good box office performance. He felt that biggest benefit was seeing his past television a actor friends. A gathering like this time was very rare. The audience probably would be the happiest to see this group of golden age television actors. Speaking of Stephen Shiu Jr. giving Chi Lam a HK$ 10 million contract extension, he excitedly said, "Really? Let me see the report. Actually the contract still has a year before ending. We have talked about an extension. The company made an offer but we are only in early negotiation. We still have signed anything. (Do you still need to negotiate in terms of salary?) We have to consider everything. Right now it's too early to tell. For now we are just in a romance. Maybe after I see the report then I would counter."
Earlier he attended the birthday party of his friend Aaron Kwok Fu Sing's daughter. He said that his wife was responsible for the gift. That night he had a good time with friends he has not seen in a long time. Who did the baby girl look like more? Chilam said, "I can't tell, the baby is too little. (Would you suggest for Sing Sing to publicize the baby's pretty face?) You have to ask them about these personal questions."
Tang Lai Yan and Prince Chiu have been stuck together like glue. Lately they were caught in an intimate situation in a car. She explained, "When I saw the report I studied in detail what I was doing at the time. We were looking for a restaurant on the photo and he just happened to stick his head over to look at the phone. (Would you lose yourself in the throes of passion on the streets?) Of course not, when we go out we would keep our distance. We are used to walking one in front and one behind. We always feel that if we walk together we would draw too much attention. Instead when we are on vacation we would be more relaxed. (Would you dress like a couple again?) No, last time we only dressed like that for his fashion label." As for couple jobs, she said that no one has made contact. Depending on the nature of the event she did not want to be too deliberate as a couple. For a movie or a commercial we would be able to accept it. If it was too deliberate people would get tired of watching them.