courtesy of on.cc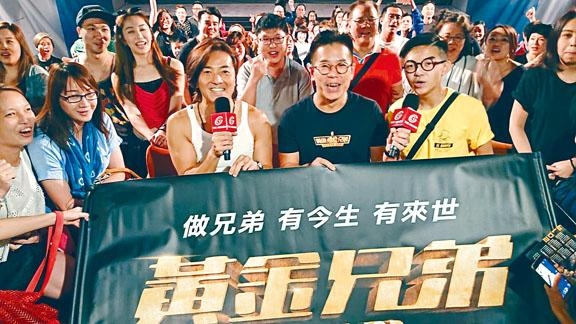 courtesy of singtao.com
New film GOLDEN JOB (WONG GUM HING DAI) broke 100 million at the box office. Two nights ago on the eve of the Mid Autumn Festival, stars Dior Cheng Yi Kin, Jerry Lamb Hiu Fung, star and director Chin Ka Lok and producer Eric Tsang Chi Wai went to the movies to thank the audience separately and surprised many viewers.
At one stop, Ekin and Lam Hiu Fung gave away all the posters. Yet when a male viewer's words moved them, they took off their "GOLDEN JOB" jacket and gave them to him. Ekin was only in a white tank top and made the audience scream.
Tsang Chi Wa and Ka Lok thanked a viewer who brought his entire family by posing for photos with each of them. A fan brought a cake to celebrate Lam Hiu Fung's upcoming birthday on the 28th, singing the birthday song and giving him presents.