courtesy of on.cc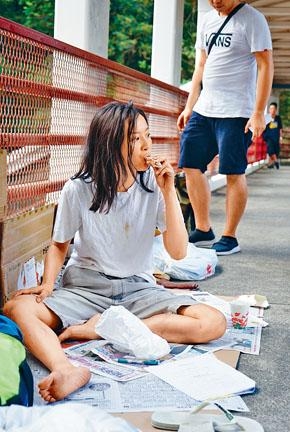 courtesy of singtao.com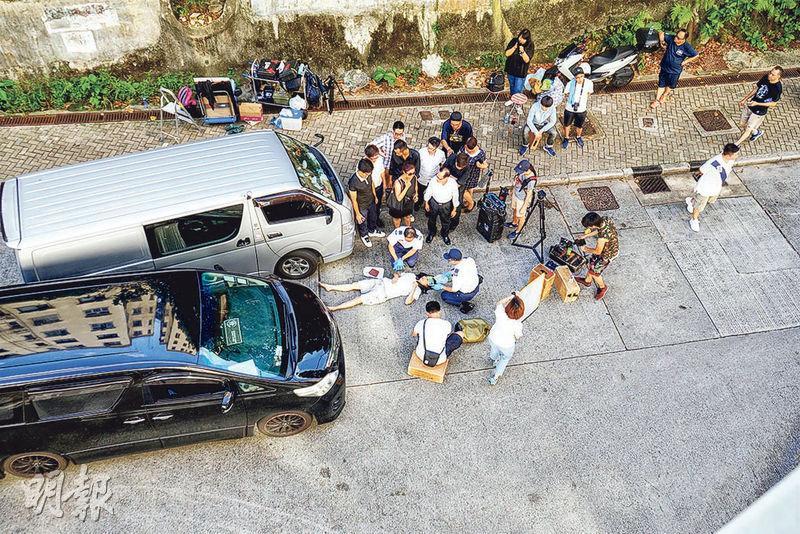 Fala Chen lies on the street without any regard for her image
No one recognizes Fala Chen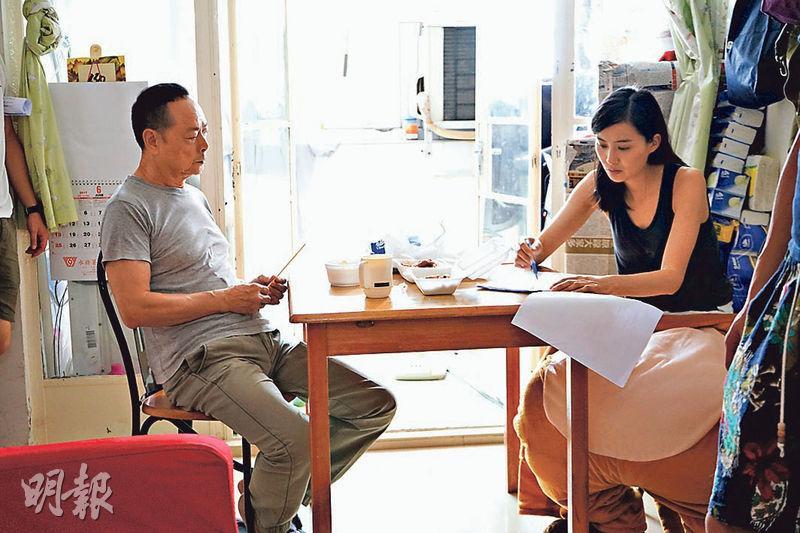 Law Lok Lam guest stars for Fala Chen
courtesy of mingpao.com
The Fala Chen directed and starred short film PASSINGER (YUN LOI YUN WONG) was about the contact between a homeless person and a young person. It was selected as one of the 9 finalists for the Sundance Film Festival: Hong Kong Short Film Competition. The selection conceivably would be a great recognition for Fala Chen, who has been studying drama overseas in recent years. For her first film, Fala not only neglected her looks but also jumped off an overpass.
This short film was Fala getting her feet wet. She sad that the script was written outside her school time. "Last year after the screenwriting class I wanted to use what I learned. So I started to write this script." PASSINGER was shot on location in Hong Kong and France. The Hong Kong shoot was the smoothest. Fala admitted, "Due to the limited budget, a lot of the production relied on friends and classmates' help. They included 'Old Man' Law Lok Lam and junior Ng Siu Hin's guest performance. 'Old Man' even cursed nonstop aloud for the first time for my movie. It was a breakthrough performance for him, so I really appreciated their contribution."
Speaking of the production, the most memorable for her was in order to play a homeless person she slept on the street, did not wash her hair, do her nails or hair. Even the tee shirt and shorts she wore were "costumes" that she picked up from the trash can of a friend's husband. No pedestrian recognized her. They just covered their noses and rushed past, which made her feel very successful. She said, "Because the lack of a budget, I had to do everything from writing, directing and acting to hair and make up. It was very satisfying." In another scene she had to pretend to jump at an overpass. Although she did not start as an action actor she still was daring enough to perform this thrilling scene personally.
Fala was excited about the selection, but the production process was her real greatest gain. She felt, "This short film was an attempt, I can learn from the process, recognize my shortcomings and improve upon them in the future. I am also very grateful for everyone's help. Without the production and the post production team's coordination and support, I cannot possibly have finished it on my own. I hope to have more budget next time, haha!"
Fala thanked the Sundance film institute's invitation to attend the film festival in the U.S. in February. She said, "As a Hong Kong actor, being able to participate in the competition locally is very rare. I thank the event for its continuing support of young filmmakers. My movie will premiere on the 23rd with other selected short films."
Fala revealed that currently she is working on a new script but she needs to keep other jobs in mind as well. She felt, "For now acting is still my primary job, in the future if I have the chance I would gladly participate in creating behind the scene."