courtesy of on.cc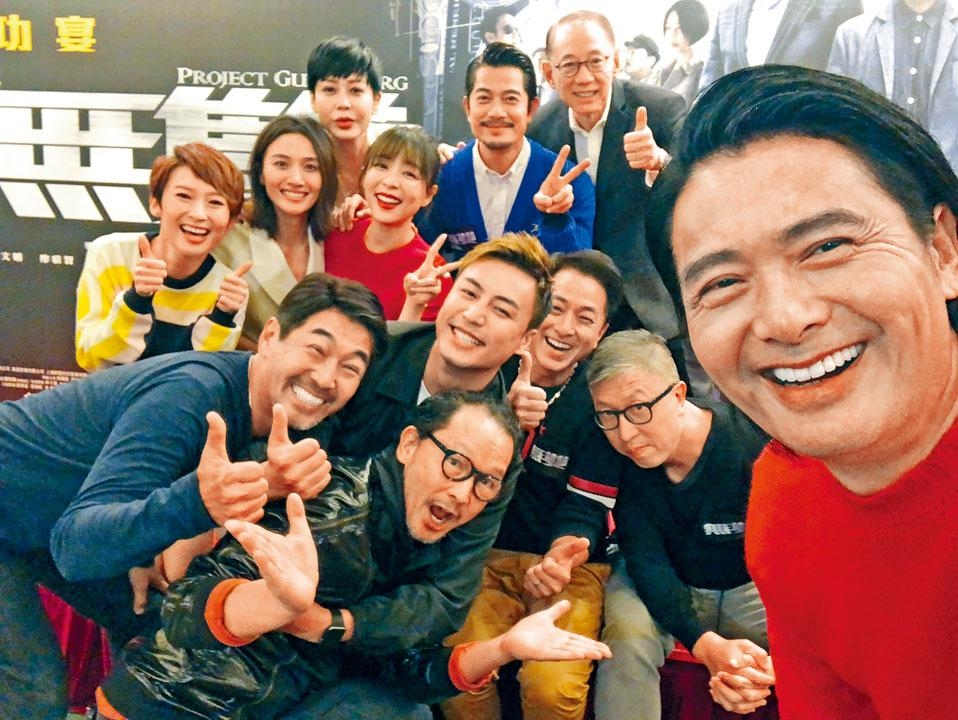 courtesy of singtao.com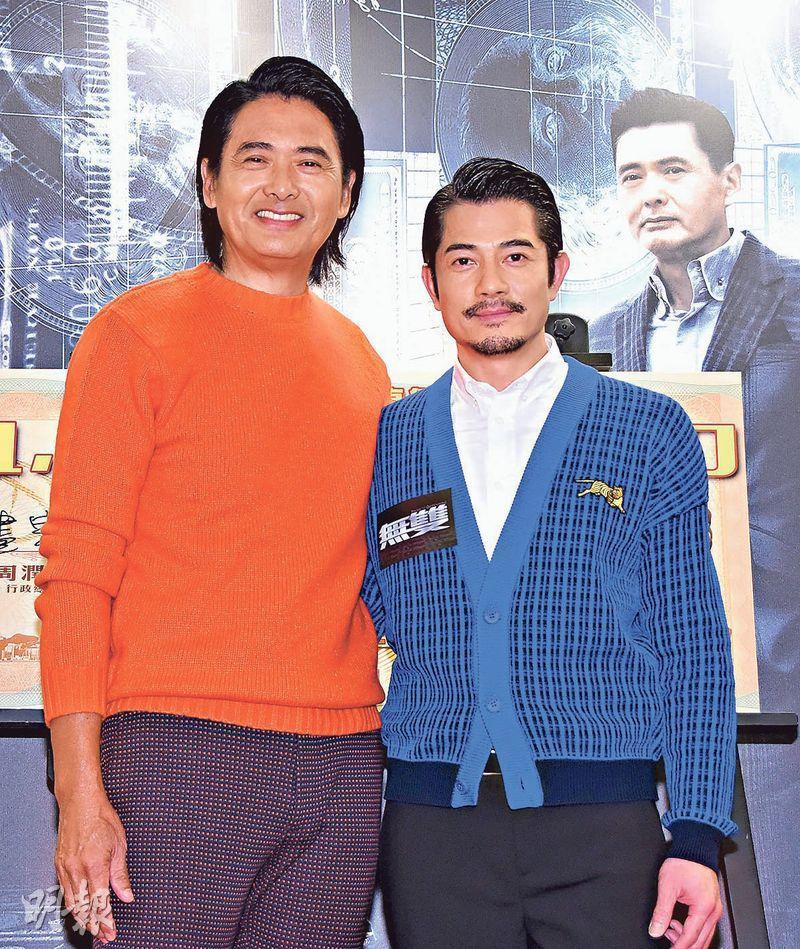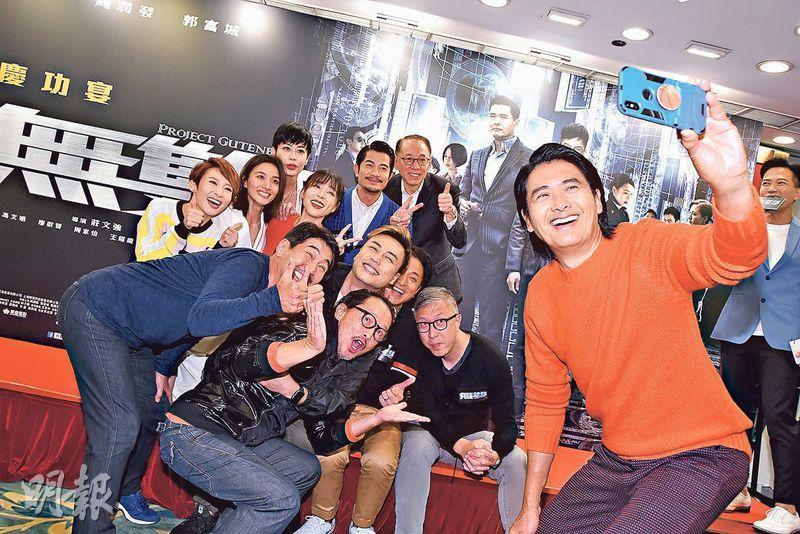 courtesy of mingpao.com
The film PROJECT GUTENBERG made over 1.2 billon RMB in the Mainland and over HK$ 30 million in Hong Kong. Its global box office was almost HK$ 1.5 billion. Yesterday a celebration was held. Director Felix Chong Man Keung, Chow Yun Fat and Fat Soh, Aaron Kwok Fu Sing, Zhang Jingchu, Feng Wenjuan, Liu Kai Chi and Paulyn Sun Kai Kwan celebrated. Fat Gor and Sing Sing even personally wrote blessings on the 1.5 billion "big bill". During the lucky drawing Fat Gor won HK$ 3,000, which he gave back and increased the amount to 6,000 for another drawing to share the joy with everyone.
Fat Gor joked that Director Chong was quite obsessed with him. When he was little he watched A BETTER TOMORROW (YING HUNG BOON SIK) 100 times at his father's cinema, so when they worked together Fat Soh asked Director Chong not to stand so close. As long as he did not touch him he would be fine. Fat Gor also thanked Sing Sing, because of his performance he was able to have his. "I would only appear with his narration, he made me look so handsome. Actually Sing Sing is more handsome than me!" The host also praised Sing Sing's acting for elevating again. Fat Gor joked that he was a nine layer tower (basil). Sing Sing humbly said that this time he went to see the movie three times because this film was worth savoring. The director deserved all the credit for its charm, so its success was not the actors' but the director's. Zhang Jingchu also said that her role was very hard to play. Sing Sing read the script six times, and she too had to read it three times to be certain. Her character was very complicated.
Speaking of PROJECT GUTENBERG's almost HK$ 1.5 billion take, Fat Gor said, "It's very exaggerated, I can't be happier. I couldn't sleep for several nights. Such a good performance is due to location and timing, and the director for bringing this script from 10 years ago back to daylight!" Chong Man Keung said that this story already had molds and was preserved tofu. He did not expect to have such a good box office performance, because when it opened in the Mainland it did not make over 1 billion in a day. However it was very steady everyday. Even with new film releases it still came in second, completely due to its endurance. Uncle Chi also happily said, "PROJECT GUTENBERG's box office go go go, the audience support made it very easy!" Feng Wenjuan also supported Uncle Chi's slogan and chanted box office go go go with him.
Aside from a sequel or a prequel, Fat Gor said not to ask him as it would depend on the director. Chong Man Keung said that he was interested in working on another story with the original team. They already had chemistry like a drama troupe. Would Fat Gor be interested? He joked, "I am afraid the director won't ask me, I am scared!" Director Chong once said that Fat Gor made most of the box office. Fat Gor said, "This probably has nothing to do with my acting or fame. It all came from running. This time I ran Yangmingshan, Kowloon Peak, the Olympic Village, here and there. Even housewives ran with me. I ran into Beijing and Taiwan for over a month so I turned into the 'Hong Kong Forrest Gump, Gump Gump Gump!" Would he rest for awhile first? Fat Gor said, "No, the Mrs. is pushing me very hard. In December I will work on a Chong Man Keung written film!"
Sing Sing and Zhang Jingchu were interviewed together. Zhang Jingchu at first did not expect the modern audience to be so demanding. Sing Sing also said that the audience messages praised the film for the detail oriented production that made the viewing enjoyable. Speaking of Director Chong's interest in making another story with the original team, Sing Sing said that he was a little fan of Director Chong. The film shot two versions, and he felt that the current version would be able to leave the audience with a beautiful memory.
Sing Sing just celebrated his 53rd birthday. He said that he wished for health! Because starting next month he would begin his 100 show concert tour and need a lot of energy, during the period he could not have his favorite hot pot casserole. As for his family photo at the birthday party, Sing Sing admitted that after marriage and having a child he paid more attention to family gathering. He already had fewer and fewer gathering with friends. Basically aside from work all of his time was for his family. He too really wanted to see his daughter. After starting a family he stepped into a new stage in life and had even more motivation to focus on his work. After work he wanted to go home. This was the growing process that Heaven arranged for him, it was a good thing. He even promised to shoot a family photo every year!