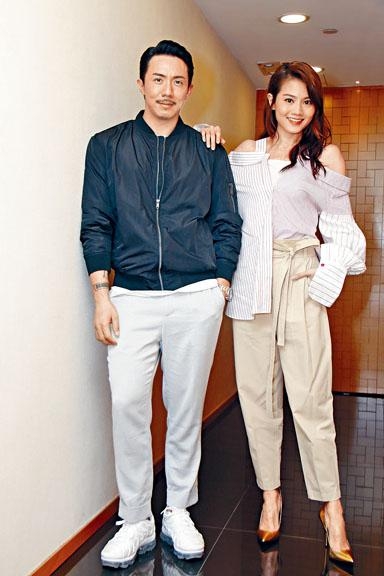 courtesy of singtao.com
In the film HOTEL SOUL GOOD (NUI WONG JONG DOH JING), Chrissie Chau Sau Na and Louis Cheung Kai Chung played a pair of happy rivals. Sister Na said that with Ah Chung on the set she constantly had bad takes. Whenever she needed to give an emotional performance she could not look at him, because on the set he was truly too happy. Ah Chung said that in the film Sister Na had to find a man heavy in yin. He happened to be born on a yin day of a yin month in a yin year and could be easily possessed by ghosts. She needed this intermediary to communicate with ghosts. He too wanted to find someone who could see ghosts to find someone who has passed for him. Thus they have a common goal, even though they did not see eye to eye they leaned upon each other. Later after getting to know each other more they had feelings for each other. Ah Chung said that when they worked on their "electrifying moment", the originally romantic scene added comedy. As for their most intimate scene, Ah Chung joked, "It was very intimate, when she smashed a bottle over my head!"
Sister Na also revealed that Ah Chung during the shoot often improvised, but Ah Chung said that he was no match for Eric Kot Man Fai. Sister Na said, "In one scene I worked with them. They had a strong desire to perform and kept adding lines. I really had to stay alert to perform!" Ah Chung also felt that the difficulty lay on the nonstop possessions by ghosts. They included Maggie Siu Mei Kei, Richard Ng Yiu Hon and Kot Man Fai. Thus before the shoot he asked them to say the lines once and observe their performance. Ah Kot's voice was the most outstanding, when he imitated him he was mistaken for Ah Kot's voice dubbing. Thus he was very pleased. Yet being possessed by one after the other, would his performance fracture his personality? Ah Chung said, "No, but I had to be very humble throughout because I kept asking everyone to say the lines once more for me!" Sister Na praised, "Ah Chung was very sharp, he very quickly was able to grasp the trick to play others. I remembered during the shoot we sat at a table. I saw him imitating other actors and it truly was a pleasure!"