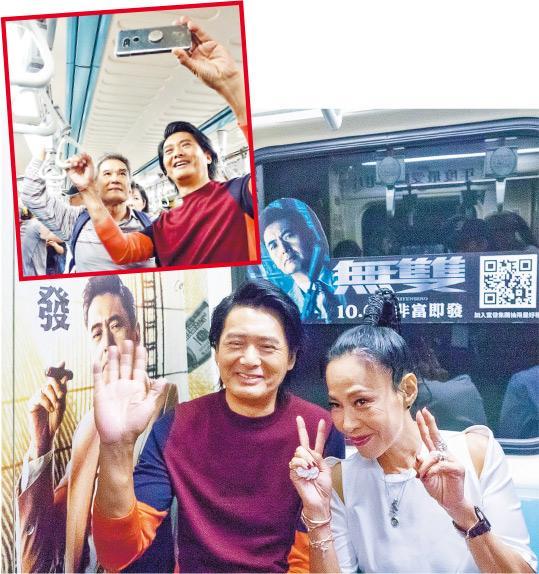 courtesy of mingpao.com
63 year old Chow Yun Fat yesterday promoted his film PROJECT GUTENBERG in Taiwan and interacted with fans after a screening. In the morning he first ran at the Daan Forest Park and fans followed. Later he and Fat Soh took the Taipei Metro and took selfies with fans. Fat Gor praised how delicious Taiwan snacks were and joked, "They think I am a superstar, but actually I am an ordinary person. At home my wife treats me poor. I am Hong Kong's Oshin, I have to mop the floor, wash the vegetables and do the laundry."
Fat Gor has brought Fat Soh all along. How did they maintain their marriage? He humorously hummed A LITTLE UMBRELLA then he seriously said, "I am not romantic, I don't give gifts. I gave my entire person to her. The biggest gift is me." Fat Gor has been in film for years and worked with many female stars. Host Mickey Huang mentioned Brigitte Lin (Lam Ching Ha), "Lam Ching Ha is now free, don't you know?" Fat Gor played dumb and said, "Really? I don't!" As for which Taiwan filmmaker he would like to work with? He said that he admired director Hou Hsiao-Hsien, male stars Eddie Peng Yu-Yan and Tony Yang. Fat Gor could physically rival his junior. In PROJECT GUTENBERG he had many gun fights, explosion scenes, he did not feel tired at all. He was rather proud of his endurance. "I am young, I run at the park in the morning. Many young people run with me. I am 63 in reverse 36." Speaking of characters he would like to challenge in the future, he humorously said, "I haven't challenged playing a mute. In addition this way I wouldn't have to recite lines or talk. The title should be WORDS THAT CANNOT BE SAID."