courtesy of on.cc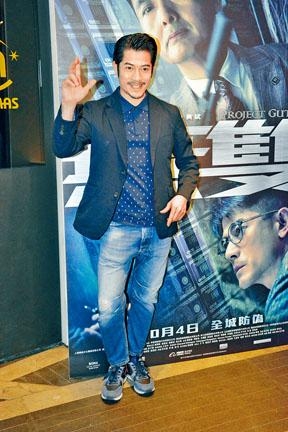 courtesy of singtao.com
courtesy of mingpao.com
The Aaron Kwok Fu Sing and Chow Yun Fat starred, Felix Chong Man Keung directed film PROJECT GUTENBERG (MO SEUNG) already reached 1.13 billion RMB in the Mainland box office and headed toward HK$ 30 million in Hong Kong. Two nights ago Sing Sing and Catherine Chau Ka Yi, Paulyn Sun Kai Kwan, Justin Cheung Kin Sing and Deon Cheung Chung Chi appeared at a cinema for an audience appreciation event. Sing Sing revealed that originally he was to play Fat Gor's character, later because Fat Gor joined the cast he had the chance to play "Lee Man". By chance this perfect team was created.
Sing Sing was very pleased with the box office performance, thus a group of actors appeared together to thank the audience for their sincerity. They saw how into the movie everyone was. The film success was very worth sharing, hoping the film company could hear their voices. Sing Sing joked, "Begging for a movie. We are very simple, we just want to have a meal and a little fun, for a little get together. We aren't afraid of too many celebrations. Everyone has given a lot of effort to this film. Actually I am very busy, tomorrow I will have to fly again and I have to rehearse the concert choreography. However I still take time for audience appreciation." Sing Sing got happier and happier as he talked. He promised the actors on hand that he would treat everyone to dinner, but because lately he has been too busy he will wait until after finishing the Guangzhou concert. The actors immediately cheered and applauded.
Was he confident that it would pass COLD WAR II (HONG JIN II) at the box office? Sing Sing said, "COLD WAR II at the Mainland box office made almost 700 million RMB, PROJECT GUTENBERG already has 1.1 billion RMB and has already broken it. I am very grateful for the crime film to have such a performance. It is the strength of director Chong Man Keung. He wants everyone to gather again to make another film, so even more people know Hong Kong has good movies."
While Chong Man Keung was promoting in the Mainland, he said that 1/3 of the box office credit belonged to Chow Yun Fat. Sing Sing said, "Fat Gor of course is important, each actor put in an effort; but Fat Gor is an elder and elder has to be respected. Everyone recognizes Fat Gor's acting, beyond any doubt. In recent years he rarely ran into any script that truly let him perform."
Sing Sing revealed, "At first Fat Gor's 'Painter" character was mine. Later Fat Gor joined the cast, so I played 'Lee Man'. I thank Fat Gor for giving me the chance to play this character, by fate this team is the most perfect. I wish for the box office to be a little higher, a good movie deserves a good reward. Friends who have seen it should see it soon."