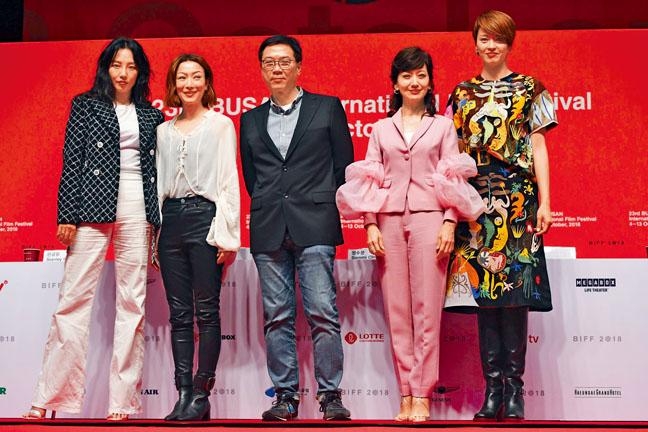 courtesy of singtao.com
The 23rd Busan International Film Festival opened two days ago. Hong Kong director Stanley Kwam Kam Peng's film FIRST NIGHT NERVES (BAK GOR NUI YUN YUT TOI HEI) will have its world premiere there. Director Kwan led four actresses Sammi Cheng Sau Man, Gigi Leung Wing Kei, Fay Bai Baihe and Angie Chiu Nga Chi in attendance. Cheng Sau Man and Bai Baike even spoke of their ambiguous relationship and took intimate bathroom photos together!
After HOLD YOU TIGHT (YUET FAI LOK YUET DOR LOK) and EVERLASTING REGRET (CHEUNG HUNG GOR), director Kwan Kam Peng appeared at the Busan Film Festival again and received an enthusiastic welcome. Kwan Kam Peng two days ago led FIRST NIGHT NERVES' leads Cheng Sau Man, Leung Wing Kei, Bai Baihe, and Chiu Nga Chi on a red carpet opening ceremony appearance. Sammi joked that she remembered having a live squid in Busan and was "a little scared". Working with Director Kwan for the first time, Gigi arrived in Busan earlier than the other actors and was very excited, as she posted photos on social media. Chiu Nga Chi said that she was very happy to be able to attend the Busan International Film Festival with Director Kwan and other actors. Mainland star Bai Baihe also said that she was very honored to be able to work with many Hong Kong film workers.
FIRST NIGHT NERVES's background was drama within drama at the Hong Kong City Hall and achieved Hong Kong nostalgia. The entire film was shot in Hong Kong. Director Kwan stressed, "I often say that Hong Kong is the only city that even if I am blind I can feel my way out the door and down the elevator." He continued that the Hong Kong City Hall was the collective memory for several generations. "City Hall on a certain level was a part of our growing up. This time being able to use the City Hall and receive enormous assistance from City Hall to help us finish the film, I truly feel very grateful."
Several female leads became close while working on the film and even displayed ambiguity online. Sammi on instagram played coy, "In FIRST NIGHT NERVES, the relationship between two people is......? Working with Bai Baihe for the first time, the feeling is very great and we get along great as well!" Bai Baihe posted her intimate bathroom photo with Sammi online and declared, "Me and my girlfriend Mi".
Yesterday the quintet again attended the film press conference. Sammi who 13 years ago promoted EVERLASTING REGRET with Director Kwan in Busan said, "I am very happy to return to Busan after 13 years with the director. At the time I wasn't in good health, I am very happy to come back after recovering fully physically and mentally."
This year the Busan Film Festival selected Hong Kong director Yuen Woo Ping's martial art action film MASTER Z: THE IP MAN LEGACY (CHEUNG TIN CHI) for its closing film. A spin off of IP MAN, the film starred Max Zhang Jin and Michelle Yeoh (Yeung Chi King). It is about how Wing Chun discipline Cheung Tin Chi hit rock bottom after defeat at the hands of Ip Man to start over again.