courtesy of on.cc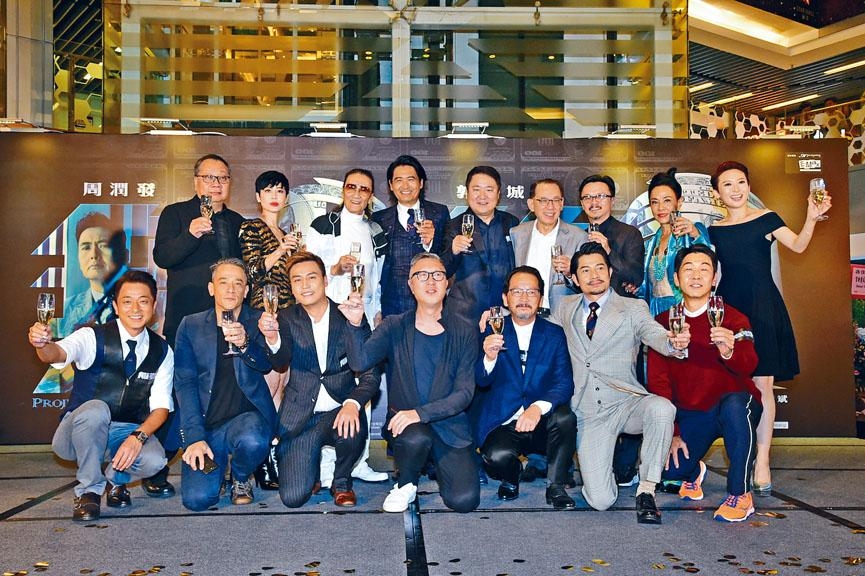 courtesy of singtao.com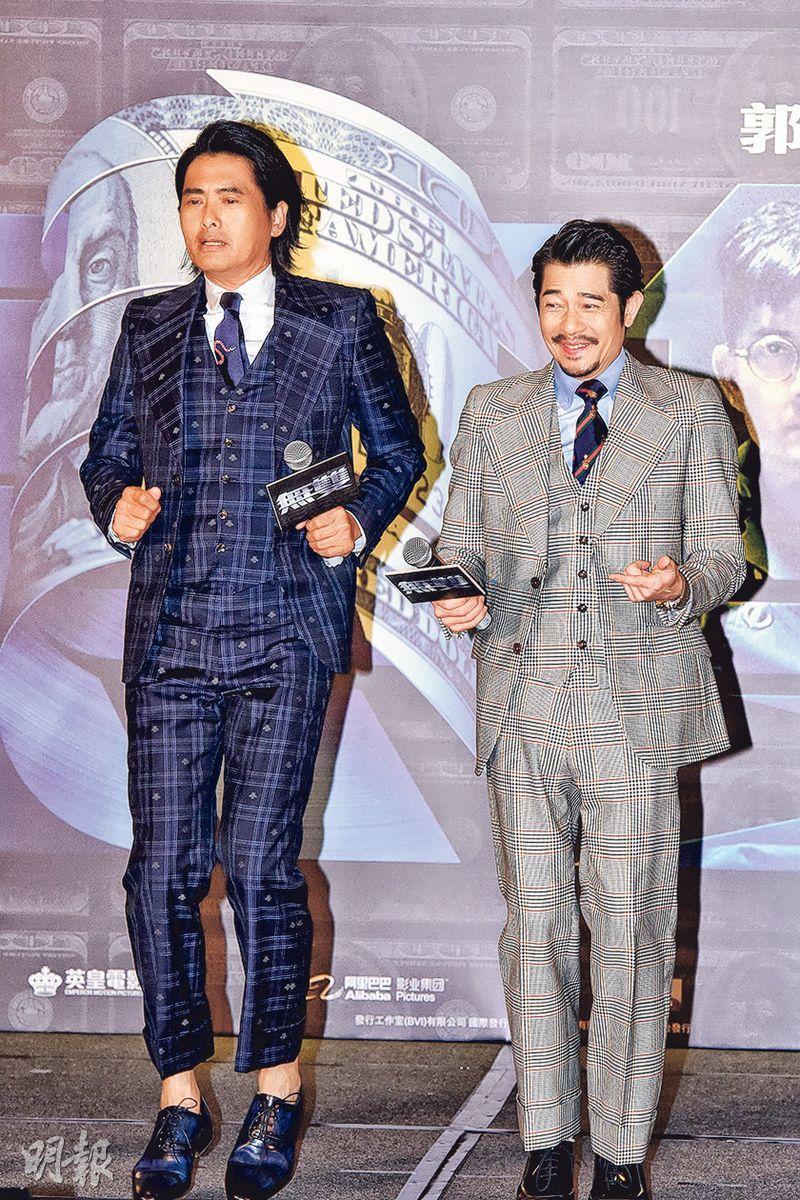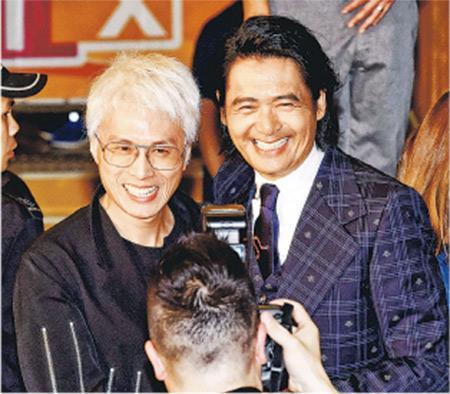 Dayo Wong, Chow Yun Fat
courtesy of mingpao.com
The film PROJECT GUTENBERG (MO SEUNG) two nights ago held its premiere. Chow Yun Fat and his wife Jasmine Tan (Chan Wui Lin), Aaron Kwok Fu Sing, Liu Kai Chi, Paulyn Sun Kai Kwan and Deon Cheung Chung Chi attended as well as Patrick Tse Yin and Dayo Wong Tze Wa. The film after 3 days in Mainland release already made over 200 million RMB. Before its Hong Kong film it already made HK$ 2.4 million from two days of advanced screening.
Fat Gor was praised as the returning "hero" in this film, the best looking Chow Yun Fat. Fat Gor said that before the film he did not exercise, but after running into his inspiration Kwok Fu Sing he went running everyday. Even when he was promoting in Beijing, he still took time to run in Chaoyang and Olympic Park. He ended up becoming more agile, he did not feel tired or "sleepy" even with action scenes.
Host Albert Au Wing Kuen also pointed out that many online praised Fat Gor did not resemble his actual age of 63 and was more like 36 in the film. They also asked for exercise secrets. Fat Gor said, "Age and health can be reversed. You can walk in place for 15 minutes, everyone altogether now, don't stop! Jump a little better!" Sing Sing and the host followed the command and continued the interview as they stepped. Au Wing Kuen mentioned that Sing Sing had a line in the film, "Everything done to its best is art". How would he do his best? Sing Sing stepped as he said, "As I always have, never forgetting my original intent and be a good actor!" Fat Gor saw the host was sweating and attentively took out tissue to wipe it for him, but afterward he reminded him to raise his legs. The host asked Fat Gor and Sing Sing if they would print "money" again. Fat Gor said to Sing Sing, "Print 500 tons, you know how expensive raising a daughter is?" Sing Sing joked, "Don't you raising me is even more expensive!"
When asked what was his wife's impression after watching PROJECT GUTENBERG, Sing Sing answered, "She felt Fat Gor was very handsome, in Shanghai she watched the Putonghua version." Fat Gor asked Sing Sing, "She understands Cantonese?" Sing Sing said that she did. Fat Gor asked, "What language does your daughter speak?" Sing Sing said, "I'm not talking about this yet!" Fat Gor replied, "What are you afraid of? Your daughter is so pretty, prettier than you, I like your daughter more than Kwok Fu Sing. However she has been very lucky for you, you are making stacks and stacks so you can buy more Ferraris!" Sing Sing said, "Now I am driving a family car, I don't want two seat cars!" Fat Gor also asked for car buying advice.
Fat Gor admitted that he has never played a character like this so he had pressure. "The one next to me drives a Ferrari, both he and the car are fast. I am afraid I can't catch up, but a strong and a weak personality set off spark. I had a lot of fun!" Sing Sing said to Fat Gor, "Fat Gor is a rocket, I am driving a car to catch a rocket! In addition Fat Gor is the Best Actor of Best Actors, I am just a junior!" Fat Gor also praised Sing Sing, "The script is very complete, all the credit goes to you!" As for the most memorable scene, Fat Gor said that it was their hug after an explosion when he felt like he was born again. Speaking of being buddies and chatting on the set, Fat Gor humorously said, "We are bitter enemies, we just save it for after the movie is made!" Fat Gor reportedly donated his salary to charity? Fat Gor pointed at Fat Soh and said, "I don't know, you are better off asking this person behind me!"