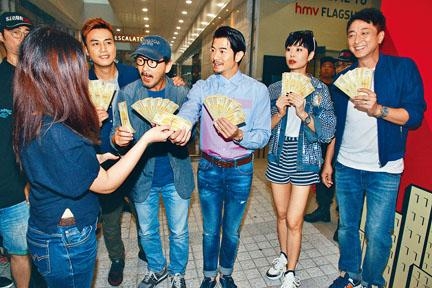 courtesy of singtao.com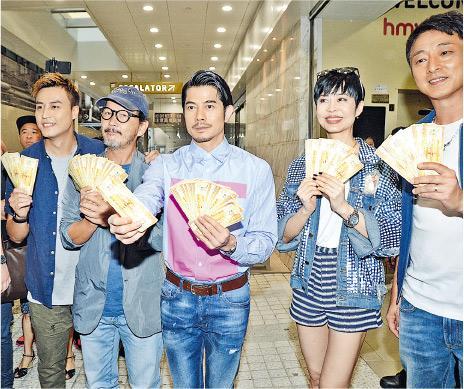 Justin Cheung, Liu Kai Chi, Aaron Kwok, Paulyn Sun and Deon Cheung
courtesy of mingpao.com
The film PROJECT GUTENBERG yesterday held a promotion in Causeway Bay. The five criminal organization members in the film Aaron Kwok Fu Sing, Liu Kai Chi, Deon Cheung Chung Chi, Justin Cheung Kin Sing and Paulyn Sun Kai Kwan even gave away "PROJECT GUTENBERG currency" to people for tickets. PROJECT GUTENBERG opened in Mainland and made over 100 million yuan RMB over two days. Sing Sing thanked everyone for their support and believed as director Felix Chong Man Keung has said, "good movie would have good reward".
When the five members arrive in Causeway Bay, a large crowd was already waiting. After five minutes they were all out of PROJECT GUTENBERG bills. Kwok Fu Sing said, "I try to give all I can, after it's all gone so is the chaos!" Did anyone feel up his muscles? He said, "People saw the PROJECT GUTENBERG bills in my hand, they probably were more attractive than me!" Uncle Chi felt that Hong Kong people were actually very orderly, the only woman Sun Kai Kwan also thanked the four strong men for being her protectors.
Speaking of the PROJECT GUTENBERG Mainland opening, after two days it made over 100 million yuan RMB. Sing Sing thanked everyone for their support, like director Chong Man Keung has said "good movie would have good reward". He pointed out that the film was already written in 2008 but did not start production until last year. He felt that Director Chong spent ten years on the project, which was where its charm lay. He hoped the mos for the film's box office success to continue. As for his Mainland box office expectation, Sing Sing said, "I am not sure, but actors are always very passive. After the film is made, only the audience has the answer."
As for a good performance in Hong Kong, Sing Sing said that their tema would pay it with sincerity. Yesterday they all wore blue to show their team spirit. In the film they were criminal organization members and had great chemistry. Thus he hoped to share their team spirit with the people. Of course crime in the end never pays.
In addition, Cheung Kin Sing's left arm was bandaged. He said that he sprained it while working out but he was fine already.