Kevin Cheng, Chrissie Chau
Yuen Woo Ping and Max Zhang
courtesy of on.cc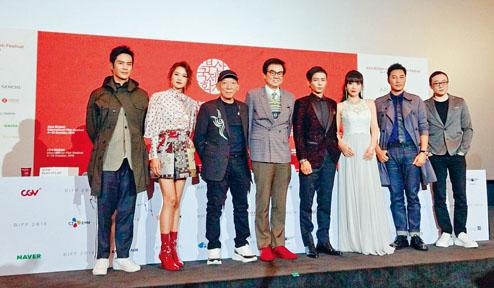 Kevin Cheng, Chrissie Chau, Yuen Woo Ping, Raymond Wong, Max Zhang, Ada Liu, Patrick Tam, Edmond Wong
courtesy of singtao.com
courtesy of mingpao.com
The "Lord Eight" Yuen Woo Ping directed, Raymond Wong Pak Ming led, Donnie Yen Chi Tan produced kung fu action film MASTER Z: THE IP MAN LEGACY (IP MAN OI JUEN: CHEUNG TIN CHI) became the 23rd Busan Film Festival closing film. The film was also the first kung fu action film to be selected as the closing film. Yesterday Lord Eight led actors Max Zhang Jin, Kevin Cheng Ka Wing, Patrick Tam Yiu Man, Chrissie Chau Sau Na and Ada Liu Yan in a Busan appearance and participated in the closing film press conference. Lord Eight and the cast also shared their production experience.
The film MASTER Z: THE IP MAN LEGACY became the first opening/closing kung fu action film in Busan Film Festival history. Director and action director Lord eight naturally was very honored. At the press conference, Lord eight personally explained the reason that he made the film. "MASTER Z: THE IP MAN LEGACY followed IP MAN 3's Cheung Tin Chi character. The Cheung Tin Chi character was very positive. The film made this character into a very stubborn martial artist but contained martial art within, Wing Chun in particular, as well as various human elements. The production overall felt very rich and was a great script with potential."
As a martial art master, Lord Eight said that the martial art scenes in MASTER Z would be different from the past ones. Lord Eight said, "Every action film I made is different. Because action scenes is a type of artistic expression, it requires aesthetics and power to express. Each action film has different designs, it doesn't just fight for the sake of fighting. We would even come up with shots, from what angles would it look better so the audience can sense he power. The handling is very strict."
Lord Eight cited the fight scene on the sign street. Zhang Jin and other actors had to stand on the signs to fight, the process of which was very dangerous. Lord Eight and the team used almost two weeks of testing before the production began, it absolutely was a new attempt. However, Zhang Jin actually was afraid of heights so during the shoot every step was giving him chills. Zhang Jin said, "I have a fear of heights, standing on the sign I can still enjoy the sights, but action scene was a huge challenge. When Lord Eight designed the scene, he considered various problems of fighting on such a high place. The design was done very precisely." Lord Eight also followed each actor's specialty to design the stunts, like Michelle Yeoh (Yeung Chi King) looked better in weapon fights. Thus he added a weapon fight scene with her and Zhang Jin. Dave Bautista was not familiar with Hong Kong film production format and his fighting style was different as well. However Lord Eight knew that he knew how to wrestle so he added wrestling elements in it. In the end Dave had an easier time later and the production became smoother.
Being able to work with Lord Eight, Tam Yiu man thought that he would be able to become a kung fu actor. He said, "I didn't expect to just play the villain, I didn't have to fight. However my character came from IP MAN 3, in the past I already had a very pleasant collaboration with the team. The brotherly love drama between the characters Ma King Sun and Cheung Tin Chi was heavy and had a lot of potential."
Cheng Ka Wing and Chau Sau Na also had action scenes, but one hit and the other got hit. Chau Sau Na said, "I thought finally I could participate in a famous action design, but I was the character getting it. For the first week of production I was hit for a full week." Ka Wing also said, "My character is more vicious, on the first day of the shoot I had to hit Chau Sau Na, slap after slap. The noise was so loud that anyone on the set heard it, and she almost fainted from getting hit. However Lord Eight still wanted another take and wanted me to hit her harder. The second time my heart also popped out. Chau Sau Na's face was red and swollen. So I showed Lord Eight Chau Sau Na's red and swollen face, but you could see how demanding Lord Eight was about his action scenes. Both hitting and getting hit were very tough."
Overseas media was concerned how Lord Eight felt about the Hong Kong film development. Lord Eight said, "In comparison to the 90s, the current production rate is much lower. Yet in the past few years Hong Kong film has been very focused on correction, it is very demanding in screenplay, production, art and other areas. Now overseas it receives very high praises, but colleagues have to keep working harder. As long as they are not casually following trends they are fine."
Lord Eight even attended the Busan Film Festival master class "My Life, My Cinema" and met with film workers and fanatics alike. Lord Eight even participated in a hand print ceremony. The hand print will be displayed at the BIFF Square in Nampo-dong to commemorate his glorious film industry performance and contribution.