OPERATION RED SEA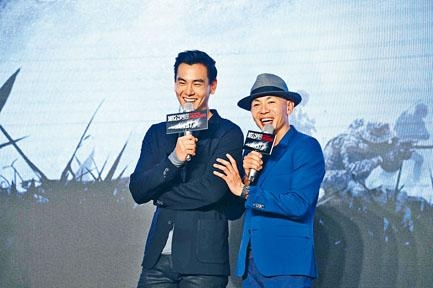 courtesy of singtao.com
The Dante Lam Chiu Yin directed film OPERATION RED SEA would represent Hong Kong to compete for the Oscar Best Foreign Film Award nomination. Earlier, the China Film Archive held a special screening and showed two of his earlier film BEAST COPS (YEH SAU YING GAING) and JIANG HU: THE TRIAD ZONE (GONG WU GO GUP). Lam Chiu Yn even talked about his 30 year film journey and revealed for the first time news of his latest film GUNG GUP GAU WOON (EMERGENCY RESCUE). He said that the film would have a lot of special effects and scenes at sea. "They all would be our first experience, the effects would be several times more than OPERATION RED SEA." OPERATION RED SEA's Wang Yutian, producer Candy Leung Fung Ying and Ian Wang Yanlin also showed their support. Wang Yanlin would also join the cast of GUNG GUP GAU WOON.
As for the creative background and experience of BEAST COPS and JIANG HU: THE TRIAD ZONE, Lam Chiu Yin admitted, "These two films were made when Hong Kong film was at its worst, particularly JIANG HU: THE TRIAD ZONE. At the time only two films were being made in Hong Kong, one of them was JIANG HU: THE TRIAD ZONE. Due to piracy the film company had to lower ticket prices for BEAST COPS from HK$ 55 to 60 a ticket to HK$ 25 a ticket. Later the financial storm began, making matters worse."
Lam Chiu Yin talked about his film journey. "I made it to the best of times and the worst of times for Hong Kong film. When Cinema City started, I joined the film industry at Hong Kong film's most glorious period. When I reached assistant director and director, I caught up with the rampant piracy and financial crisis period. I once thought about giving up directing. Starting with BEAST STALKER (JING YUN) I started to understand what kind of movie I would feel the most sentimental about. I feel very honored that everyone liked to several films that followed."
Lam Chiu Yin also introduced his new film. "It will start production in November. It has been under preparation for a very long time. GUNG GUP GAU WOON will be a new breakthrough, a new challenge. I can certainly say to everyone, the effects will be several time more than OPERATION RED SEA. This film's special effects and scenes at sea are all first experience for us. I hope to be able to make a subject that no one has yet seen in Chinese film. The production is projected to wrap up by May next year, then proceed to 8 months of post production. It will be a new beginning, I hope it will be successful."
As for working for the fourth time with Eddie Peng Yu-Yan, the director gave him high praise. "Peng Yu-Yan worked very hard and was very professional, (Nick) Cheung Ka Fai too. They both were strong self control, actors who kept challenging their limits. I hope this time to show everyone a different Peng Yu-Yan." When asked when would Peng Yu-Yan win a Best Actor award, Lam Chiu Yin said, "Best Actor requires time, but I believe that he will. He has a lot of opportunities."