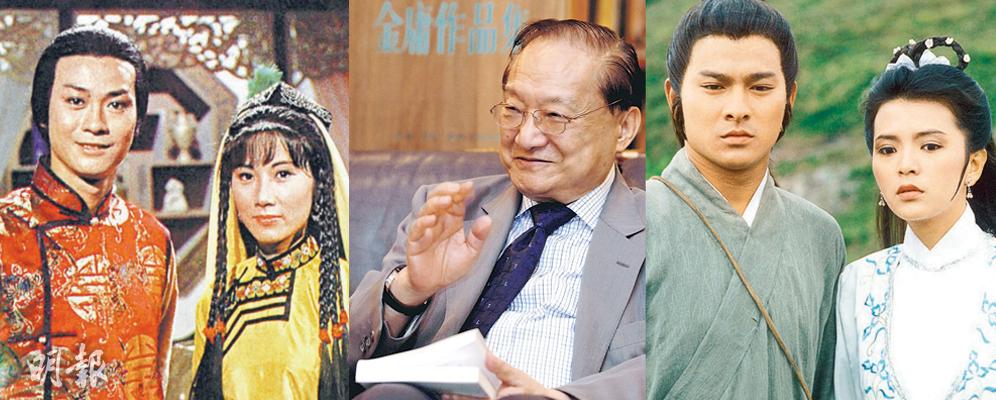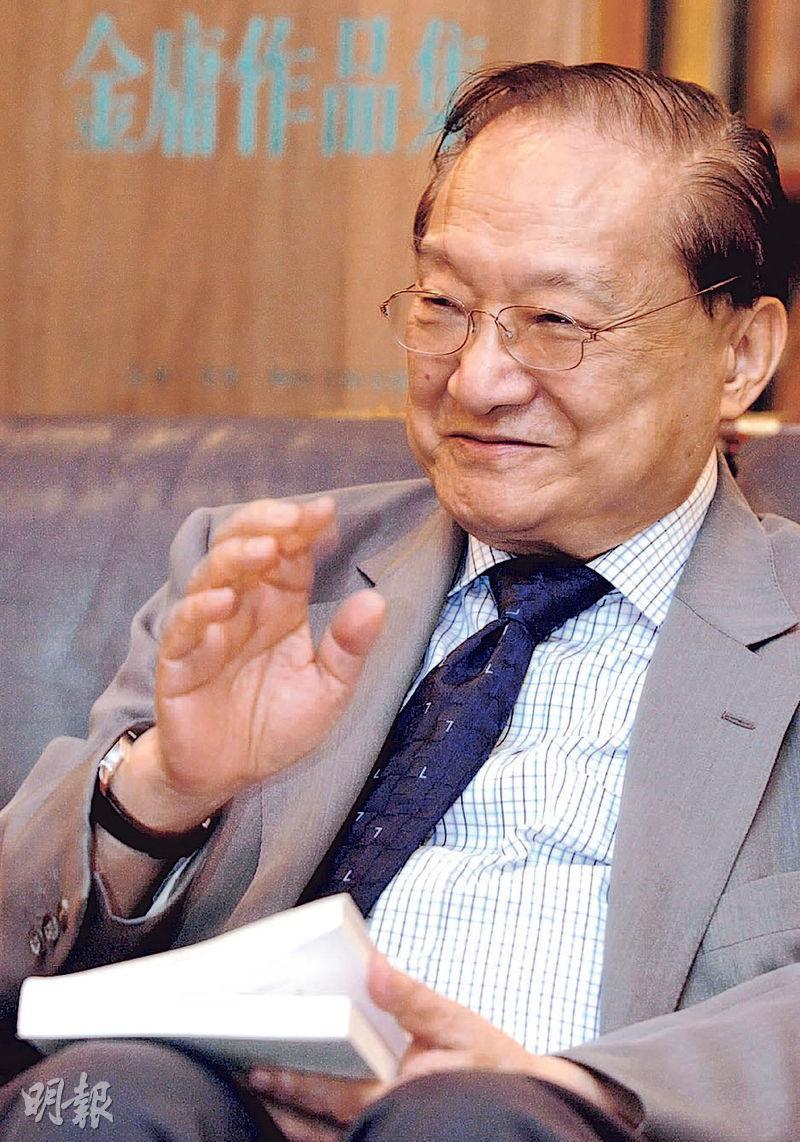 THE RETURN OF THE CONDOR HEROES' Andy Lau and Idy Chan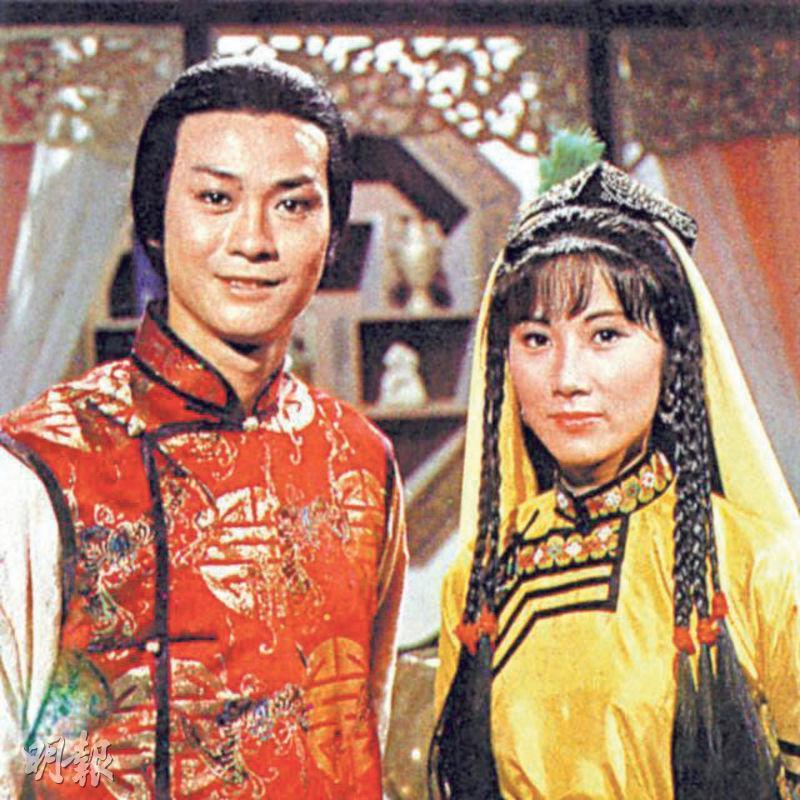 Louis Cha praised Adam Cheng and Liza Wang for bringing his THE BOOK AND THE SWORD characters to life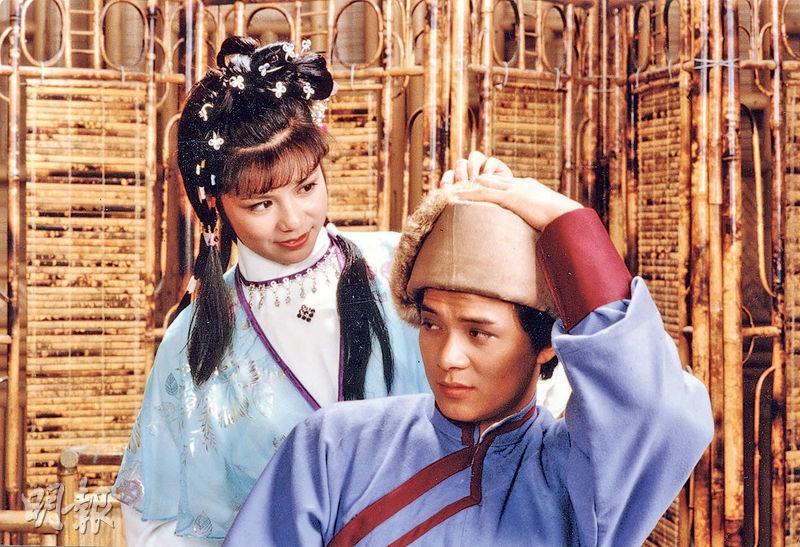 Barbara Yung and Felix Wong's THE LEGEND OF THE CONDOR HEROES remains a classic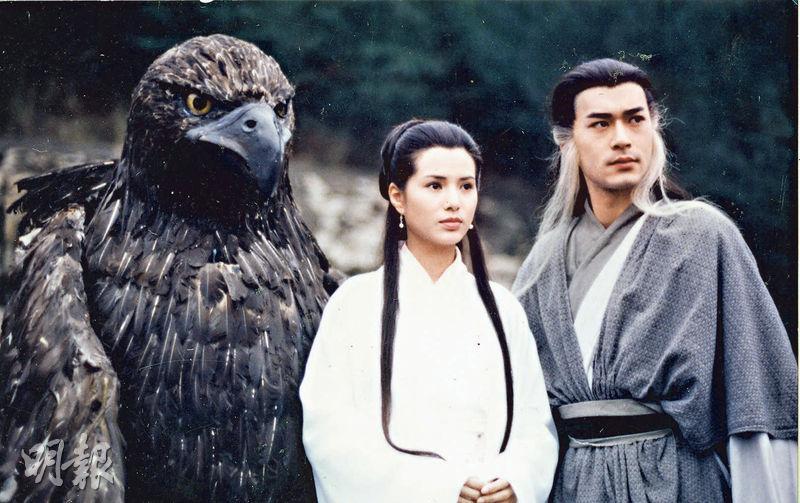 Louis Koo and Carmen Lee's THE RETURN OF THE CONDOR HEROES received good reviews
The 2014 Mainland version of THE RETURN OF THE CONDOR HEROES played matchmaker for Chen Xiao and Michelle Chen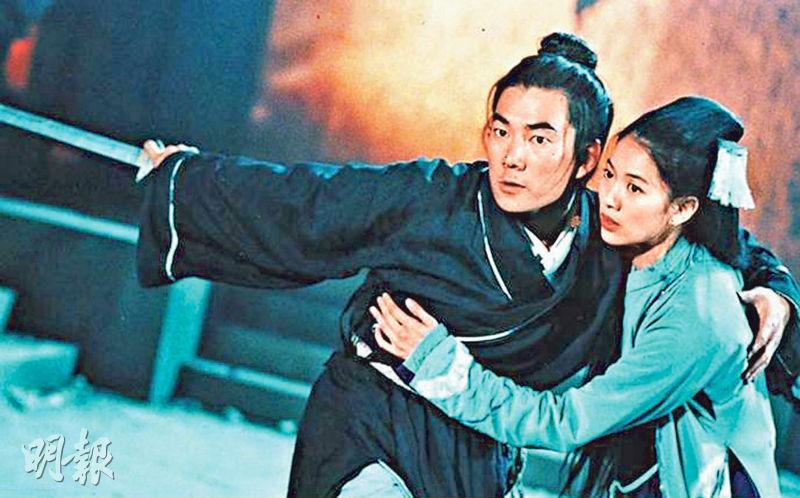 Richie Jen was in SMILING AND PROUD WANDERER thanked Louis Cha for his imagination filled fantasy world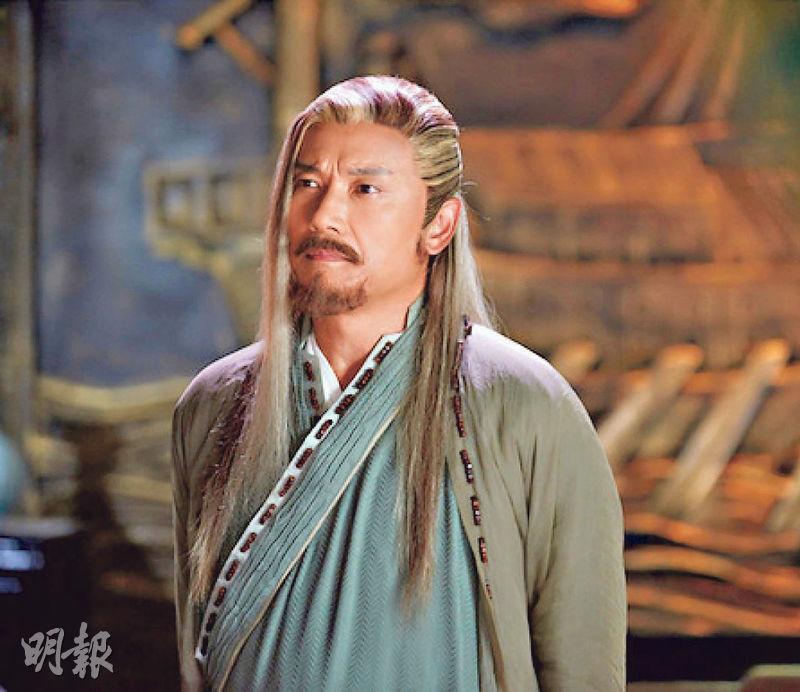 Michael Miu played Wong Yuk Si in last year's THE LEGEND OF THE CONDOR HEROES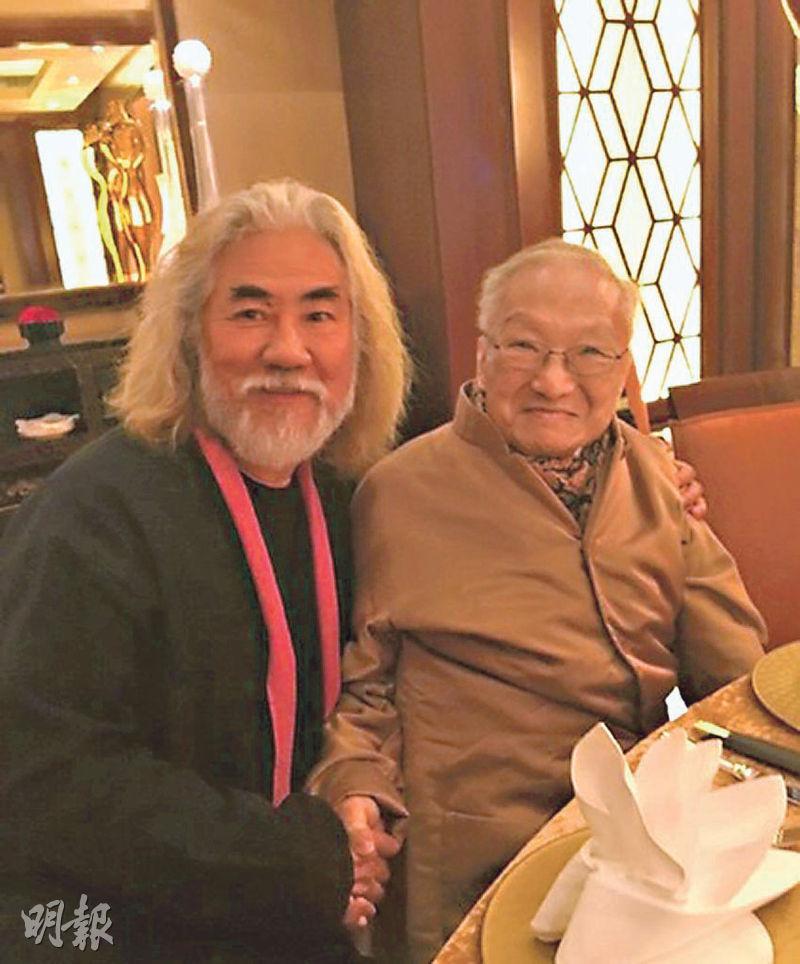 Zhang Jizhong adapted many Louis Cha novels and said that Louis Cha's wuxia would always remain in the world.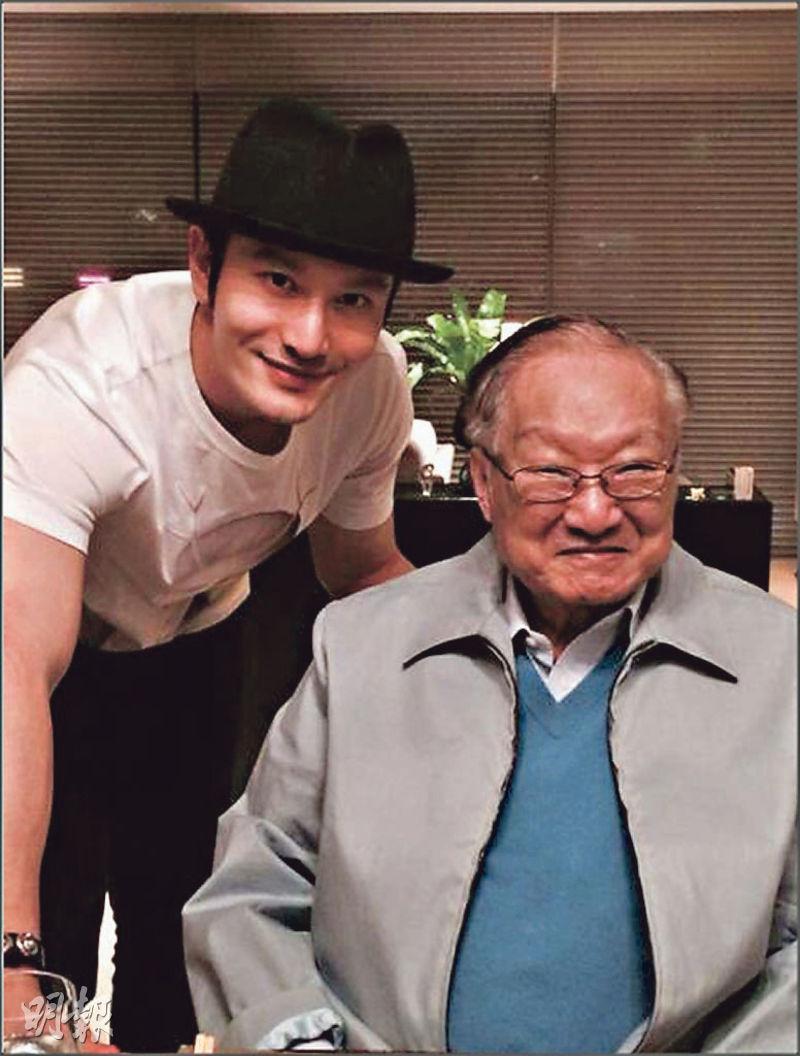 Huang Xiaoming says Louis Cha's character all had invincible spirits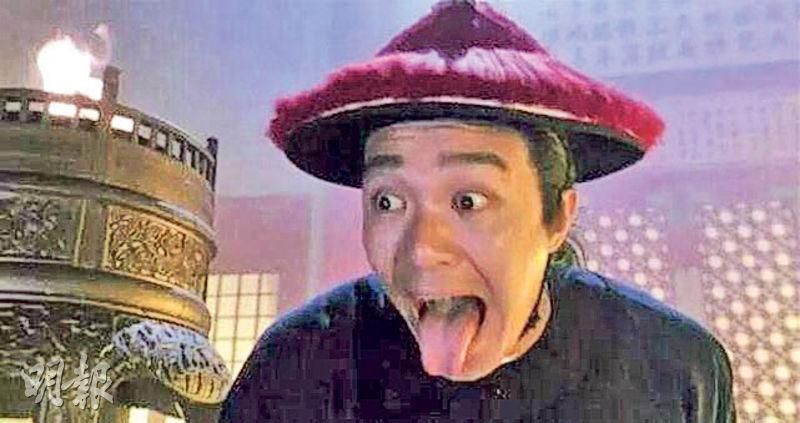 Louis Cha says that ROYAL TRAMP's Stephen Chow is the perfect Wai Siu Bo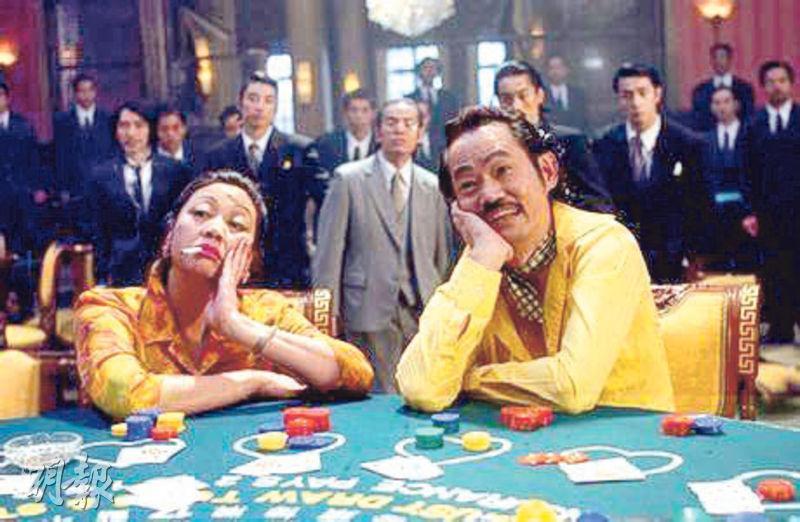 Stephen Chow used Louis Cha character names in KUNG FU HUSTLE, for which he insisted on paying royalties for.
courtesy of mingpao.com
The great literary hero of a generation, Ming Pao founder Louis Cha (Jin Yong) yesterday passed away at the Hong Kong Sanatorium and Hospital at age 94. "Anywhere with Chinese people would certainly have Jin Yong's wuxia novels" often described Louis Cha and his wuxia novel's widespread influence. Louis Cha's wuxia novel mixed history, people and romance, in Hong Kong, the Mainland and around the world they were widely popular and never faded with age. Through the magic of his pen, wuxia novels went from being looked down upon as "low class" and "vulgar" to become the study subject of numerous scholars. Later it even developed into "Jinology" that was mentioned in the same breath as "Redology" (the study of DREAM OF THE RED CHAMBER). Deep sorrow and regret spread across the community over Louis Cha's passing, but his wuxia spirit of "Shooting a white deer, snow flutters around the skies; Smiling, [one] writes about the divine chivalrous one, leaning against bluish lovebirds (or lover)" would forever endure.
Louis Cha wrote under pen names "Yao Fulan", "Lin Huan" and "Jin Yong". Under the pen name "Jin Yong" he wrote many classic wuxia novels. He was also a famous Hong Kong newspaper founder, novelist and critic.
Since the 1955 THE BOOK AND THE SWORD to the 1972 THE DEER AND THE CAULDRON when he officially ended his writing career, Louis Cha created wuxia novels were well known. His work like THE LEGEND OF THE CONDOR HEROES, THE RETURN OF THE CONDOR HEROES, THE HEAVENLY SWORD AND THE DRAGON SABER and DEMI-GODS AND SEMI-DEVILS had far reaching influence on the entire Chinese literary world. Over the years they made into television series and films time and again and even led to many comic book and animation products.
Louis Cha was born in Haining, Zhejiang on March 10th, 1924, a descendant of Cha Sheng's grandson Cha Kui. At age 8 he by chance discovered THE HEROINE and fell in love with reading wuxia novel. He read dozens of novels like WATER MARGIN and THE SEVEN HEROS AND FIVE GALLANTS all at once. At age 15 he and his classmate co-wrote FOR JUNIOR HIGH SCHOOL APPLICANTS, his first book publication that was a top seller in southern Zhejiang, even reached as far as places like Jiangxi and Fujian.
During the War Against Japanese Aggression, he relied on the government issued payments for a living. After coming to Hong Kong, he worked as a supplement editor on the Ta Kung Pao affiliate New Evening POST and in the 50s began his journey of wuxia novels. In 1959 he founded Ming Pao. Aside from wuxia novel serial, his Ming Pao published social commentary was also deeply influential. In the 60s and the 70s it even became the authority in reporting news about China and also satisfied Hong Kong's demand for Mainland information.
Not just the cultural world, Louis Cha in 1981 even met with Deng Xiaoping and discussed many political issues. Later he participated in the drafting of Hong Kong Basic Laws and was assigned to the Hong Kong Basic Law drafting council "political party" committee Hong Kong leader. In 2000, Louis Cha received the Special Administrative Region government's highest honor the Great Bauhinia badge. In 2009 he was a honorary chair of the 7th national council of the China writers association.
Louis Cha recalled in his interview with Mainland host Yang Lan, "At first I created for work, I didn't have any novel writing experience. I created wuxia novel with a give it a try state of mind, fame completely was unexpected." In 2009 Louis Cha returned to visit and attend a forum at Ta Kung Pao after 52 years. "At Ta Kung Pao I contributed my youth and intelligence, looking back today I feel I have no regret in this life."
The Culturist facebook page yesterday posted around 7PM the reply from Louis Cha's son in regards to his father's death. "The news is correct, thank you." He pointed out that his father passed away peacefully. His family was by his side when he passed.
Hong Kong Ming Pao site yesterday evening posted "Remembering Mr. Jing Yong", stating that the entire Ming Pao organization was deeply saddened by the passing of Ming Pao founder and famous wuxia novelist Louis Cha and sent its sincerest condolences to his family.
The eulogy pointed out that Mr. Louis Cha was a good friend of Ming Pao publication group chief Tiong Hiew King, Tan Sri Datuk. "Ming Pao has been toiling in the newspaper industry for years and headed toward the top. If not for Mr. Louis Cha's hard work and tireless effort, making a name for it with his pen it would not be here today. Mr. Cha's passing to Ming Pao, to Hong Kong press industry and the Chinese literary world undoubtedly is a tremendous loss."
Louis Cha's 14 books "Shooting a white deer, snow flutters around the skies; Smiling, [one] writes about the divine chivalrous one, leaning against bluish lovebirds (or lover)" remained classics, its intriguing stories told of a variety of relationships in the world. Each of his book was rich in visuals and has been adapted for film and television. Thus Louis Cha made Hong Kong wuxia series' golden age, and television series made Louis Cha a gigantic influence on the global Chinese world. Anywhere with Chinese people would know about Louis Cha. They may not have read Louis Cha's wuxia novels, but they would have watched Louis Cha wuxia novel based television series or films. Many caught up on his novels due to the television series. Each book represented an era, a classic in the hearts of Chinese people in Hong Kong and around the world.
Louis Cha's connection to film and television aside from his rich visuals in his novels was also his love for writing screenplays. In 1958 Louis Cha under the pen name "Lin Huan" wrote many scripts, including NEVER LEAVE ME, THE THREE LOVES, THE FAIRY DOVE, THE NATURE OF SPRING, ONE MILLION FOR ME. Later he wrote and directed, but only co-directed two films with others. They were the 1958 THE NATURE OF SPRING with Cheng Pu-Kuo and the 1959 BRIDE HUNTER with Hu Siao-Fung. Then his work caught the eye of television stations and film companies. They created the golden age for Hong Kong television stations, influenced the Mainland television world, and versions of different eras made many artists and top stars of different eras.
Among Louis Cha's 14 novels, the first to be adapted for the screen was THE LEGEND OF THE CONDOR HEROES. The one that was the most adapted was also THE LEGEND OF THE CONDOR HEROES, so far it has already been made ten times. In 1976 Commercial Television adapted THE LEGEND OF THE CONDOR HEROES for the first time into a television series with Pak Piao and Michelle Yim (Mai Suet). Although CTV only lasted three years, it made five Louis Cha series: THE LEGEND OF THE CONDOR HEROES, THE RETURN OF THE CONDOR HEROES, SWORD STAINED WITH ROYAL BLOOD, FOX VOLANT OF THE SNOWY MOUNTAIN, and THE DEER AND THE CAULDRON. One after another Louis Cha series made TVB rating fall extremely. TVB also made THE LEGEND OF THE CONDOR HEROES with Felix Wong Yat Wa and Barbara Yung Mei Ling and launched the golden age of wuxia series. Whenever TVB faced any rating pressure it would adapt Louis Cha's work. THE SMILING, PROUD WANDERER, THE DEER AND THE CAULDRON, FOX VOLANT OF HE SNOW MOUNTAIN started production one after another and beat ATV. Louis Cha's work in the 80s became TVB's rating gimmick as it was often remade; its television series video tape was also sold all over the world, wherever Chinese people were Louis Cha series could be seen.
THE LEGEND OF THE CONDOR HEROES so far has already been made into ten versions. The 1983 Wong Yat Wa and Yung Mei Ling starred version once was the most viewed television series in Hong Kong history. The second most adapted was THE RETURN OF THE CONDOR HEROES with 8. THE RETURN OF THE CONDOR HEROES was also made into a CTV series in 1976, starring Law Lok Lam and Lee Tung Ming. TVB in 83 made the Andy Lau Tak Wa and the Idy Chan Yuk Ling version. Its popularity passed the Wong Yat Wa and Yung Mei Ling starred LEGEND to become the most watched series in Hong Kong history. Chan Yuk Ling's Dragon Maiden was also the "permanent Dragon Maiden" in the hearts of Hong Kong people. Later came the Louis Koo Tin Lok and Carmen Lee Yeuk Tung version and the Mainland Crystal Liu Yifei and Huang Xiaoming versions.
As for film, the first Louis Cha novel film adaptation was also THE LEGEND OF THE CONDOR HEROES. In 1958 Wu Peng directed the black and white Cantonese film. In the 60s when Liang Yusheng and Gu Long's wuxia novels were often adapted into films, they also became the foundation for Louis Cha's film adaptations. The 1960 RETURN OF THE CONDOR HEROES Cantonese film was Lee Fa directed, Patrick Tse Yin, Nam Hung and Leung So Kam starred. Later in 1992 THE DEER AND THE CAULDRON based ROYAL TRAMP and its sequel starred Stephen Chow Sing Chi and were very popular.
Anyone who played Louis Cha's characters would become famous, as they made many young stars for TVB. Back then when Adam Cheng Siu Chau and Liza Wang Ming Chuen starred in THE BOOK AND THE SWORD his heroic image was solidified. With his television series theme song it still remains a symbolic work.
Cheng Siu Chau admitted, "Since I played in THE BOOK AND THE SWORD, my hero image was solidified in the hearts of viewers. He has many ideas in his head, and used a lot of history in his writing to make you think that the characters are real. Once you open his novel you would keep reading it. I remember I too read his novels under the sheets."
During the TVB Five Tigers era, Lau Tak Wa, Wong Yat Wa, Tony Leung Chiu Wai, Michael Miu Kiu Wai and Tong Chun Yip also rose with Louis Cha wuxia series. Lau Tak Wa said, "Mr. Jing Yong is a wonder in the wuxia novel world. My being able to play his character Yeung Gor was also fate. Back then when I founded TeamWork the first film SAVIOR OF THE SOUL (91 SUN DIU HUP NUI) also got its name from Mr. Jin Yong's novel. Actually all along I have been concerned with his health. When I heard the news of his passing I felt very regrettable. It absolutely was a huge loss to the wuxia world. I wish him a safe journey and my condolences to his family."
Wong Yat Wa sincerely said, "Without Jin Yong here would be no Wong Yat Wa. I was fortunate enough to play THE LEGEND OF THE CONDOR HEROES' Kwok Ching and DEMI-GODS and SEMI-DEVIL's Kiu Fung, which brought my career to new heights. The news of Mr. Jin Yong's passing surprised me. I am deeply saddened and wish him a safe journey. I would always remember Mr. Jin Yong."
Aside from film and television series, Jin Yong's work also became a favorite of online games. Jin Yong's heroes have been designed into internet games, HEROES OF JIN YONG, as its protagonists. With its unique martial art learning system, skill and canceling system, it attracted many people who long fantasized about Louis Cha wuxia novel stories. In this game, players would be in the stories as they wandered the world with Jin Yong heroes. Since its 2001 release, the game has been rather popular in Mainland China, Taiwan, Hong Kong, Malaysia, Macau and other places.