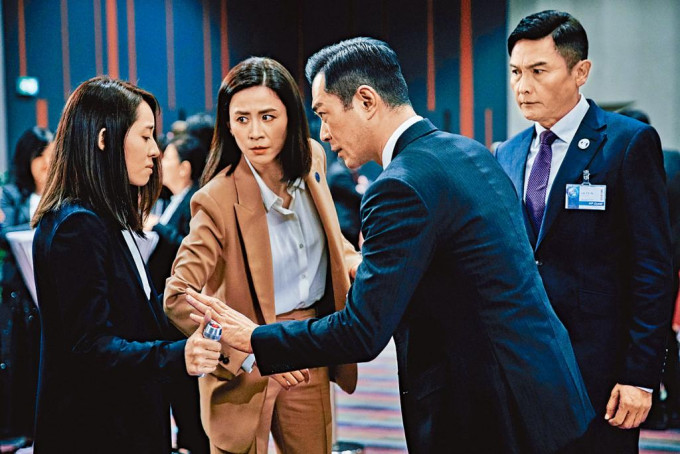 courtesy of singtao.com
The anti-corruption storm film series' final chapter G STORM (G FUNG BO) made over 300 yuan RMB in three days in the Mainland, in Hong Kong it also made HK$ 3.48 million. As for the anti-corruption storm center figure Louis Koo Tin Lok stated that in his life many first and final times were in the anti-corruption storm series. "Thank you everyone who have gone to the movies! 7 years ago I played Luk Chi Kim for the first tie, 7 years later the final chapter has arrived. Luk Chi Kim also welcomed his 'ending', we have to say goodbye to this series!"
Indeed, Koo Tin Lok this time participated on screen 100% and off screen! In the opening Kendy Cheung King Yan played a suicide bomb girl who attempted to kill Jessica Hester Hsuan (Suen Huen). Koo Tin Lok that day not only guided Cheung King Yan into character but also attentively studied costumes and the bomb with the art, props and costume departments in order to make it realistic.
Since it was the final chapter, not only Koo Tin Lok but also the team was particularly serious and extra focused! During script creation, sometime in order to achieve perfection changes were made on the set at the last minute. Actors recited the lines on the spot without any complaint. The Independent Commission Against Corruption team's Koo Tin Lok, Kevin Cheng Ka Wing and others also memorized and recited like they would for a test.
Suen Huen despite her leg injury still wore heels with Toby Chan Ting Yan ran for five full days outside the Cultural Center and the Space Museum for a gun fight scene. Ting Yan not only bruised her toe from running in heels but also tripped on Deon Cheung Chung Chi and fell. Goo Jai and Janelle Sing (Xia Yan) in a cargo dock gun fight kept sliding without any pad protection to avoid the shots in the scene.