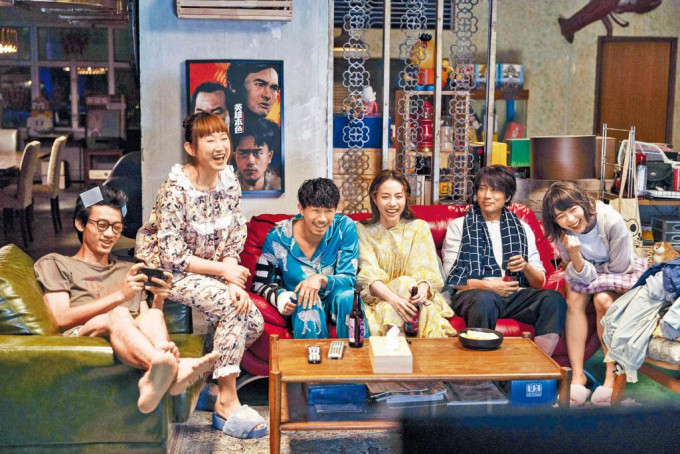 The pandemic postpones TABLE FOR SIX's Lunar New Year release
courtesy of singtao.com
courtesy of on.cc

TABLE FOR SIX, CHILLI LAUGH STORY
courtesy of mingpao.com
The government in order to fight the pandemic announced that current pandemic prevention measures including the temporary suspension of entertainment activities to February 3rd (the Lunar 3rd). Lunar New Year films that have been scheduled for Lunar New Year's Day releases would be drastically impacted. Among them TABLE FOR SIX (FAN HEI GUNG SUM) and CHILLI LAUGH STORY (HOP GA LAT) both said that "everyone would follow the government's currently announced policies". TABLE's actor Stephy Tang Lai Yan felt that the health of everyone would be the most important. She hoped that everyone would pray for cinemas to re-open on the Lunar 4th.
The government announced that cinemas would close until the Lunar 3rd. Originally slated for Lunar New Year's Day releases, Lunar New Year films TABLE FOR SIX and CHILLI LAUGH STORY both said, "Everything would follow the government's currently announced policies, the release date would await further discussion." TABLE's Tang Lai Yan expressed that the film missing its scheduled release would be super regrettable. "This is what everyone want to happen the least. Earlier when (cinemas) were closed for 14 days, I asked everyone to pray for a smooth release for the film. However now everyone's health would be the most important, safely passing this round. (Are you wishing for cinemas to re-open on the Lunar 4th?) That's what I wish for, everyone are optimistic. If everyone thinks like this then it would be successful. Under the pandemic many industries have suffered brutal losses. I wish for the pandemic to pass soon."
CHILLI LAUGH STORY originally was scheduled for a premiere at a public venue. Due to the government's announcement of pandemic prevention measure extensions, the venue immediately announced that event cancellation. CHILLI LAUGH STORY's leads Sandra Ng Kwan Yu and Edan Lui Cheuk On originally were preparing to promote for the film. Kwan Yu on social media posted promotional photos with Edan. Kwan Yu wore super short shorts and revealed that the crew said that she was too sexy.
The Edward Ma Chi Wai starred film LOVE SUDDENLY (FUT YIN SUM DONG) was scheduled for a Lunar New Year's Day release. He said that he would be disappointed but wish good health for everyone, reducing gathering and waiting for the cinemas to re-open.
The Hong Kong Theaters Association said that the extended closure would be similar to 2021 (losing the Lunar New Year slot to mid February before re-opening). If they would need to promote anew and arrange for film releases again, film companies would lost around 3 to 6 months. The cinema business would have difficulty recovering in a short time. This year's box office would be estimated to lose by over 40%. Without the food and beverage ban, the snack department had almost zero income. The estimated loss would be over HK$ 1 billion. Cinemas under the pandemic have been ordered to close 4 times, the only industry that suffered "severe damage" throughout the entire pandemic. They truly could no longer withstand this wave of challenges. If the government would not listen to voices from the industry, elevate assistance amount and release employment assurance measures, a downsizing and closing wave would appear in the industry.