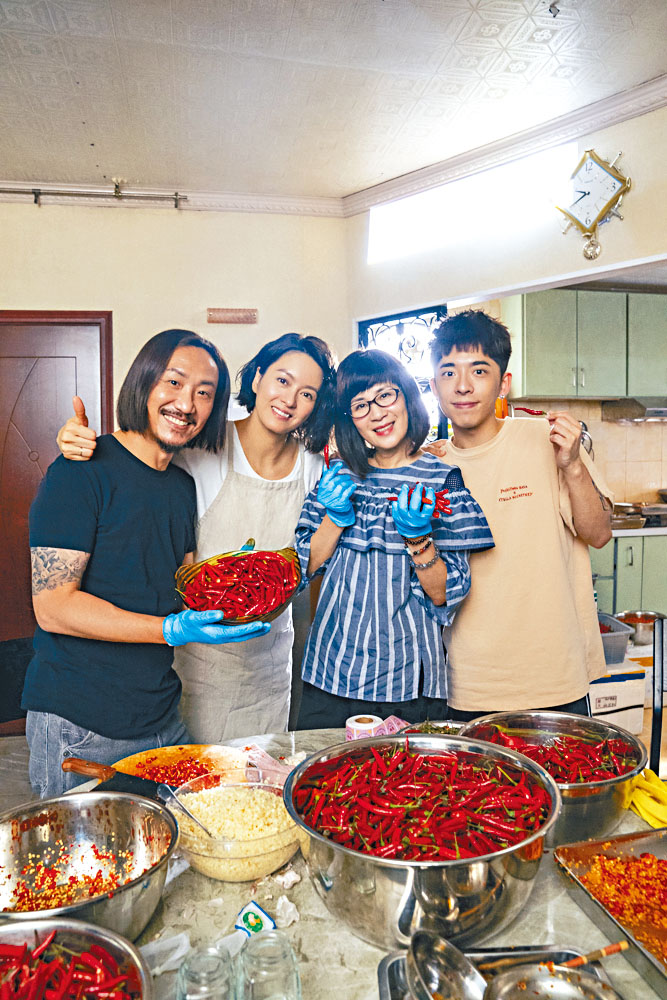 courtesy of singtao.com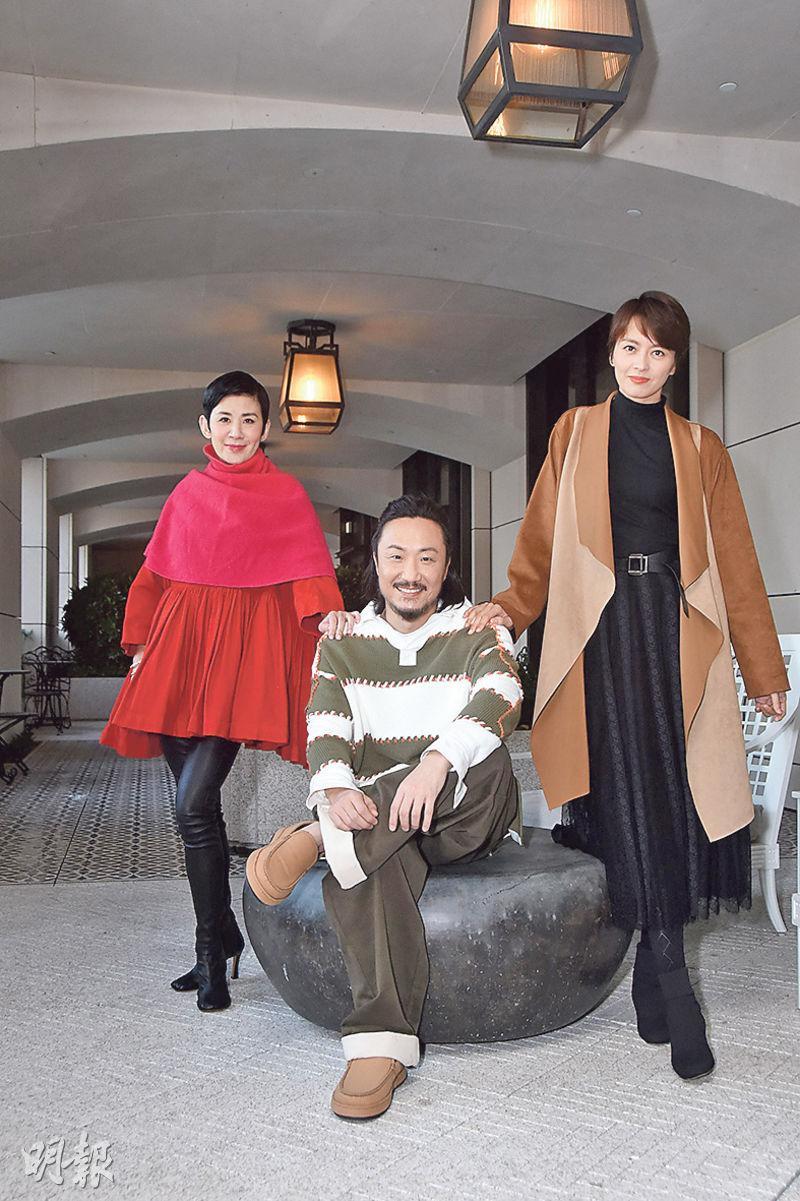 Sandra Ng, Ronald Cheng and Gigi Leung have known each other for years but work together on a movie for the first time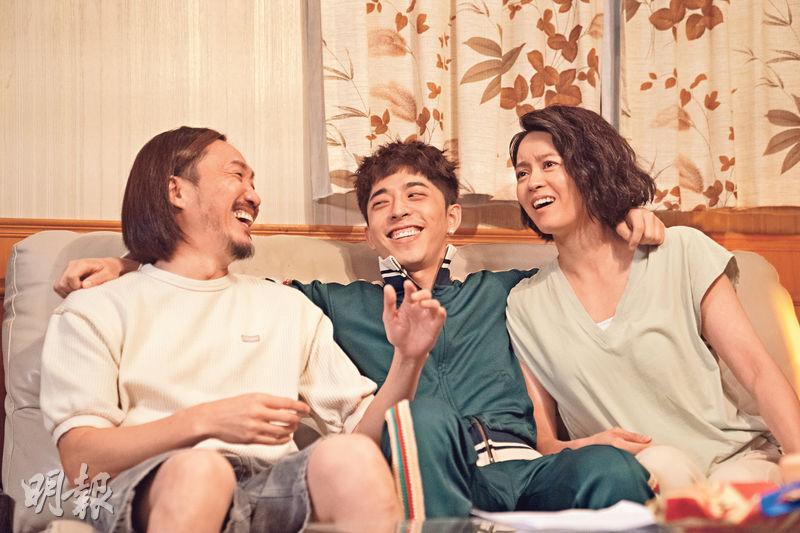 Ronald Cheng and Gigi Leung both say Edan Lui has potential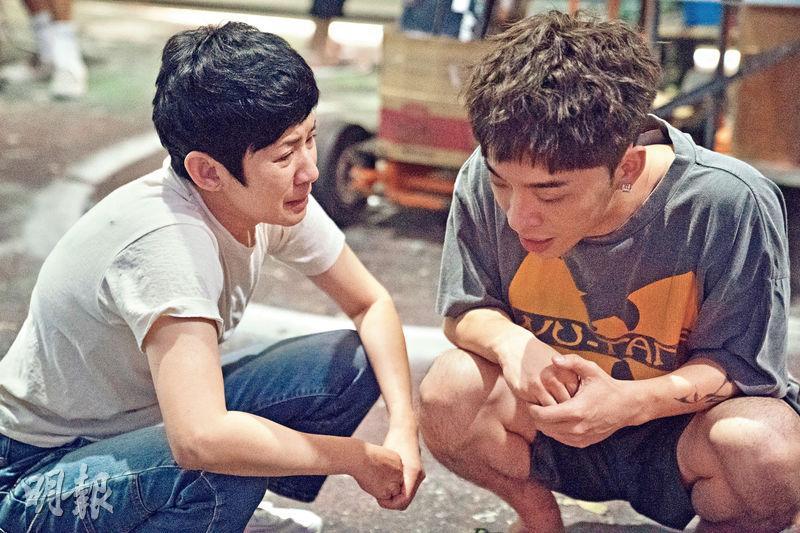 Sandra Ng knows that Edan Lui is stressing over the crying scene and shows up to foster his emotions with him
courtesy of mingpao.com
The Sandra Ng Kwan Yu produced and starred Lunar New Year film CHILLI LAUGH STORY (HOP GA LAT) would brought of a realistic family in Hong Kong under the pandemic in a funny manner. She asked her friends Ronald Cheng Chung Kei and Gigi Leung Wing Kei as well as film industry rising star Edan Lui Cheuk On to join her. In the film Gigi and Edan played mother and son. Suddenly becoming a mother of a 20 something son, she said, "Kwan Yu was afraid that I wouldn't be able to get past that, so she personally presented the script to me so I couldn't turn her down. If Kwan Yu didn't mention it I wouldn't even have thought about it, actually after doing the math I could." Kwan Yu pointed out that she has never seen an actor agree so fast and she admired Gigi's natural beauty.
Gigi this time played a mother and the head of the family. With a wasted husband, the couple constantly argued. In real life they have been very tender with their other halves. Gigi said, "I am very gentle with my husband, not to mention that I don't know how to argue in Spanish." Kwan Yu revealed that Ronald was afraid of his wife Sammie Yu Sze Man. Ronald joked, "I am loaded, after having the children I focus on taking care of the family." Kwan Yu was the real life head of the household. She joked, "Since she was little I have asked my daughter, at home who is the boss? she would point to me and say you. I don't need to be the head of the family, but some stuff naturally would need a decision. Each person has different ways of thinking, different values, a lot of things would need to be decided so I took this spot -- because I am Mama." In the film Kwan Yu played an easy going aunt, with her share of testing and quarantine camp scenes.
Several elders had nothing but praise for their first time co-star, who was so involved that they were like a family. Gigi said, "Edan would scream Mommy from faraway, which was very sweet! I think all Mommies in Hong Kong want Edan to call them Mommy. The fans said that they really want to be his mommy." The team was the most anxious about Edan's crying scene. Kwan Yu felt that among the MIRROR 12, Edan was the sensible -- an advantage for being an actor as he should completely lose himself. She even revealed, "During the audition he wanted to turn it down because of the crying scene. He was afraid that he would cry poorly and have a lot of stress. In the end he was successful, definitely stronger than the other 11. We transferred all of our abilities to him." She even praised Edan as sincere, self confident and humble.
Kwan Yu revealed that her daughter has started to like acting, dancing and singing. She deliberately arranged for her to guest star in an one second shot as a receptionist, and gave her HK$ 100 lai see. She understood that due to her family influence, she would not prohibit her daughter from going into the business. However she would require her to work wholeheartedly to understand the hardship. Gigi said that her daughter did not know what chasing star was, she only knew that Mother was a singer. Cheng Chung Kei's children would not chase stars. His daughter inherited his love for singing, while his younger son inherited his humor gene. He said, "My son really likes dinosaur, he says that when he grows up he wants to be a dinosaur. I tell him to work hard at it, I definitely would support him. One day on a school field trip, the teacher heard my son tell his classmates, 'I like Maggie'. The classmates said that the class doesn't have any Maggie. He said Maggie is sauce (Maggi), Maggie is very good. He even said he would introduce Maggie to them, you should try!"
Gigi remembered 10 years go while working on the film MARRYING MR. PERFECT in Beijing, work was stopped for several days because lead Ronald had to rush back to Hong Kong for the birth of his daughter. Ronald said, "In the end I didn't make it. The flight was delayed. When I got off the plane I got my daughter's photo. The nurse said that my daughter was the tiniest, but cried the loudest."
Ronald said that he felt that he needed to apologize to Gigi. Before her wedding he recommended street skewers to her, which led to food poisoning for a whole week for her. Gigi told Ronald that now she would not let her daughter eat anything randomly. Ronald that he would not dare. They looked back at when they were promoting their records in Taiwan, they were guests on Ng Kwan Yu's variety show. This would be the first movie they were in together and they had a very pleasant time.