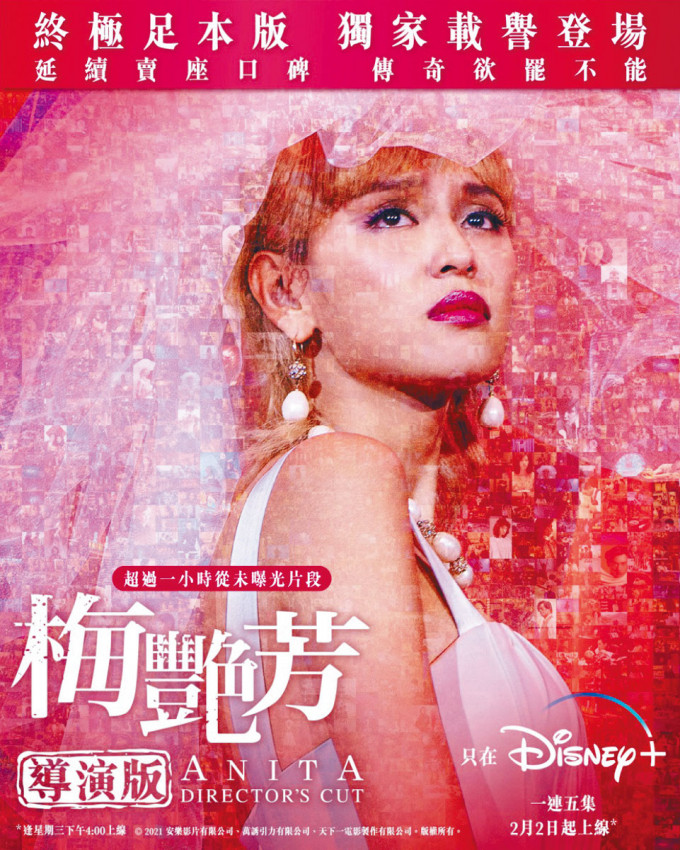 ANITA (director's cut" will have unseen footage
courtesy of singtao.com
The Louise Wong Dan Nei, Louis Koo Tin Lok, Terrance Lau Chun Him starred film ANITA has been a commercial and critical success since its release, accumulating over HK$ 61 million and even landing on top of the 2021 Hong Kong Chinese film box office.
Many viewers felt the film was not enough. Director Longman Leung once revealed that the original film was 4 hours long, but due to length restrictions some of the finished shots had to be cut. Good news arrived yesterday as the director's cut would land on Disney+. The film would add over 1 hour of never before seen footage and would be arranged and edited anew as a 5 episode series that would include even more sisterly love between Mui Yim Fong and older sister Ann Mui On Fong, friendship with Leslie Cheung Kwok Wing, as well as Mui Yim Fong's romantic experience. The full version would begin airing on Disney+ every Wednesday at 4PM starting February 2nd 2022.