Hins Cheung after completing the grand slam says that he will live a low key life and work a high key job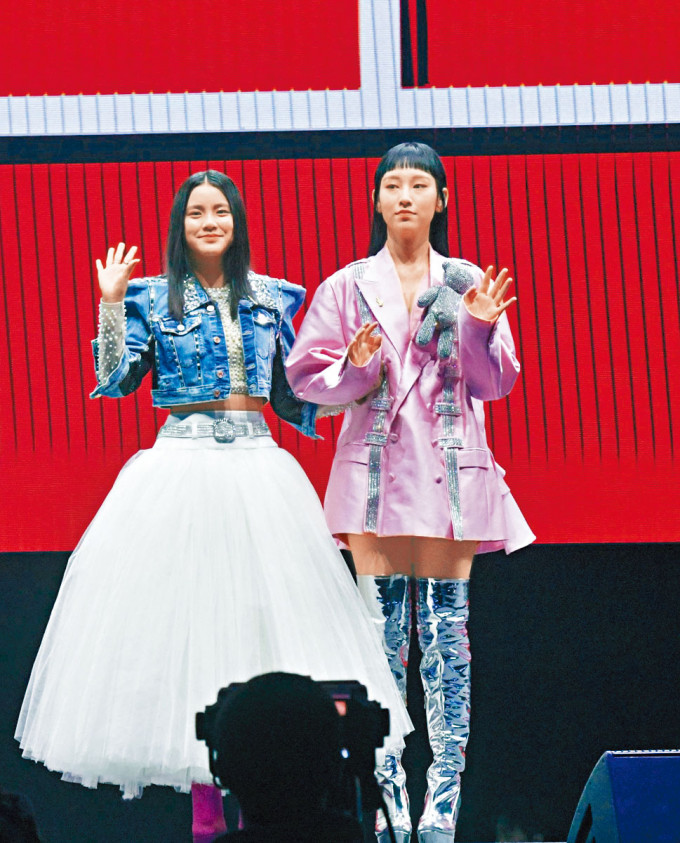 Chantel Yiu and Gigi Yim appear on the ViuTV broadcast
courtesy of singtao.com
Terence Lam continues his award winning streak from last year
Joyce Cheng's years of hard work has finally been recognized as she won two awards
MIRROR won My Favorite Group and Keung To repeated as My Favorite Male Singer
Panther Chan
courtesy of on.cc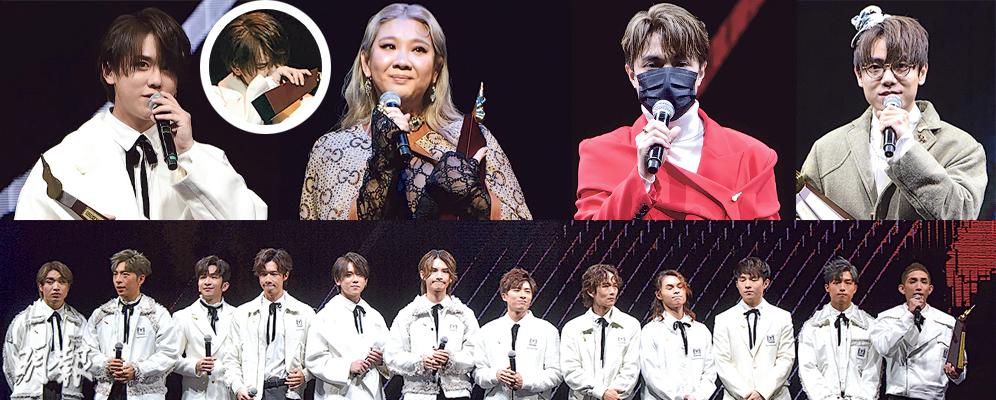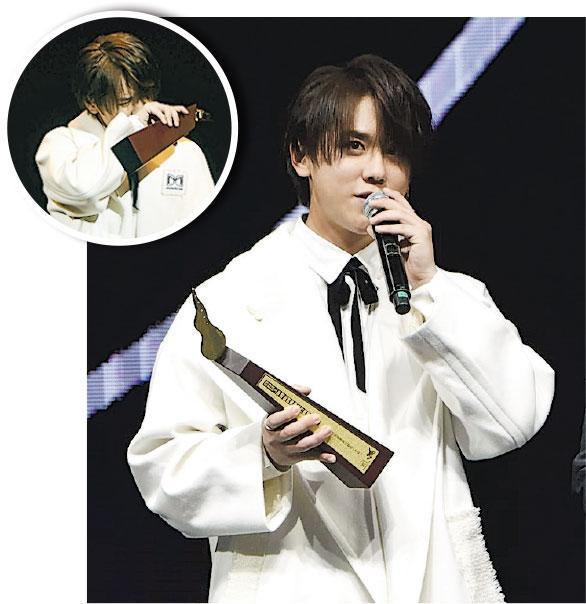 The song Keung To dedicates to his late friend DEAR MY FRIEND wins My Favorite Song. He succumbs to his emotions during the performance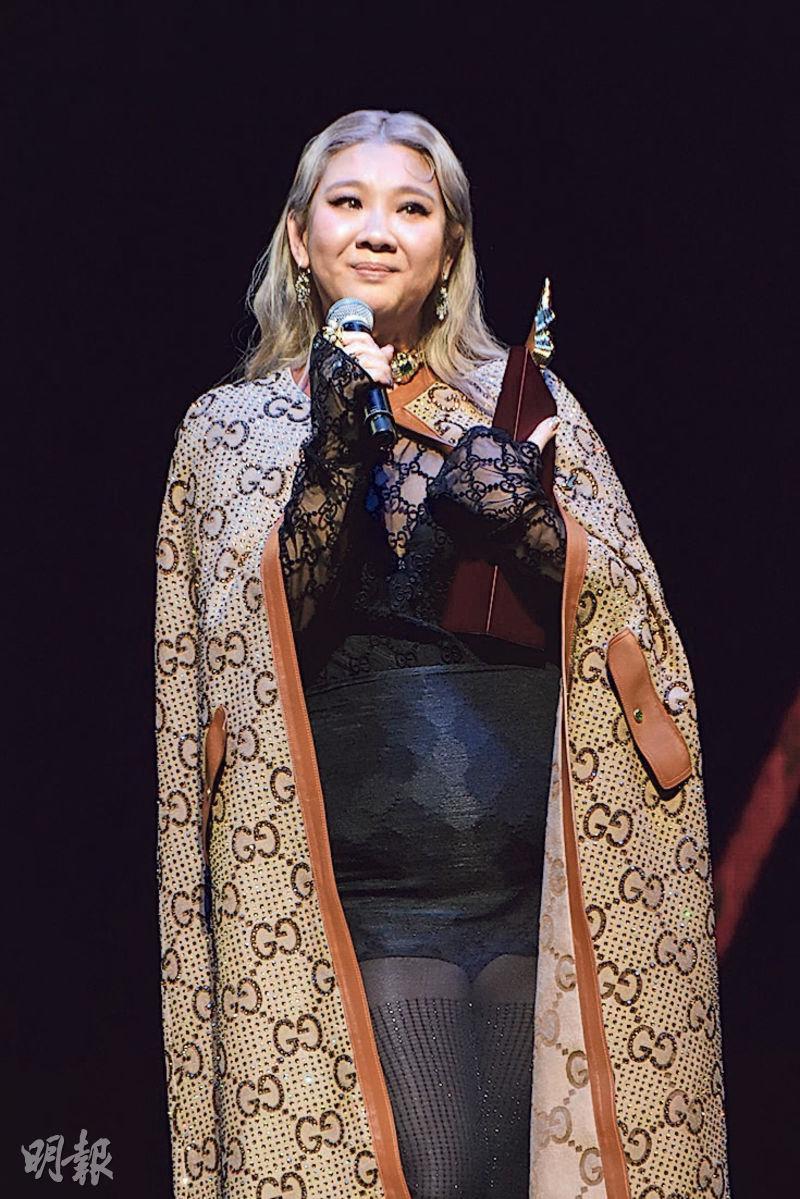 Joyce Cheng wins her first Female Singer gold prize and hopes everyone would call her "Hong Kong singer Joyce Cheng"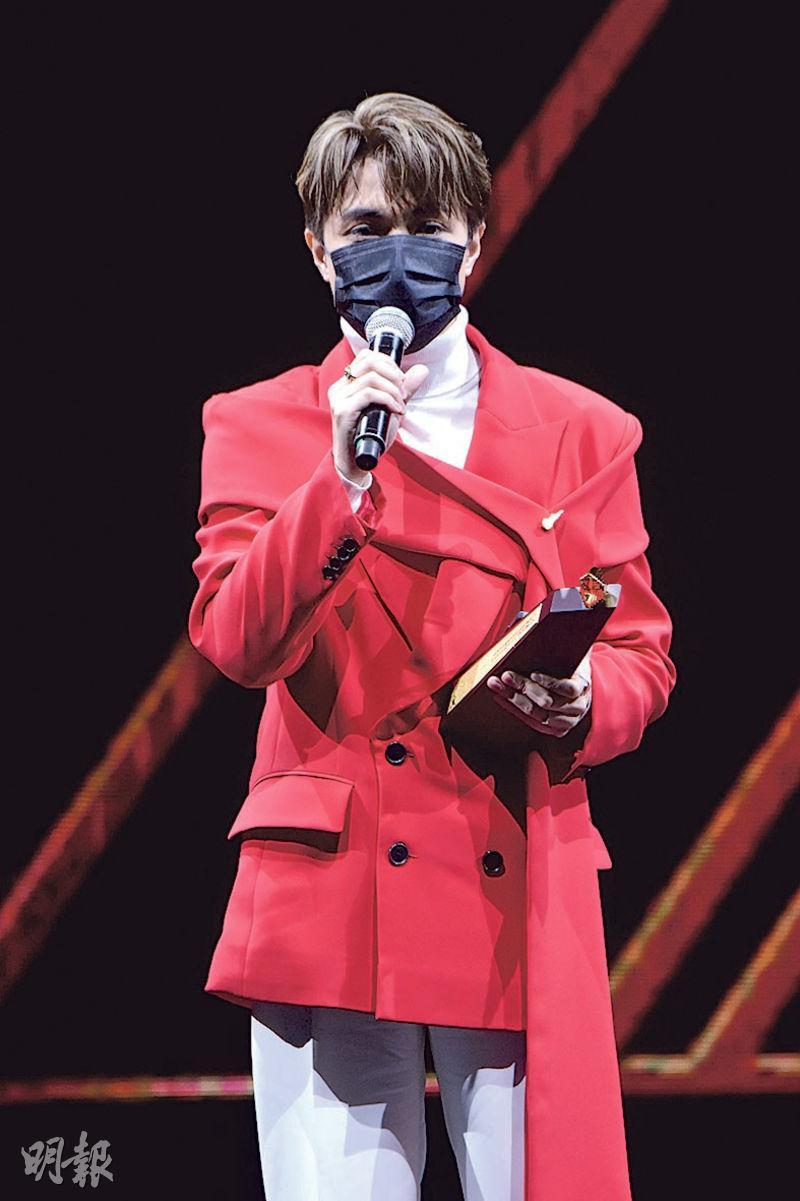 Hins Cheung wins 3 major awards, says that he hopes to repay the music scene and start over in 2022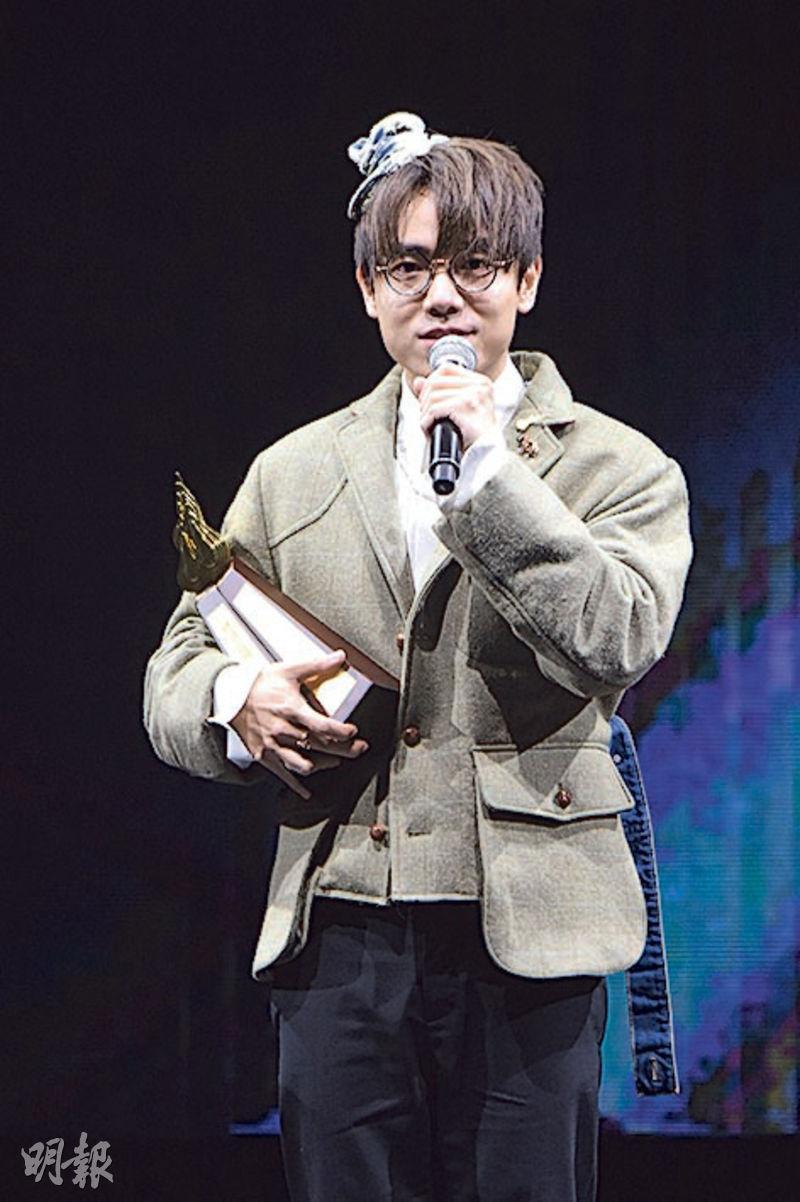 Terence Lam wins 5 awards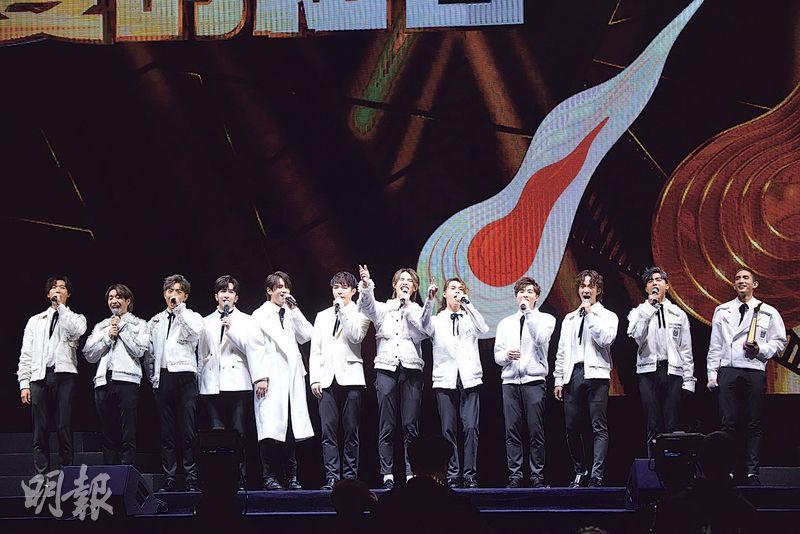 MIRROR wins My Favorite Group as fans scream and yell their names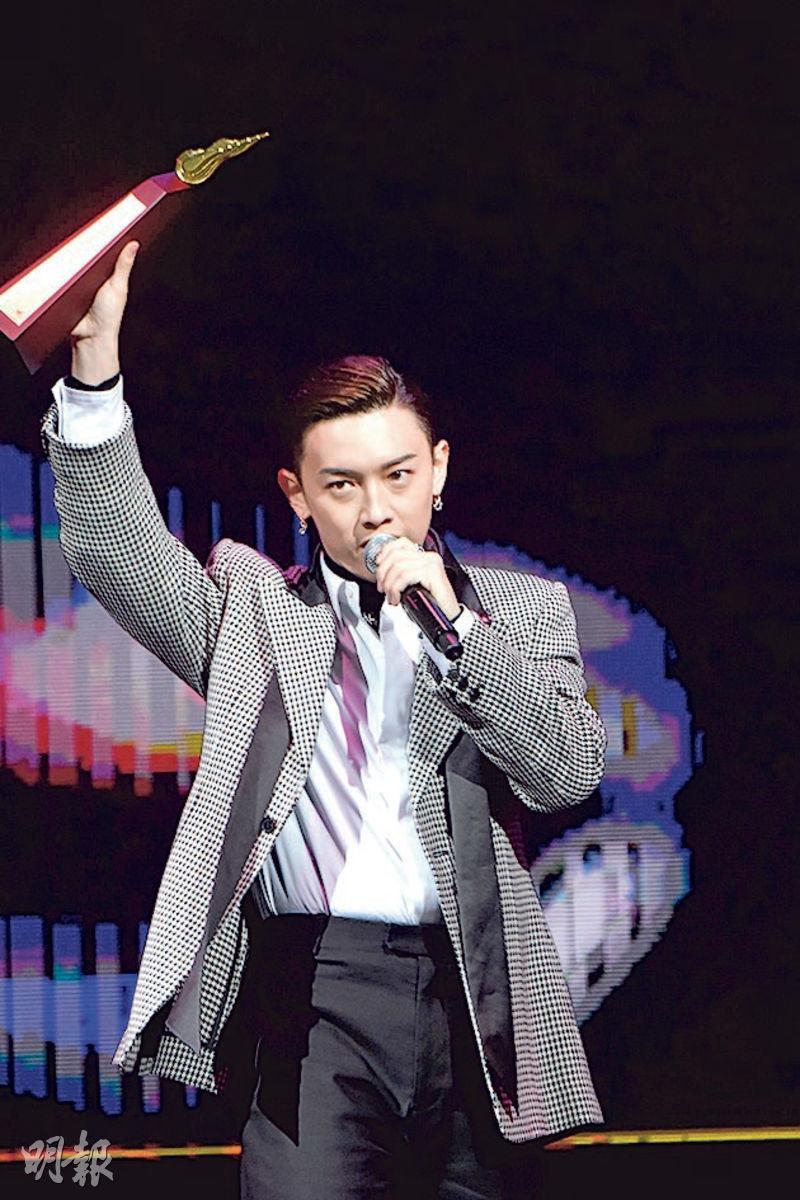 MC Cheung defeats Edan Lui for the Rookie Male Singer gold prize. He screams, "Dad I did it!"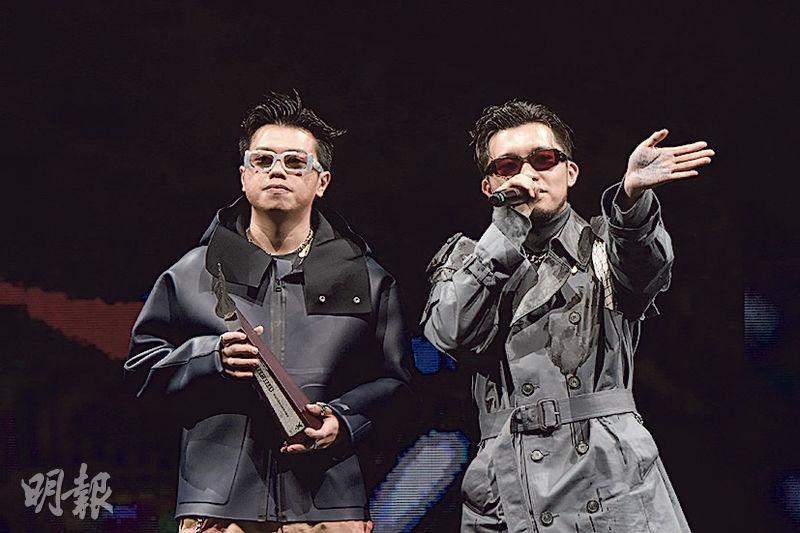 MC $oHo and KidNey wins Rookie Group silver prize and says, "Hong Kong has so many problems because the management has been poor!"
TVB's STARS ACADEMY popularity queens Gigi Yim and Chantel Yiu win Rookie Female Singer silver and bronze prizes
courtesy of mingpao.com
The 2021 Ultimate Music Award took place at the Asian Expo. This year new comers flooded in as the Ultimate Music Rookie Awards were again divided in male and female and gold, silver and bronze prizes, increasing the total awards from 43 last year to 49. Hins Cheung King Hin won his fifth "Ultimate Music Male Singer" gold prize and his first "Ultimate Music Ultimate Record award", tying Song God Jacky Cheung Hok Yau's Ultimate grand slam record. MIRROR won 8 group and individual awards. Keung To won the "Ultimate Music My Favorite Male Singer" and with DEAR MY FRIEND won the "Ultimate Music My Favorite Song".
Cheung King Hin swept up three major awards. With his latest album THE BRIGHTEST DARKNESS won his first Ultimate Music Ultimate Record Award. Hin Jai ignored the starting music and admitted that it was the first time in his life he won this award. He did not know whether he would again, because no one expected what has happened in recent years. He thanked every Hong Kong friends and said that he came to Hong Kong for work for over a decade, this year his feelings were mixed. He stated that he had a lot of love for but also owed this city, even those who criticized or praised him would make him become an even better person.
Later he won the "Ultimate Music Male Singer" gold prize. He thanked his boss Dr. Albert Yeung Sau Sing and also mentioned that after winning the award tomorrow he would start over like after an eraser erased everything. He felt that aside from himself, everyone has been very hard working. He also thanked every fan and his family in Guangzhou. He wanted to use the rewards from his past 20 years, to live low key and work high key. Hin Jai insisted on wearing masks on the stage, saying that he had a cough but he did not dare to relax. Unfortunately when he performed the "Professional Recommendation Ultimate Top Ten" third place song THE WAY WE WERE he was less than accurate, over which even he shook his head.
MIRROR won "Ultimate Music My Favorite Group" and "Ultimate Music Group" Silver Prize, their song BOSS became the "Professional Recommended Ultimate Top Ten" second place. Jer Lau Ying Ting's single MAD MAN DIARY was in sixth place. Anson Lo's dance hit MEGAHIT came in ninth. In addition Edan Lui as the favorite won the "Rookie Male Singer" Silver Prize. Keung To even repeated "My Favorite Male Singer" and his single DEAR MY FRIEND won "My Favorite Song Award". He dedicates the song to his late friend, midway through his performance he could no longer continue as he turned away to wipe his tears.
Joyce Cheng Yan Yee won her first "Ultimate Music Female Singer" gold prize and "My Favorite Female Singer", off stage she was in tears and received a congratulatory hug from friend Alfred Hui Ting Hung. On stage she tearfully said that she always minded being reported as an artist and not a singer. She in order to gain more singing opportunities acted and worked on variety shows. Vincy Chan (Wing Yi)'s SEA OF THORNS took ten places and she broke down. She admitted that she never thought that she would have another chance to be on the stage again. She sentimentally thanked people who have supported her for 16 years and walked through the abyss with her, so she would be able to continue to sing.
RubberBand with CIAO won the "Ultimate Song grand prize". When their lyricist Tim Lui praised lead singer Number 6, Number 6 immediately returned a heart gesture to his wife. Terence Lam Ka Him also won the "Ultimate Music Male Singer" silver prize, "Ultimate Music Creative Singer", Song Writer and Song Arrangement awards, and the fifth place THE WONDERFUL MAGIC POTION OF CONFUSION.
The 2021 Ultimate Music Award was broadcast live on ViuTV. TVB's STARS ACADEMY students Gigi Yim Ming Hei and Chantel Yiu Cheuk Fei competed for the Ultimate Music Rookie Female Singer Award, they along with Rookie Male Singer nominees Edan Lui Cheuk On and MC Cheung Tin Fu opened the show on the stage. Gigi and Chantel appeared on the rival station for the first time and as the favorites won Rookie Female Singer awards!
Winning the Bronze prize Chantel on the stage mentioned that her parents advised her to study and that the rest of her life would belong completely to music. Gigi accepted the Rookie silver prize from DJ Sammy. Sammy mentioned that earlier when he attended a forum at Gigi's school, he heard that the headmaster praised Gigi for doing her best as a student despite becoming a singer. He joked that Gigi would have to thank the headmaster. Gigi agreed and cracked up the crowd. She instead asked why did everyone laugh. She also thanked all the poeple who supported and loved her.
Rookie Female Singer Gold Prize winner Gigi Cheung Man Chi were Yim Ming Hei's elder at the same school. DJ Sammy said that it was the firs time in Ultimate Award history that two Rookie winners came from the same school.
COMMERCIAL RADIO ULTIMATE MUSIC AWARDS 2022
https://usca.my903.com/

ULTIMATE MUSIC MY FAVORITE MALE SINGER:
Keung To
ULTIMATE MUSIC MY FAVORITE FEMALE SINGER:
Joyce Cheng
ULITMATE MUSIC MY FAVORITE GROUP:
MIRROR
ULTIMATE MUSIC MY FAVORITE SONG:
DEAR MY FRIEND (Keung To)
ULTIMATE MUSIC MALE SINGER
GOLD:
Hins Cheung
SILVER:
Terence Lam
BRONZE:
Jay Fung

ULTIMATE MUSIC FEMALE SINGER
GOLD:
Joyce Cheng
SILVER:
Cath Wong
BRONZE:
Mag Lam

ULTIMATE MUSIC GROUP
GOLD:
C AllStar
SILVER:
MIRROR
BRONZE:
Dear Jane

ULTIMATE MUSIC CREATIVE SINGER
GOLD:
Terence Lam
SILVER:
Jay Fung
BRONZE:
Phil Lam

ULTIMATE MUSIC ROOKIE MALE SINGER
GOLD:
MC Cheung
SILVER:
Edan Lui
BRONZE:
Peter Tsang

ULTIMATE MUSIC ROOKIE FEMALE SINGER
GOLD:
Gigi Cheung
SILVER:
Gigi Yim
BRONZE:
Chantel Yiu

ULTIMATE MUSIC ROOKIE GROUP
GOLD:
Rock Hill Street
SILVER:
MC $oHo and KidNey
BRONZE:
P1X3L

ULTIMATE MUSIC ULTIMATE RECORD:
THE BRIGHTEST DARKNESS (Hins Cheung)
ULTIMATE MUSIC SONG WRITER:
Terence Lam
ULTIMATE MUSIC SONG ARRANGER:
Terence Lam
ULTIMATE MUSIC PRODUCER:
Edward Chan
ULTIMATE MUSIC LYRICIST:
Wyman Wong
PROFESSIONAL RECOMMENDED ULTIMATE TOP TEN
ULTIMATE MUSIC ULTIMATE SONG:
CIAO (RubberBand)
2.
BOSS (MIRROR)
3.
THE WAY WE WERE (Hins Cheung)
4.
DRINK MORE WATER (Stephanie Cheng)
5.
THE WONDERFUL MAGIC POTION OF CONFUSION (Terence Lam)
6.
MAD MAN DIARY (Jer Lau)
7.
TOGETHER WE STRIVE FOR A BETTER WORLD (C AllStar)
8.
THE SHAPE OF THE WIND (Yoyo Sham)

9.
MEGAHIT (Anson Lo)

10.
SEA OF THORNS (Vincy Chan)