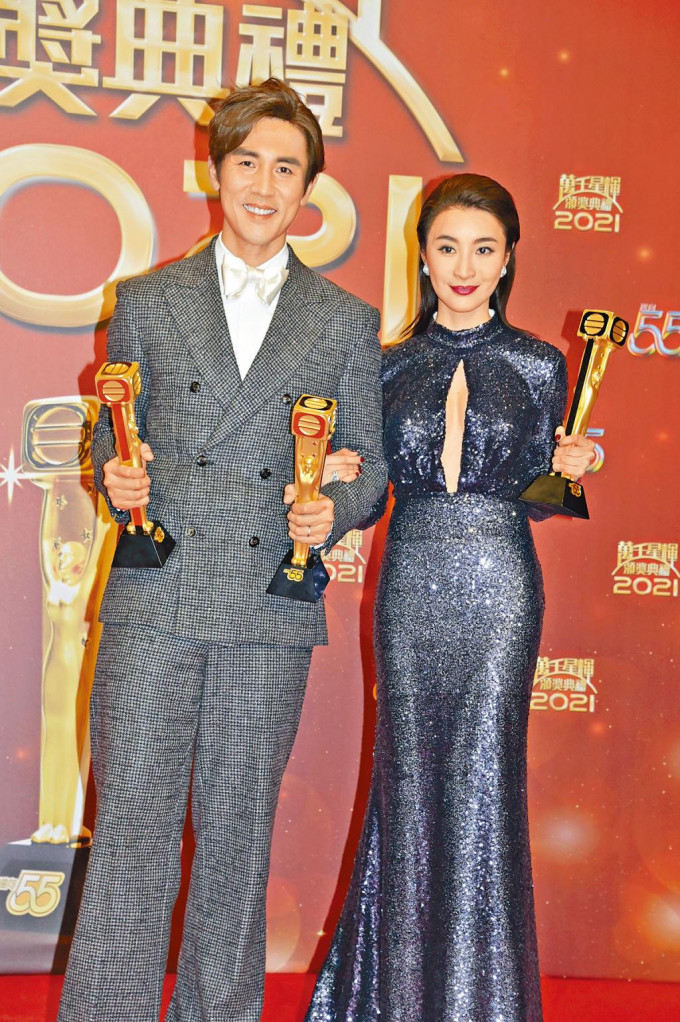 Best Actor Shaun Tam and Best Actress Rosina Lam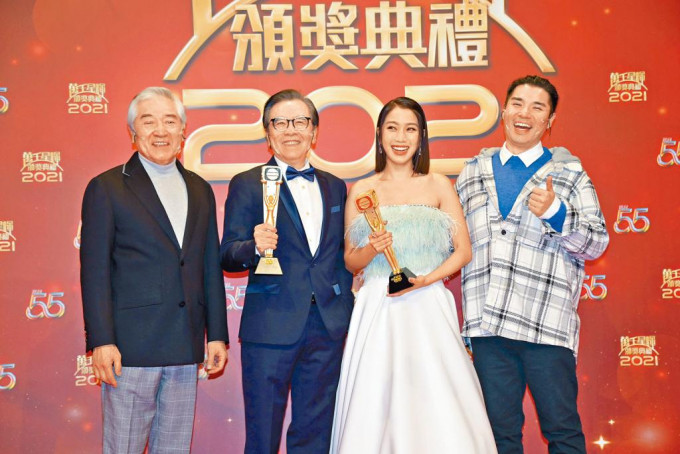 Lesley Chiang (second right) with her father Paul Chun (left), uncle John Chiang (second left) and brother Benji (right)
courtesy of singtao.com
Double Best Actor Shaun Tam
Rosina Lam gets her first taste of Best Actress
Linda Chung wins her second "Malaysia Favorite TVB Actress"
Yoyo Chan's acting is finally recognized after 17 years
Brian Chu forgets to thank his girlfriend during his speech
Lesley Chiang keeps thanking her family
Joey Law, Karl Ting
courtesy of on.cc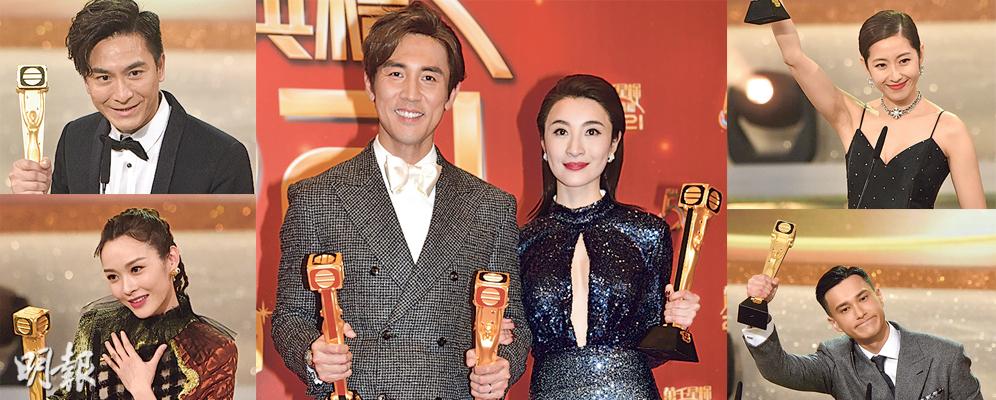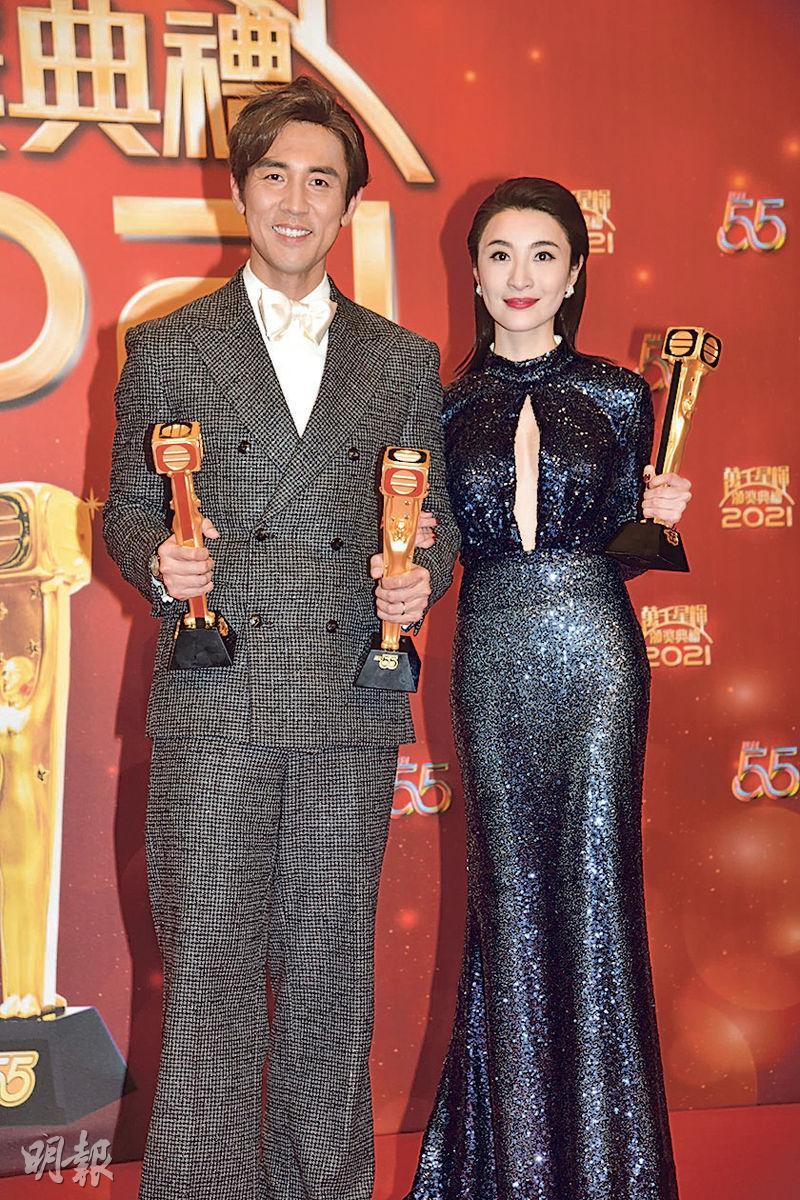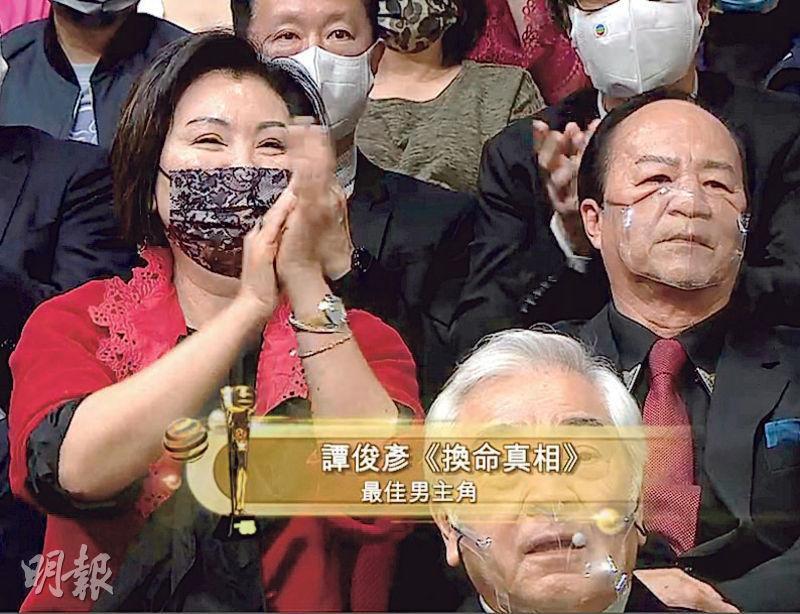 Tao Man Ming (left) and Ti Lung witness their son's victory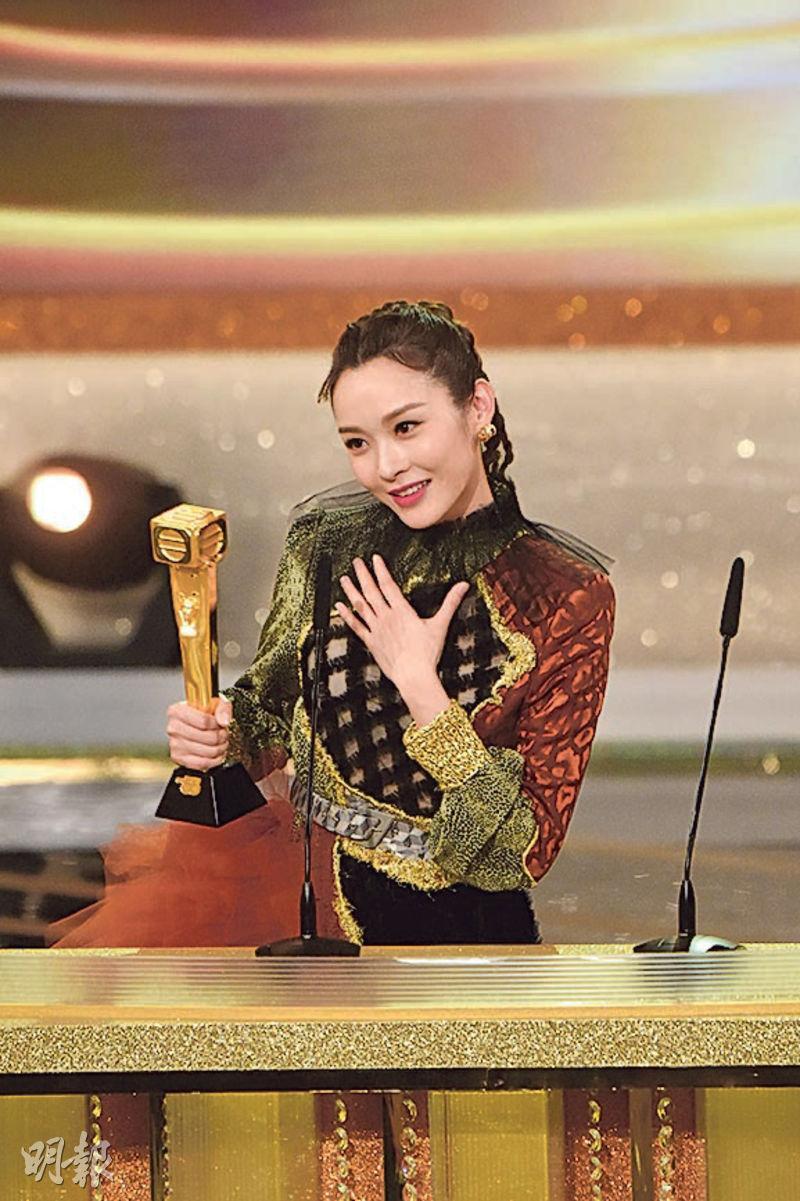 Ali Lee is happy that her BEAUTY AND THE BOSS character wins Favorite Female Character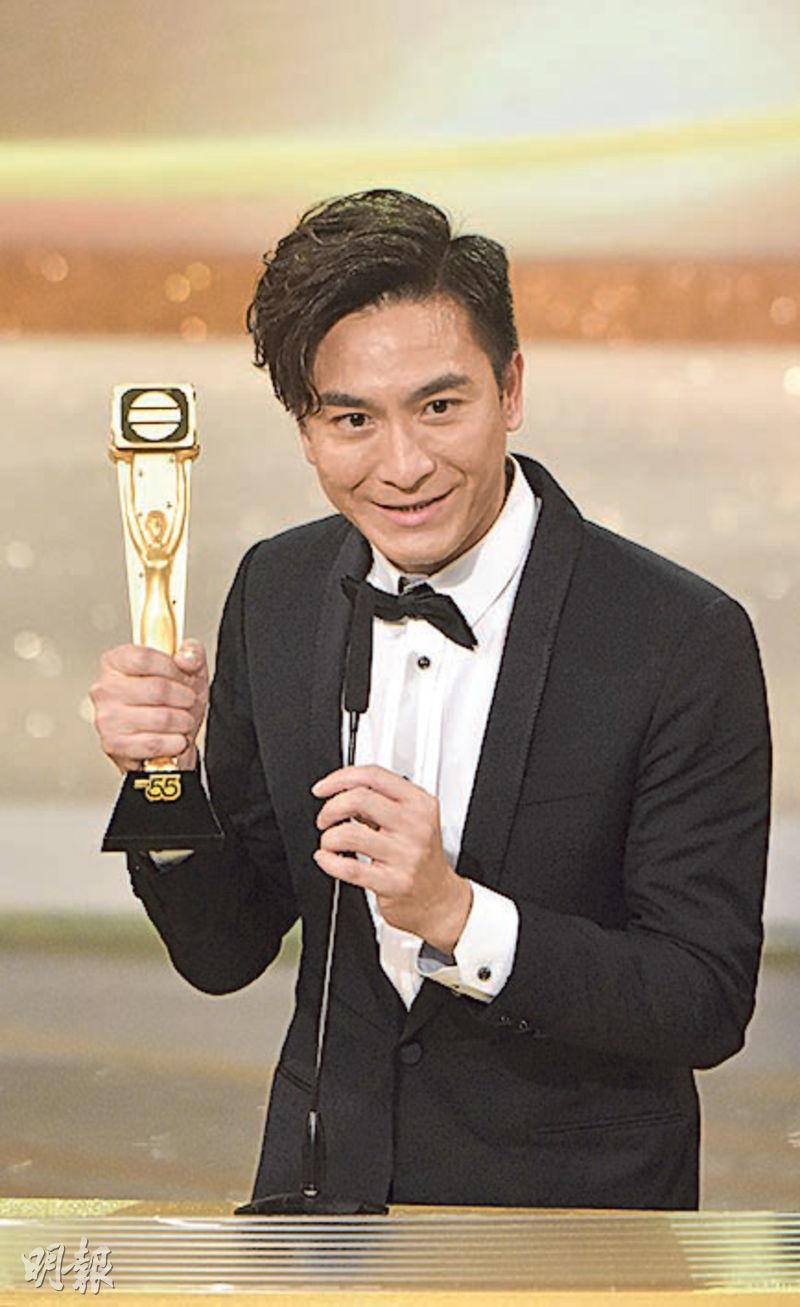 Kenneth Ma is surprised to win Favorite Male Character and says that the win scares him a little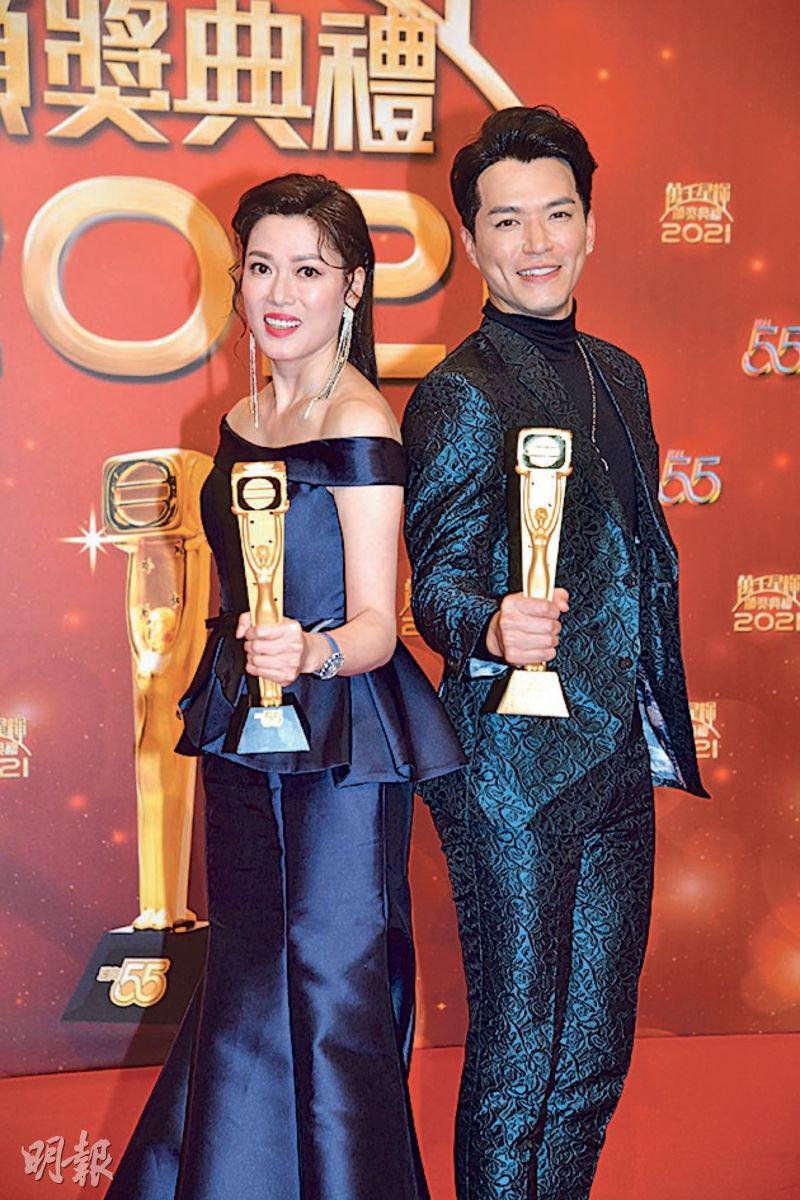 Mandy Lam and Jack Hui wins Most Popular Television Partners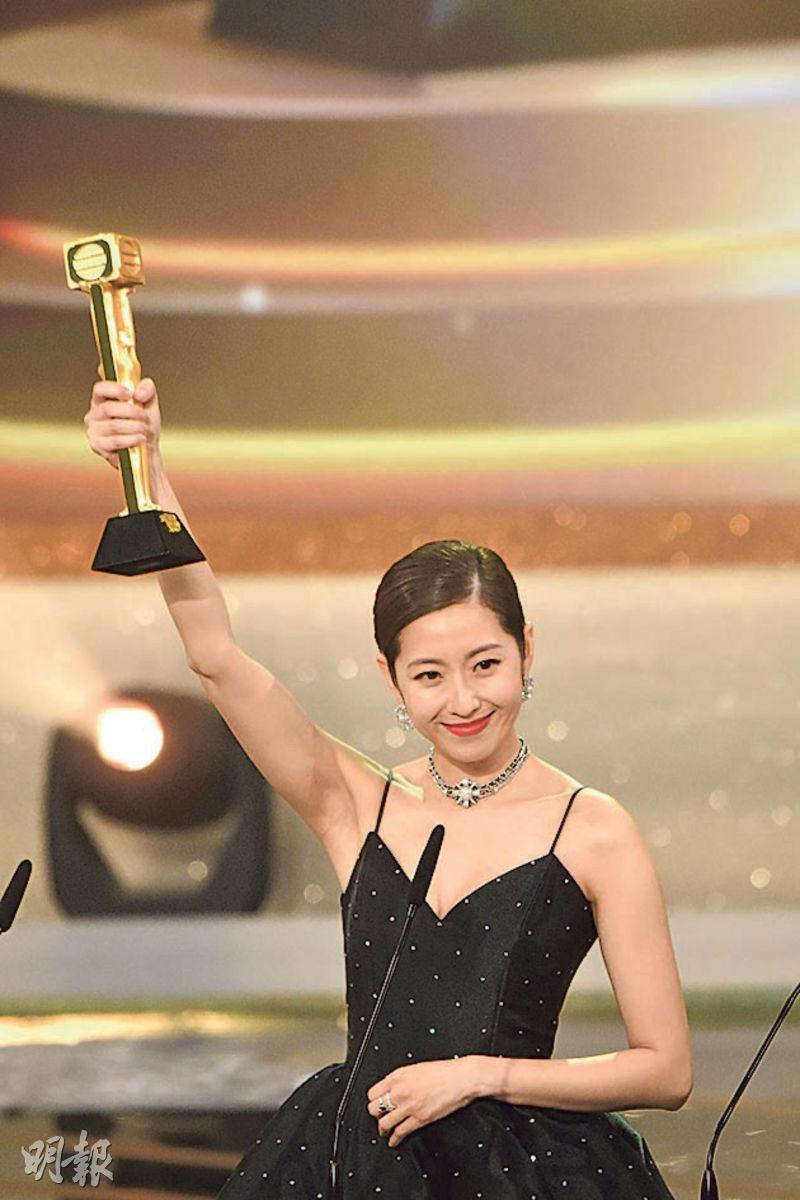 Yoyo Chan wins her first Best Supporting Actress and thanks her entire family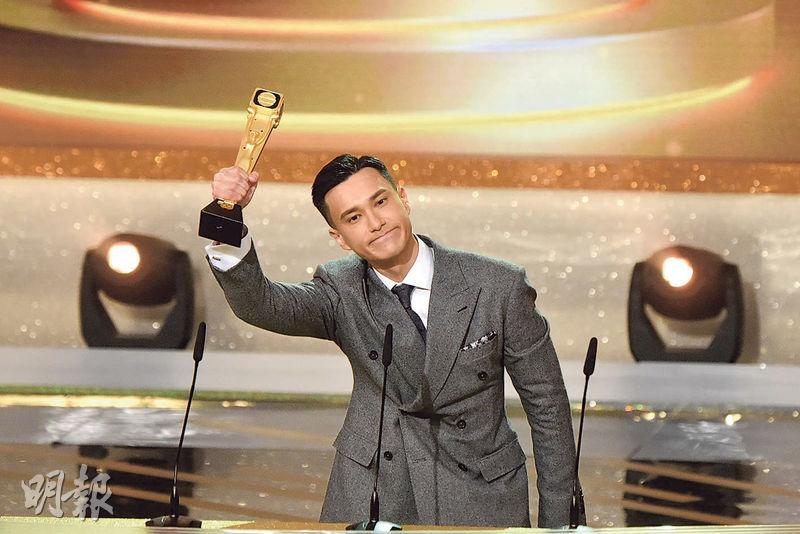 Best Supporting Actor Brian Chu is thankful for Wayne Lai's guidance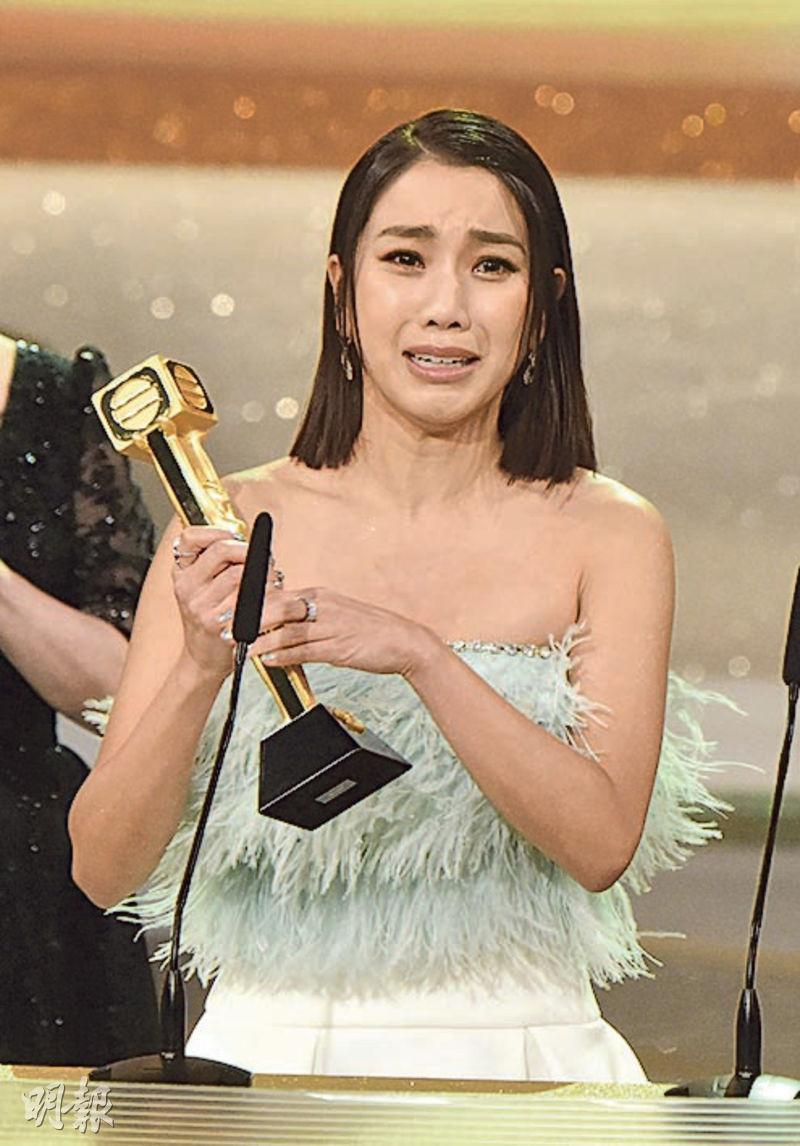 "Leaping Improvement Female Artist" Lesley Chiang happily thanks her fiance and wants to marry him sooner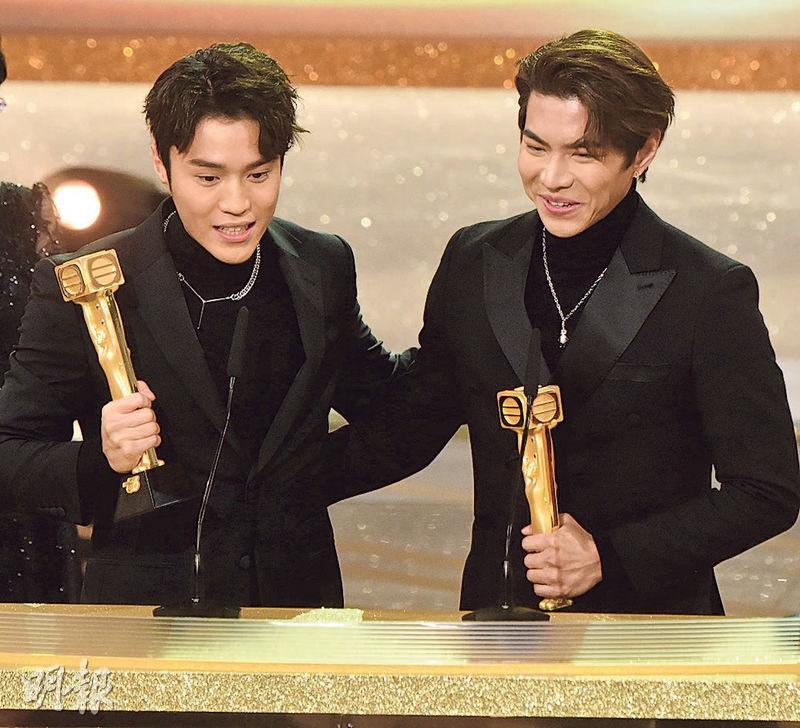 Fellow "Leaping Improvement Male Artists" Karl Ting and Joey Law encourage each other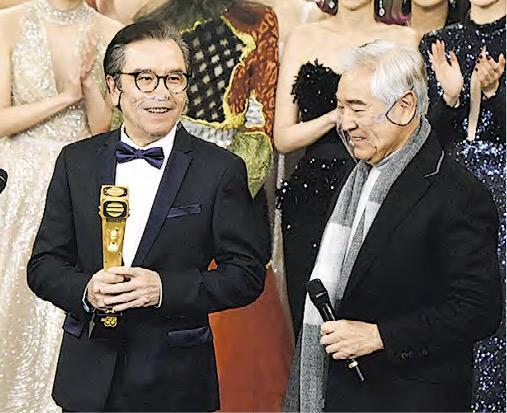 The 74 year old John Chiang receives the Performing Art Award from brother Paul Chun
courtesy of mingpao.com
The 2021 TVB Awards took place last night at the Television City in Tseung Kwan O. Shaun Tam Chun Yin and Rosina Lam Ha Mei won Best Actor and Best Actress respectively, first time for both. Tam Chun Yin with TAKE TWO won "Malaysia Favorite TVB Lead Actor" and became a double Best Actor. Best series went to BATTLE OF SEVEN SISTERS. One of the features of this award show was inviting many TVB old buddies to return and participate and put the spirit of passing the torch on display. Lo Hoi Pang, "Big Sister Ming", Yuen King Tan, Bowie Lam Bo Yi, Bobby Auyeung Chun Wa, Bosco Wong Chung Chak, Ron Ng Cheuk Hei and famous directors Andrew Lau Wai Keung, Dante Lam Chiu Yin all appeared, filling the award show full of humanity.
The Performing Art Award was presented first, going to John Chiang Dai Wai with over 70 years in the business. His brother Paul Chun Pui and Ti Lung presented the award to him. The Professional Spirit Award went to the TVB canteen's Ma Hing Ho (Boss Ma). TVB general manager (program content operation) announced Boss Ma's award and Lau Tan presented it. The audience engaged in enthusiastic applause. Benefit from Boss Ma's favor before he was famous, Dicky Cheung Wai Kin shot a video to congratulate Boss Ma on his retirement and respected his value on humanity in business. In addition, Linda Chung Ka Yan, Ali Lee Kai Sum, Tam Chun Yin, Toby Chan Ting Yan and Tam Yuk Ying, as well as Gin Lee performing STAR in a salute to many artists who passed away in the past year.
Last night Tam Chun Yin's parents Ti Lung and Tao Man Ming also attended to witness their son's success. Tam Chun Yin even broke into tears of joy and took the chance to apologize to Mama. "I want to say sorry to Mommy, in these few years I have called you less. It's not that I don't love you, the Tam men leave everything in their hearts. Mommy I Love You. Papa, last week when my son won, I was happier than when I won. I am very happy to bring the joy to you today." The always warm guy also issued his declaration of love to his wife, publicly expressing that his wife was his everything. Without her he would not win this award.
With 17 years in the business, Lam Ha Hei with her breakthrough performance in BATTLE OF THE SEVEN SISTERS won her first Best Actress. Mei Mei got choked up on the stage, thanked the team and gave special thanks to Mama. With the award in hand she said, "Mommy at first didn't support my decision to get into the business, now your daughter has proven that she could do it."
Yesterday the Malaysian audience voted "Malaysia Favorite TVB Television Series" was also announced. The winning drama was KIDS' LIVES MATTER. The series' lead actress Chung Ka Yan received the "Malaysia Favorite TVB Lead Actress", her second. As for "Malaysia Favorite TVB Lead Actor" went to Tam Chun Yin for TAKE TWO.
Started as a child star, Brian Chu Man Hon last won the "Leaping Improvement Male Artist". This year with TAKE TWO he won his first Best Supporting Actor. Lau Kong and Law Kar Ying presented the award. He thanked the company because in the past two years he changed a lot. He also thanked Owen Cheung Chun Long, whose influence on him was the greatest. In recent years they both were people who were doing something right, headed toward their goal of becoming good actors. He also gave special thanks to Wayne Lai Yu Cheung. "While making THE RINGMASTER Brother Cheung taught me to first live before I would be able to be a good actor. (Did you miss thanking your girlfriend Stitch Yu Si Ting?) I also want to thank my girlfriend, because this year we spent most of our time apart but we kept supporting each other. I don't have any special celebration planned because I didn't even think about winning."
Law Koon Lan and Steven Ma Chun Wai presented the "Leaping Improvement Male Artist", which had two winners as Joey Law Tin Yu and Karl Ting Tze Long both won. Both started with the Mr. Hong Kong contest and both wore all black. Law Tin Yu said, "I still haven't been able to digest it yet, just now I stumbled through my speech on the stage. I was afraid I would use up all the time and leave no time for Ting Tze Long, it was pretty rushed. I want to thank producer Lam Hun, he is the first one who is willing to use me as the lead actor." Ting Tze Long also thanked Lam Hun. "Because my youth drama later is also because Lam Hun is willing to use me as the lead actor." they both were nominated for the "Leaping Male" for the third and fourth time respectively. Law Tin Yu even joked, "I am a full turn older than Ting Tze Long, the older I am the less chance I have, so this time I am very happy about winning."
With 21 years in the business, Yoyo Chan Chi Yiu's performance took leaps and bounds last year. With PLAN "B"'s full time mother she won her first Best Supporting Actress. On the stage she not only thanked the team, several company executives, people who voted for her but also all of her family and friends who love her. Vincent Wong Ho Shun's name never came out though. Chan Chi Yiu said emotionally, "I was afraid I left out people to thank. Although many friends encouraged me and made me into the favorite, before the award was presented no one knew the result. Last year I was very lucky to have run into a good role, I am very grateful. (You didn't thank your husband Wong Ho Shun on the stage?) I did, I thanked all of my family and friends who loved me, everyone were included. Because the thank you speech had to be brief, I couldn't thank each and every one by name." She also explained that she was not upset at last year's TVB anniversary, only that the moment when she had no expression was captured.
"Leaping Improvement Female Artist" went to favorite Lesley Chiang Lai Man. Transitioning from creative singer to actor, she cried tears of joy on the stage. On the stage she said that as a third generation of Chiang family actors, at home she had three successful yet solid actors: Papa Chun Pui, Uncle Chiang Dai Wai and Uncle Derek Yee Tung Sing. She also declared her love for her fiance. She explained later. "Because I really was stunned, I felt very honored, the rarest was that Papa, Brother and Uncle Chiang Dai Wai were present. I didn't dare to think whether I would win. Life is amazing. I really passionately love my job. I feel very lucky, I knew what I wanted to do very early on. I am very grateful. (On the stage you said you wanted to marry your fiance soon?) That's right, now we have to wait until after the pandemic to make wedding arrangements. My fiance watched me win at home. He was very nervous but he didn't show it. At night I would celebrate with my family."
Mandy Lam Suk Man and Jack Hui Ka Kit in COME HOME LOVE: LO AND BEHOLD recently wed on the series. Last night as the favorites they won the "Most Popular Television Partners". "Best Program Male and Female Host" went to FAMILY FEUD's Johnson Lee and NO POVERTY LAND's Janis Chan Pui Yee. Currently in the Mainland Pui Yee was unable to attend the awards last night, but she did send a thank you video.
TVB AWARDS 2021

BEST DRAMA:
BATTLE OF THE SEVEN SISTERS
BEST ACTOR:
Shaun Tam (TAKE TWO)
BEST ACTRESS:
Rosina Lam (BATTLE OF THE SEVEN SISTERS)
MOST POPULAR MALE TELEVISION CHARACTER:
Kenneth Ma (KIDS' LIVES MATTER)
MOST POPULAR FEMALE TELEVISION CHARACTER:
Ali Lee (BEAUTY AND THE BOSS)
BEST SUPPORTING ACTOR:
Brian Chu (TAKE TWO)
BEST SUPPORTING ACTRESS:
Yoyo Chan (PLAN "B")
BEST VARIETY PROGRAM:
STARS ACADEMY
BEST INFORMATIONAL AND SPECIAL TOPIC PROGRAM:
SCOOP
BEST ANNUAL AND SPECIAL PROGRAM:
MISS HONG KONG PAGENT 2021
BEST MALE HOST:
Johnson Lee (FAMILY FEUD)
BEST FEMALE HOST:
Janis Chan (NO POVERTY LAND)
LEAPING IMPROVEMENT MALE ARTIST:
Joey Law, Karl Ting
LEAPING IMPROVEMENT FEMALE ARTIST:
Lesley Chiang
MOST POPULAR TELEVISION SONG:
LEARNED TO FLY IN DREAMS (STARS ACADEMY)
MOST POPULAR TELEVISION PARTNERS:
Mandy Lam, Jack Hui (COME HOME LOVE: LO AND BEHOLD)
PERFORMING ART AWARD:
John Chiang Dai Wai
PROFESSIONAL SPIRIT AWARD:
Ma Hing Ho (TVB City Canteen boss)
BEST DRESSED:
Jeannie Chan Ying, Shaun Tam Chun Yin
MALAYSIA FAVORITE TVB DRAMA:
KIDS' LIVES MATTER
MALAYSIA FAVORITE TVB LEAD ACTOR:
Shaun Tam
MALAYSIA FAVORITE TVB LEAD ACTRESS:
Linda Chung