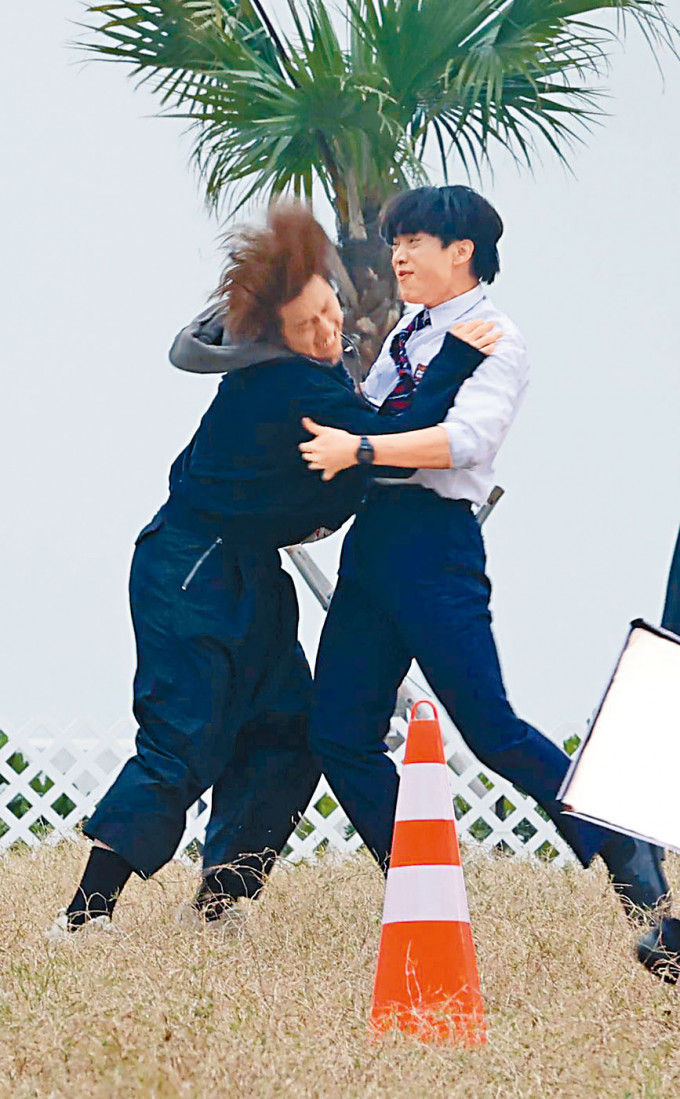 Keung To and Jer Lau fight
courtesy of singtao.com
Recently online complaints bout ViuTV playing favorites surfaced, citing that Girl group COLLAR stole all the spotlight from the start while MIRROR has been neglected. MIRROR's manager "Sister Fa" Wong Wai Kwan posted an apology to MIRROR fans. On the day of COLLAR's press conference, Keung To and Jer Lau Ying Ting had to shoot an additional scene for the Emperor Motion Picture AH MA YAU JOR DAI YI GOR. Sister Fa would rather miss COLLAR's first press conference to cover Keung To and Jer's additional shoot.
Wednesday at 4PM, Keung To and Jer re-shot a fight scene in Tuen Mun. On the set they pushed, shoved and even rolled in close combat. Keung To pushed Jer onto the grass but did not stop there. During the shoot the crew saw people took out their phones and immediately asked them to stop.
Although it was a re-shoot, it took over ten takes. After each shoot they would watch the playback together, attentively watching whether they did good enough. Due to the season change, the climate was colder than the shoot before and they did not have as much difficulty with the fight. This scene originally starred Teresa Mo Shun Kwan, but Sister Mo has not been in Hong Kong recently. Director Kearen Pang Sau Wai personally stood in for Sister Mo.
Although it was just a re-shoot, manager Sister Fa was present for Keung To and Jer on the set that day. Conflicting with COLLAR's first official debut, Sister Fa as one of the behind the scene masterminds would rather skip the girl group's debut press conference to take care of Keung To and Jer from morning to night.
The fith scene shot from day to night. Jer left first around 6PM while Keung To stayed to continue the shoot. Sister Fa took Keung To to a vehicle to rest. Keung To changed into another costume then went with the team to another location for monologue scene. In front of the camera he looked down.
This "Jer To Battle" was shot in September last year. At the time they shot at a super sunny location and fought in long sleeve heavy coats in over 30 degree Celsius temperature. Keung To even had to cry in front of the camera. Finally they shot until 2AM. Keung To even fainted at an event the next day.