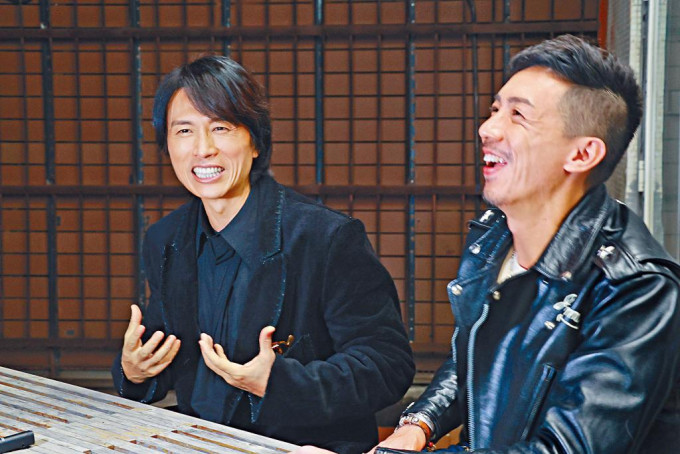 courtesy of singtao.com
Dayo Wong and Louis Cheung hope that TABLE FOR SIX will be able to open on the Lunar 4th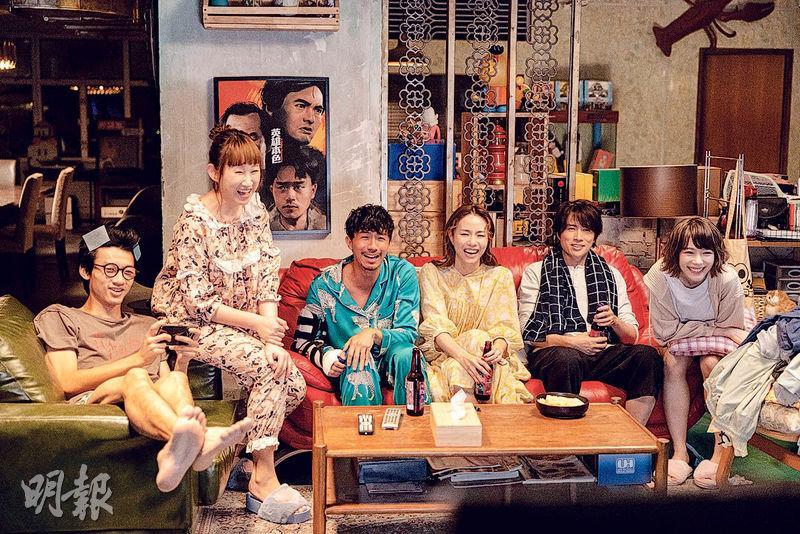 Peter Chan, Ivana Wong, Louis Cheung, Stephy Tang, Dayo Wong, Lin Minchen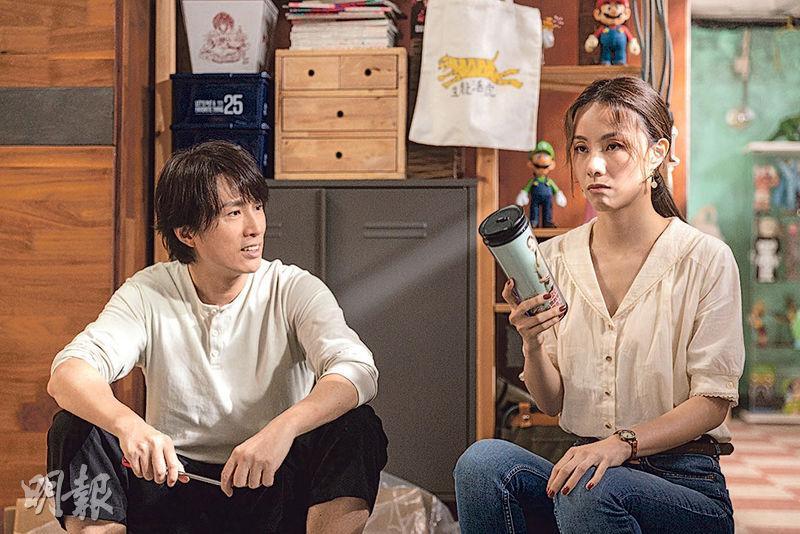 Stephy Tang plays Louis Cheung's girlfriend and the ex Dayo Wong canno forget
courtesy of mingpao.com
Dayo Wong Tze Wa and Louis Cheung Kai Chung in the new film TABLE FOR SIX (FAN HEI GUNG SUM) maintained their brotherly bond with roast pork. Tze Wa in the film even had a barbecue scene. He said that he learned on the set for 10 minutes or so, saying that the roast pork in the film was very symbolic. When the family got together for dinner they needed more food, the first thought would be roast pork. Cheung Kai Chung pointed out that the new film was rather educational, making people reflect on the importance of family.
Wong Tze Wa and Cheung Kai Chung earlier promoted their new film TABLE FOR SIX together. They both praised how great the script was, and how much fun everyone had making the film. With Tze Wa in the film, conceivably the audience would like him to be able to let loose his comedy. Tze Wa said, "The film is pretty cute, warm and crazy, with everyone in it. I would describe it as a warm, passionate comedy. Ah Chung and I are brothers who fight over a girl in the film. Some scenes were very extreme, guaranteed to keep wowing you at the movies!" Ah Chung said that with comedy bad takes were inevitable, but the most memorable to him was that the so-called "Tze Wa God" was not distant at all. "I am very grateful to be able to work with Tze Wa. After working together I feel that he isn't a god who keeps people at a distance, but he is someone is very close. From him I have learned a lot."
The film used roast pork to connect the brotherly bond between Tze Wa, Ah Chung and Peter Chan Charm Man. Ah Chung revealed that in the film when he was little his mother married Tze Wa's father. They were step siblings. Later their parents gave birth to Chan Charm Man. Because their father made roast pork, they lived in his roast pork shop. To them, roast pork was synonymous with home. Big brother Tze Wa also worked very hard to maintain this family. Tze Wa said, "In the film I have to make roast pork, at the very least I learned for ten or so minutes. A master was present on the set, if we have to wait until I become one then we would be in trouble. In addition my character isn't too great at making roast pork. Actually in the film roast pork is very symbolic, the most able to represent family. As soon as Hong Kong people mention roast pork they would feel the warmth." Ah Chung said, "Roast pork isn't very expensive, but when you are overseas you would really miss it. If you think about it you may even cry. It has a lot of emotions in it, like my feeling with Big Brother in the film. I feel since we are several decades old, we should live together anymore. I want to start a family, but when I really move out I would miss it. This movie is really suitable for the Lunar New Year. Whenever holidays come around we miss home more, it's pretty education. I should tell my son to watch it. At his age he wants to finish dinner fast and disappear. I went through this experience too. In my 20s and 30s I wouldn't pay Lunar New Year visits with my family, now but as an adult I really enjoy family dinners."
Speaking of the Lunar New Year, Tze Wa said that he definitely would pay elders Lunar New Year visits. He also liked the holidays very much. "Holidays themselves depend on what people do, life also depends on what people do. For example we really appreciate Carnival in Brazil. They could dance for a month, we foreigners thought that it would be very excessive but people give each holiday meaning. As long as we are doing it together we would have a lot of fun, but if we don't we wouldn't die. Holidays are opportunities for everyone to get together. Life is just endlessly looking for excuses to make ourselves happy. Everyone should find some reasons to be happy. Everyday should be about finding reasons to make yourself happy, because happiness isn't guaranteed." Ah Chung pointed out that traditions are trendy now. He too would pay attention to details in his life. He joked that now when he goes out he would be sharply dressed, not like before when he just threw something on; just like giving meaning to holidays would make life different.