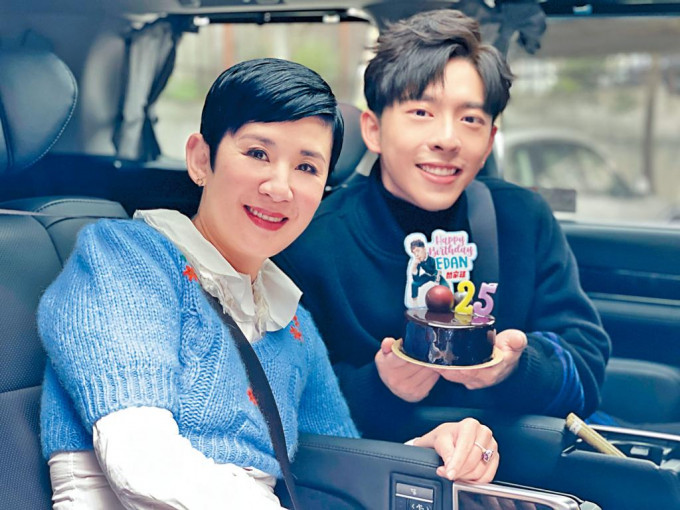 Sandra Ng celebrates Edan Lui's birthday in advance
courtesy of singtao.com
Edan Lui and Sandra Ng wish for the cinemas to re-open so the new film will be released.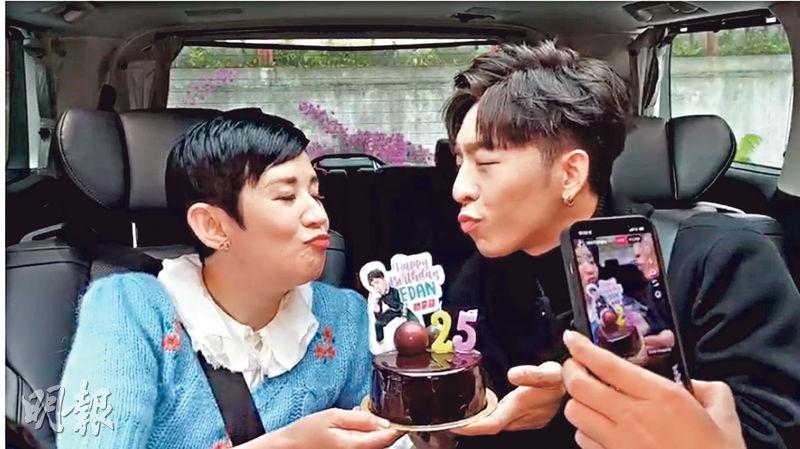 Sandra Ng wishes Edan Lui a happy 25th birthday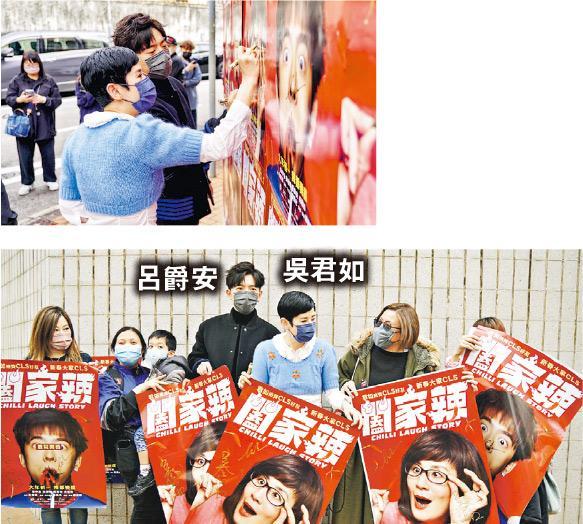 Edan Lui and Sandra Ng sign posters for fans and neighbors alike
courtesy of mingpao.com
MIRROR member Edan Lui Cheuk On made his big screen debut with Sandra Ng Kwan Yu, Ronald Cheng Chung Kei, Gigi Leung Wing Kei in the Lunar New Year film CHILLI LAUGH STORY (HOP GA LAT). Originally the film premiere would have taken place yesterday, but due to the pandemic the film needed to postpone its release to the Lunar 4th. However Kwan Yu yesterday celebrated Edan's 25th birthday, and even streamed it live on social media. They were trying to get everyone to pray for a smooth release for the film on the Lunar 4th.
Yesterday, Ng Kwan Yu conducted a surprise mission with Edan. They went all over Kowloon to sign posters. Kwan Yu even streamed it live on social media, during which she presented a chocolate cake to Edan for his birthday 2 days from now. She even said that she wanted a kiss first. They puckered up and pretended to kiss. Edan said, "Everyone pray for CHILLI LAUGH STORY would be seen by everyone on the Lunar 4th, I hope it won't be further delayed." Then he said that the film would be a big hit and have a sequel.
Kwan Yu asked Edan if he had any confidence about his big screen debut. He admitted, "I am pretty nervous, I don't know if I performed well or not. Seeing myself appearing on such a big screen for the first time, if I didn't perform well it would be very obvious. Fortunately Kwan Yu gave me many shots of confidence!" Kwan Yu praised Edan's performance. "Relax, if you didn't perform well I wouldn't put you on the big screen and ruin my gold label."
As for Kwan Yu she said that lately she had a lot of stress, which resulted in pimples. She had expectation for this film. She even asked Edan to play mahjong with him on his free time to reduce stress. Finally, Kwan Yu asked if Edan had a girlfriend. Edan said, "Of course not, I am focusing on work. Now I am so busy I don't have time to date." Would he bring anyone to pay Kwan Yu a Lunar New Year visit? Kwan Yu said, "If you bring female fans along then bring Anson Lo too, tell Anson Lo to come, everyone would have a great laugh!"