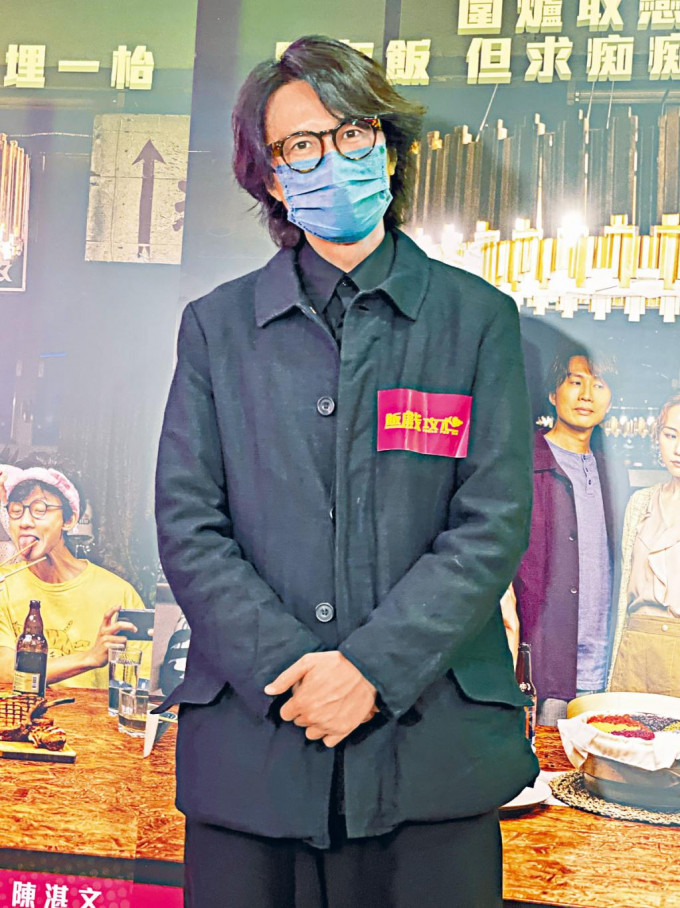 Dayo Wong reveals that he lost his shirt on THE GRAND GRANDMASTER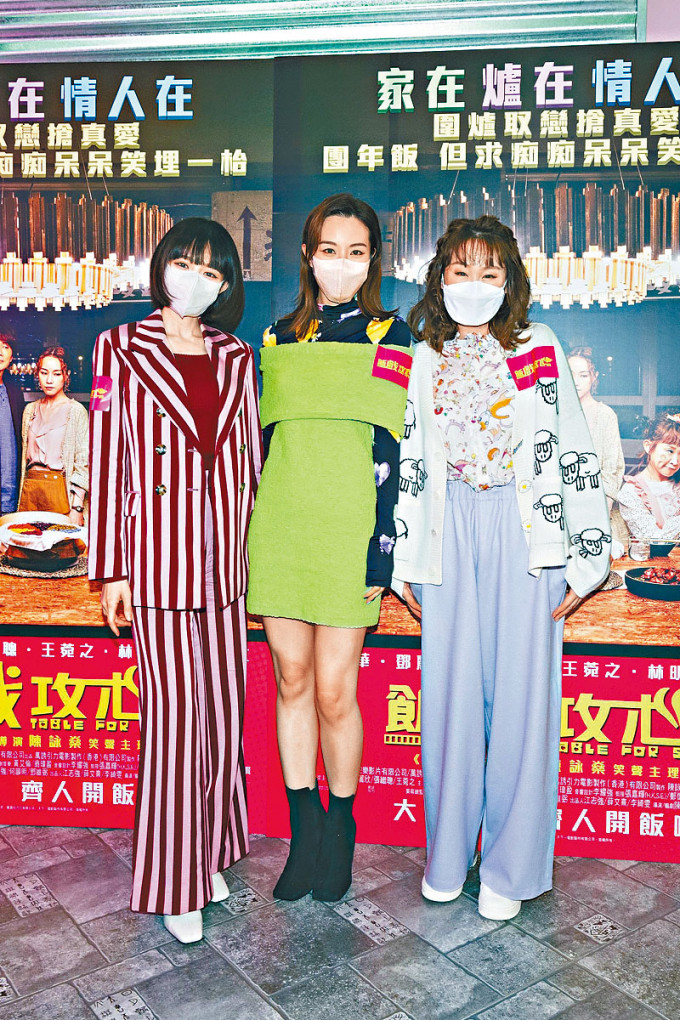 Lin Minchen, Stephy Tang and Ivana Wong have a lot of fun from working together
courtesy of singtao.com
Stephy Tang laments her premiere becomes a barbecue
Lin Minchen, Peter Chan, Ivana Wong, Louis Cheung and Stephy Tang
courtesy of on.cc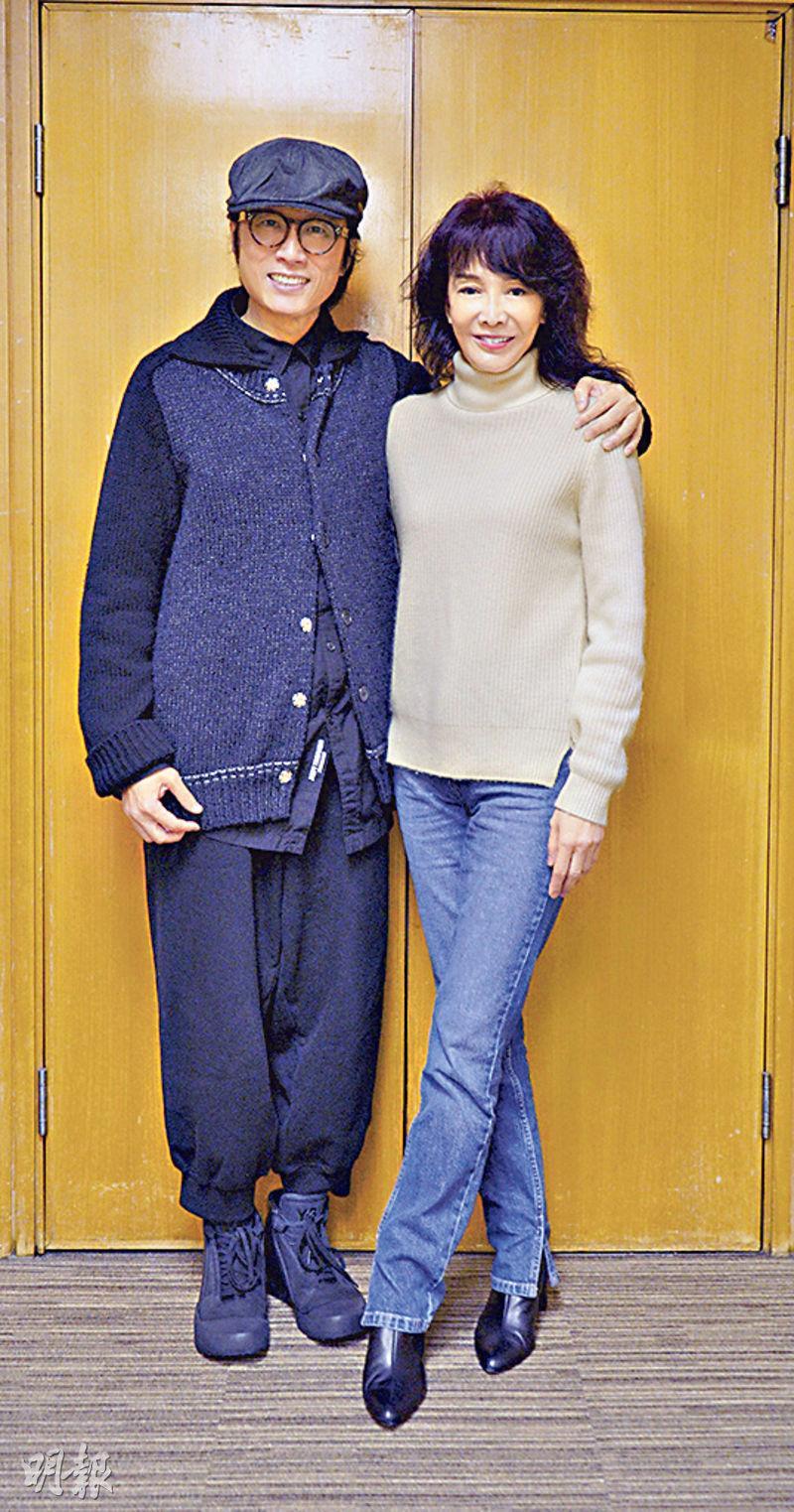 Dayo Wong earlier appeared on Carol Cheng's radio program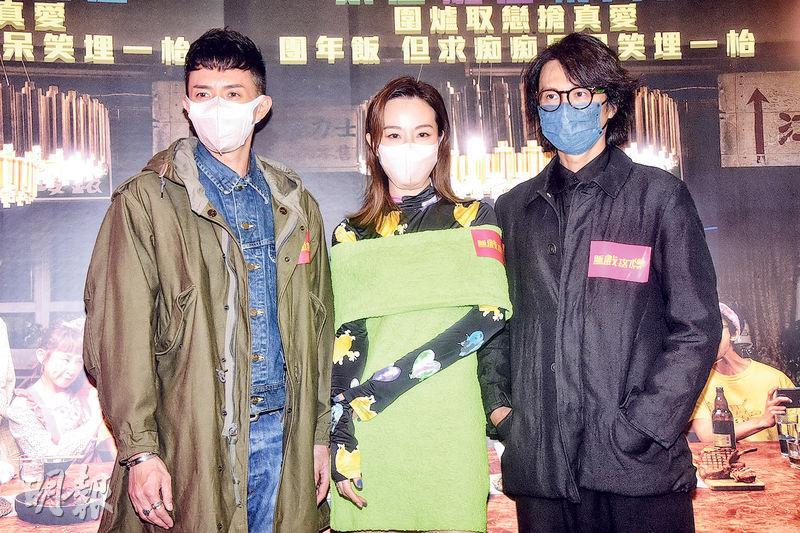 Louis Cheung, Stephy Tang, Dayo Wong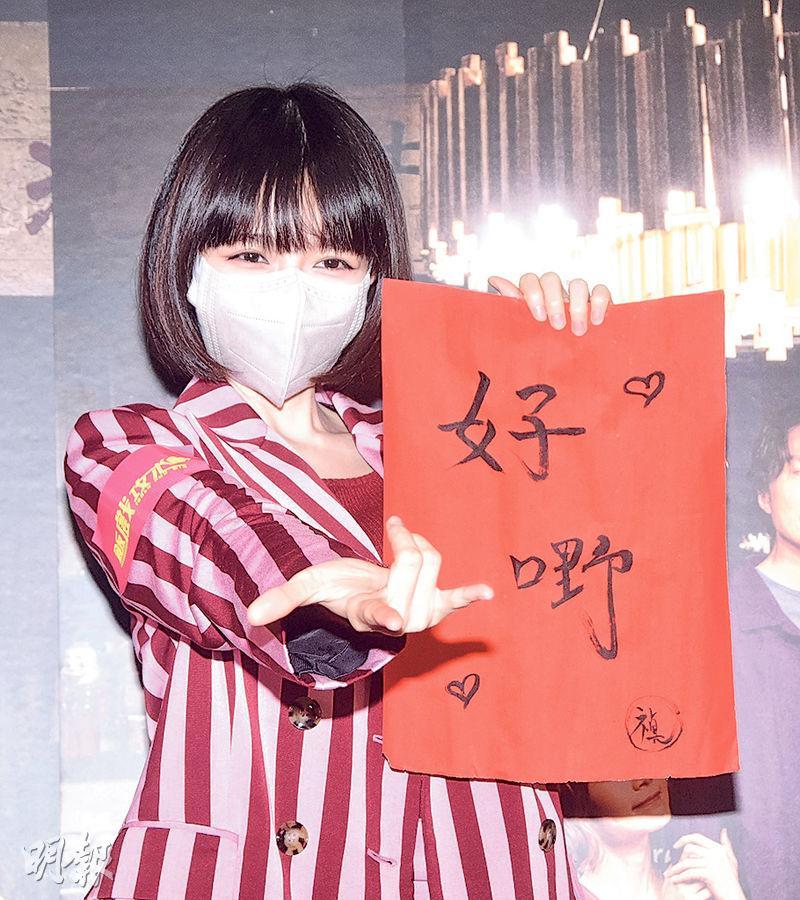 Lin Minchen
courtesy of on.cc
Dayo Wong Tze Wa, Louis Cheung Kai Chung, Stephy Tang Lai Yan, Peter Chan Charm Man and others two nights ago promoted their Lunar New Year film TABLE FOR SIX (FAN HEI GUNG SUM) in Jordan. They wrote Lunar New Year banners together and wished for cinemas to open up again soon so Lunar New Year films would be able to be released. Tze Wa admitted that he was already used to the pandemic disturbing life, but he still had to live in the present. He even unveiled a new line "Even when lying flat, you have to stand up lying flat."
Speaking of pandemic's continuing spread, would it mess up the original plan? Tze Wa lamented that the play has already postponed, and the Lunar New Year film's Lunar 4th release remained unknown. His work plan of course has been messed up, but he was already used to it. Over the past few years everyone's ability to adjust has become much higher. He said, "Now we have to live in the present. Something the director reminded me of, 'to take one step at a time'. However even with one step at a time, there is a difference between taking it prettily or not. Now my line is, although lying flat now, you still have to stand up lying flat -- flat while you are still toughing it out."
Cheung Kai Chung said last year he had a Lunar New Year film release that was also delayed until the Lunar 7th due to the pandemic. Thus he said that he was experienced. Tze Wa joked, "Two years ago I had a Lunar New Year film that was released on the Lunar New Year's Day and closed on the Lunar 7th. Yours was released on the Lunar 7th last year. In other words this time our Lunar New Year probably won't open until the Lunar 14th. Haha!" Ah Chung hoped that cinemas would be able to open soon. Now they have more time, unable to pay Lunar New Year visits has become the norm. He said, "Without any film production during the New Year I would stay home and be with the children. Luckily in recent years I was able to be there for my daughter's growth. Now with online classes my nightmare is back again. I would have to go to class with her everyday online and look over her homework in the afternoon. My workload would greatly increase. Although I wouldn't have to go to work I would have to go to school, I would continue to go to K2."
Tze Wa earlier appeared on Carol Cheng Yui Ling's radio program. They became a classic series couple due to the television series WAR OF THE GENDERS. 22 years later they reunited due to work. Sister Do asked Tze Wa why did he not invest this time and be the boss? Tze Wa said, "Last time I was the boss on THE GRAND GRANDMASTER (MUK DOI JUNG SI), which had over HK$ 30 million at the box office but cost a lot of money. I lost a lot and realized that being the boss was truly foolish. So this time I was better off as an actor." Tze Wa even joked that this script rivaled Shakespeare and did not need any editing.
Tze Wa revealed that he would focus on his health on days without acting. Normlly he would see the doctor and exercise more. Sometimes at the doctor's office he even ran into Chow Yun Fat and thought it was incredible. Fat Gor enthusiastally taught him about running, and talked for ten minutes in the high traffic elevator lobby. Sister Do asked Tze Wa to tell Fat Gor the next time he would run into him, to invite Fat Gor to her program. Tze Wa said no problem, but he did not know when the next time would be.
Two nights ago Stephy Tang Lai Yan, Ivana Wong Yuen Chi and Lin Minchen promoted TABLE FOR SIX. Reporters followed Minchen's lead and called Tang Lai Yan "Sister Stephy". Stephy said, "It isn't too good for you guys to call me that, but when she does I feel very sweet and very loved." She praised Lin Minchen for working hard on her Cantonese. Minchen said that she spoke the most Cantonese in this film and learned a lot of Cantonese that she normally has not said. Earlier at the hotel she used English pinyin to practice. Would the film release postponement mess up her plan to return to Malaysia? She said, "No, because I still have other jobs in Hong Kong. I hope the movies would be able to be released before I return to Malaysia in March."
Stephy said that although the film release delay has not affected her work schedule, it messed up her mood. Because she has looked forward to the Lunar New Year film's release very much, the sudden stop certainly would affect her mood and audience appreciation schedules. In addition she had another film that was originally scheduled for a Valentine's Day release, but she believed that it would postpone its release as well. Stephy was asked about her love life in the new year. She instead asked, "I want to know too, I haven't gone (to a fortune teller). (Has romance not arrived yet?) For now I haven't discovered it. No one needs to panic, but I am not in a hurry."
Ivana also said that the pandemic messed up her work, as her earlier exhibition and musical were both affected. Would she return to music this year? She said, "I haven't left, I would continue to make music." As for parenthood, she said that for now it would not be in her plans.