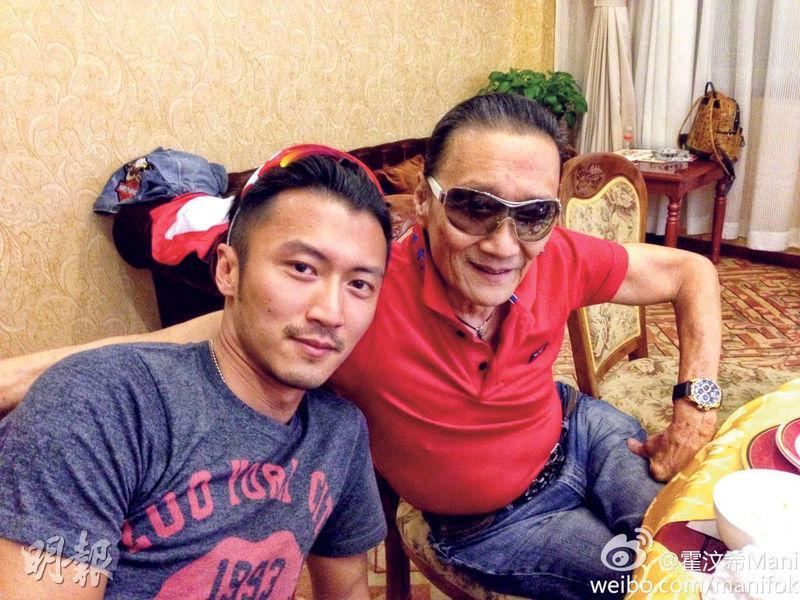 Finally with TIME Patrick Tse can show off to his son Nicholas Tse
courtesy of mingpao.com
Patrick Tse Yin (Sei Gor) with TIME (SAT CHOOK GOR WONG FUN) won the Hong Kong Film Critic Society Award Best Actor, his first at age 85. Sei Gor joked that this time he finally could show off to his son Nicholas Tse Ting Fung, because Ting Fung often said that Papa has not won any award yet. Sei Gor also said that with this award he could answer to himself for his years in films.
Sei Gor was referring to what Ting Fung said in his foolish youth when he won the Hong Kong Film Award Best New Performer early in his career. When Ting Fung won the 2011 Hong Kong Film Award Best Actor he already publicly apologized to Sei Gor on the stage; at the time Ting Fung said that he once said to Sei Gor, "You have made over several hundred movies, have you even won the Hong Kong Film Award?" He then put the award on the table. He felt sorry for what he said and hoped that Sei Gor would forgive him for being an ignorant and impolite child.
In recent years Sei Gor rarely appeared in public. Reportedly his memory has declined and he relied on medicine to treat it. Sei Gor replied that his memory was not poor, only his thinking has slowed. Sometimes he did not know how to express himself, but at work he would not have such a situation because since he agreed he would do his best. Although he was retired, with good scripts he would make movies again. Earlier Ting Fung revealed that Sei Gor's life depended on other people to arrange it for him. Now he had nothing to do all day. Sei Gor said tht due to the pandemic he spent most of his home at home. Since his children were not around his home aide would hike with him. Ting Fung lives in Beijing, while Ting Ting lives in Canada. Ting Fung suggested to Sei Gor to move to Beijing so he would be to keep an eye on him, but he did not want to disturb his children's lives. In Hong Kong he still had many friends.