courtesy of on.cc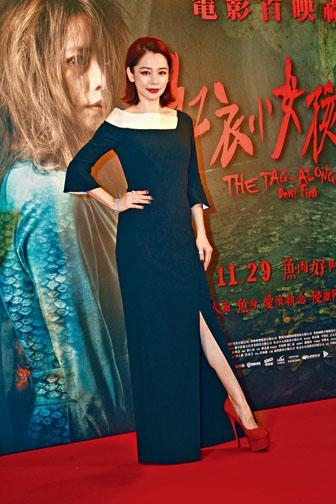 courtesy of singtao.com
courtesy of mingpao.com
Vivian Shu two nights ago attended the Hong Kong premiere of her film TAG ALONG: DEVIL FISH. She admitted that she has already seen the film twice, but she has not brought her three year old son Dalton with her. She said that her son began to understand. She took her son trick o treating on Halloween, and he did not seem surprised. However her look in the film was too terrifyng so she did not show him. Would she make a film that would be suitable for children? She admitted that she would not make any horror film because each performance left her exhausted. She said that her son would have to wait 12 years before being able to see this film, thus she hoped to be able to provide her voice for animated films then take him. However she said that her husband Sean Lee loves horror film and has seen TAG twice. Her husband also talked about movies with director David Chuang. Would she make another horror film if her husband asked? She said that she would not because her husband still has many other interests.
As for Christmas, Vivian would return home with her husband and son to visit family and experience the holiday atmosphere. She was rumored to return to film to pay off her husband's debt? She replied, "I thought about it many times, I felt that a woman needed to be a little more balanced. She should not give up everything after marriage. Love couldn't be all of life. Before and after marriage she should have family, career, friends to be able to achieve balance." She stated that she would work until old age, unfortunately she was frail. During her pregnancy she was on long term bed rest and led to muscular atrophy. She needed to spend a year and a half to recover. Would she want to have another child? Vivian said, "I am not afraid, but I have to consider my own body. I am also worried that no one would take care of my son because I go out with him everyday!"
Leung Wing Kei came to support her friend Vivian Hsu. She said that she was playing host but would not watch the film, because she heard it was rather scary. She was afraid that she would not able to sleep after watching it. However she was happy for Vivian Hsu over the film's decent box office performance. Gigi admitted that after having her daughter she became less brave. She was afraid that she could keep thinking about the movie. Her husband would not watch it with her either. "He is like a lamb, taking off when he is scared! Before having our daughter I would force him to watch horror films with me!" She also said that she would not make horror films.