Ada Liu, Yuen Woo Ping, Max Zhang
courtesy of on.cc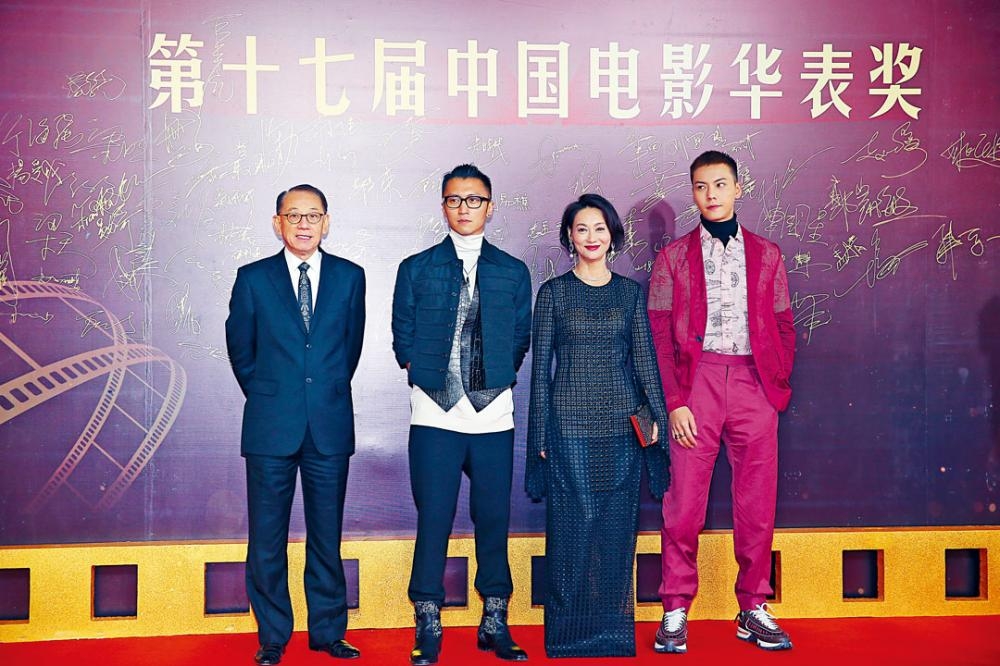 Albert Yeung, Nicholas Tse, Kara Wai, William Chan
courtesy of singtao.com
The 17th Huabiao Awards took place in Beijing two nights ago. WU Jing with WOLF WARRIOR 2 received excellent actor award. Excellent actress went to Chen Kun. Dante Lam Chiu Yin received the excellent director award.
OPERATION RED SEA's director Lam Chiu Yin was somewhat nervous on the stage. "Now I am still shaking, thank you Huabiao awards, thank you Bona, Emperor Motion Pictures for trusting me. We filmmakers would say, let them have their own lives. OPERATION MEKONG and OPERATION RED SEA gave me a lot of challenges, during which I experienced a lot of hopelessness and pleasant surprises, a lot of heart pounding thrills. I never had the chance to thank all the films that I have made in the past and their workers. Thank you."
The film MASTER Z: THE IP MAN LEGACY (IP MAN OI JUEN: CHEUNG TIN CHI) took to the red carpet as the recommended film. Aside from Yuen Woo Ping and Max Zhang Jin, Ada Liu Yan also attended. Yuen Woo Ping said that this film was different from the IP MAN film series. In it Zhang Jin used a variety of kung fu except Wing Chun in order to give more impact to the action choreography. Zhang Jin said, "In order to keep the audience's attention, many fight scenes would not be too gimmicky with the styles. Instead they would be more solid or have even faster pace." Zhang Jin even joked that because he and Tony Jaa already have chemistry from working together before, during the shoot the director often said that their action was too fast for the cameras to catch.