After the banquet, Gillian Chung and Michael Lai head to the after party
Will Kenny Kwan be the next one?
courtesy of on.cc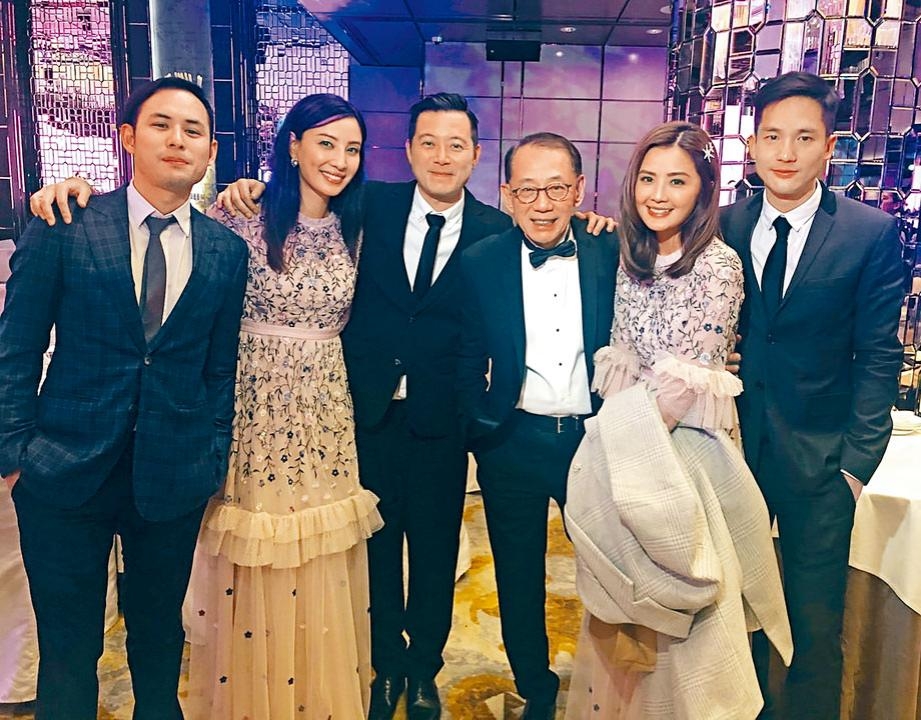 courtesy of singtao.com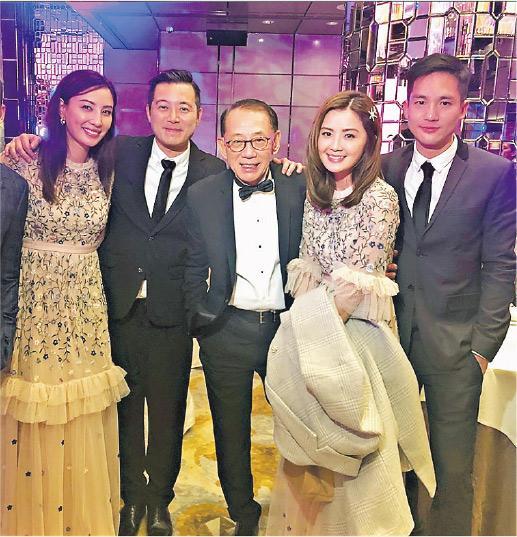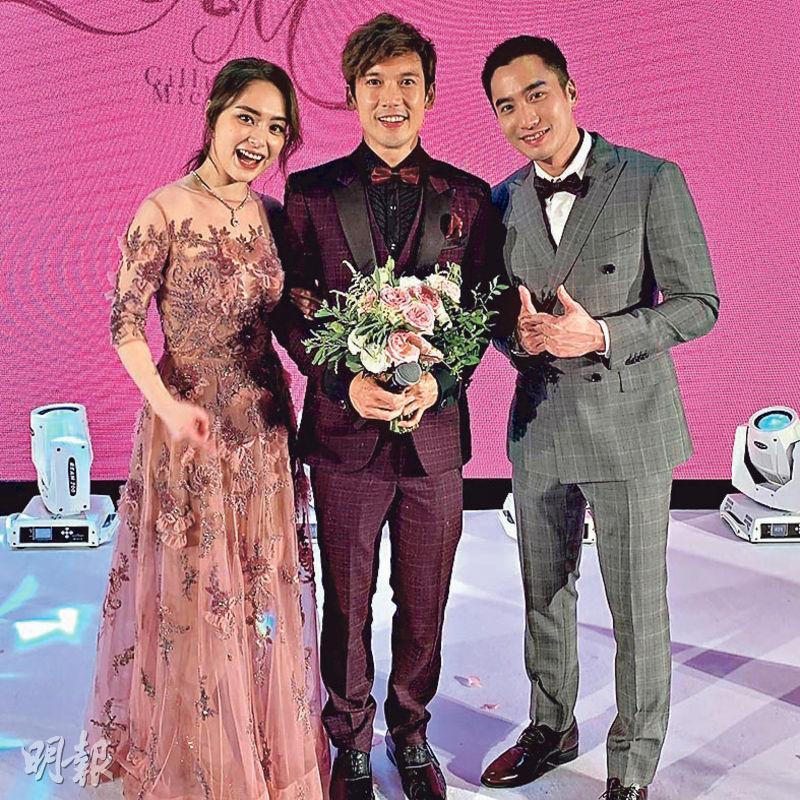 Wedding banquet emcee Kenny Kwan ends up with the bridal bouquet
courtesy of mingpao.com
Gillian Chung Yun Tung and her husband Michael Lai two nights ago held a wedding banquet. Ah Gil's partner Charlene Choi Cheuk Yin was not only in the bridal party with Joey Yung Cho Yee but also presented a HK$ 100,000 Howl's Moving Castle wedding cake with her to Ah Gil. Ah Sa even brought her boyfriend Shek Hung Chung. Ah Gil even made fun of her for wanting to have a baby. Seemingly Twins will soon have another member with good news!
Aside from boss and wedding witness Emperor Entertainment group chief Albert Yeung Sau Sing and his wife, gold label manager Mani Fok Man Hei and bridal party Yung Cho Yee, Choi Cheuk Yin and Yumiko Cheng Hei Yi, Boy'z Kenny Kwan Chi Bun and Steven Cheung Chi Hung were the wedding banquet MC; Emperor artists including Hacken Lee Hak Kun, Hins Cheung King Hin, Simon Yam Tat Wa, Irene Wan Bik Han her husband, Deep Ng Ho Hong, Ken Hung Cheuk Lap attended. Liza Wang Ming Chuen and husband Law Kar Ying, Julian Cheung Chi Lam and Anita Yuen Wing Yi, Tian Niu and her daughter, Kenny Bee (Chung Chun To) and his wife, Laurinda Ho Chiu Lin, Wyman Wong Wai Man, Edmond So Chi Wai, Choy Yat Chi and his wife, William So Wing Hong and his wife, Eric Suen Yiu Wai and his wife Macy Chen, Timmy Hung Tin Ming, Rainie Yang attended as well.
The banquet began at 9PM, with Boy'z opened up the event. Kenny said, "How touching, because everyone grew up with Ah Gil, today seeing her we are very touched." Then a video of the couple's pre-wedding party was shown. After that, a violin rendition of Westlife's BEAUTIFUL LIFE was played as Yeung Sau Sing brought the bride Ah Gil to the stage. Cheers and applause arose. Yeung Sau Sing handed Ah Gil to Michael Lai.
The new couple spoke on the stage. Ah Gil said as she cried, "I am very grateful to Heaven for all the people who love me, thank you to the company for taking care of me and helping me for 18 years. Thank you to boss Dr. Yeung and my manager Mani, I also want to say to Mommy, Grandpa, Grandma, from now on Kwok and I will be filial to you together. Thank you!" Then husband Michael Lai thanked everyone. "Thank you everyone for coming here, to witness our happy moment. I am particularly touched. I am want to thank my wife's company Emperor for helping us." Then he said to Gil Ma, "You can relax and leave your daughter to me." The scene was both romantic and moving.
Then the crew brought out the 1.9 meter tall, HK$ 100,000 wedding cake that Joey and Ah Sa bought for the bride. The cake looked exactly like Howl's Moving Castle. After the cake cutting, Boy'z asked Yung Cho Yee and Ah Sa to talk about the idea behind the cake. Joey said, "I want to tell you what your husband can give you, we can too!" Ah Gil jokingly asked, "Really? Is that true?" Steven said, "Joey, can you take it out?" Joey pointed at the cake, "I took it out already!" Ah Gil sweetly said that she received everyone's love and this love would always be in her heart.
Then, Dr. Yeung Sau Sing spoke. "Thank you to all the friends and family, today you grace Michael and Ah Gil with your presence on their big day, I want to wish them many years of happiness together. However I don't want them to have children after children, because when Ah Gil gets pregnant she can't work. To Emperor Entertainment she is one of the most money making artists." Ah Sa chimed in, "Golden egg!" Ah Sa said, "I will take that one for her first!" Ah Gil smartly said, "Do you mean you want to get pregnant for me?" Ah Sa replied, "I will work on your behalf first!" Yeung Sau Sing finally said, "I wish you children every other year."
Choi Cheuk Yin and Yung Cho Yee worked together to get the bridal bouquet for Kwan Chi Bun; Ah Sa also brought her boyfriend Shek Hung Chung to meet her boss Yeung Sau Sing.
Ah Gil received blessings from friend at the banquet. Yung Cho Yee and Cheung King Hin sang ONLY YOU CANNOT BE REPLACED then blew kisses to her. At the bouquet toss, Ah Sa, Joey and Cheung Chi Hung already pushed Kenny to the front. Finally he successfully grabbed the bouquet. Ah Sa screamed, "I am so happy! Kenny, congratulations!" Ah Sa's other half Shek Hung Chung also attended. Cheng Hei Yi yesterday posted a photo on social media. Ah Sa and Shek Hung Chung stood next to Yeung Sau Sing. Some online joked, "Another princess consort!" Many praised how handsome Shek Hung Chung was, what a match he made with Ah Sa and urged them to wed soon.
At the after party, Michael Lai sang LOVE LIKE TIDE to his wife. He was at risk of missing all the high notes, which made Ah Gil laugh.