courtesy of on.cc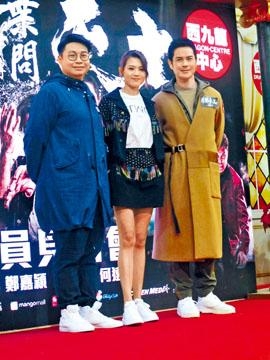 courtesy of singtao.com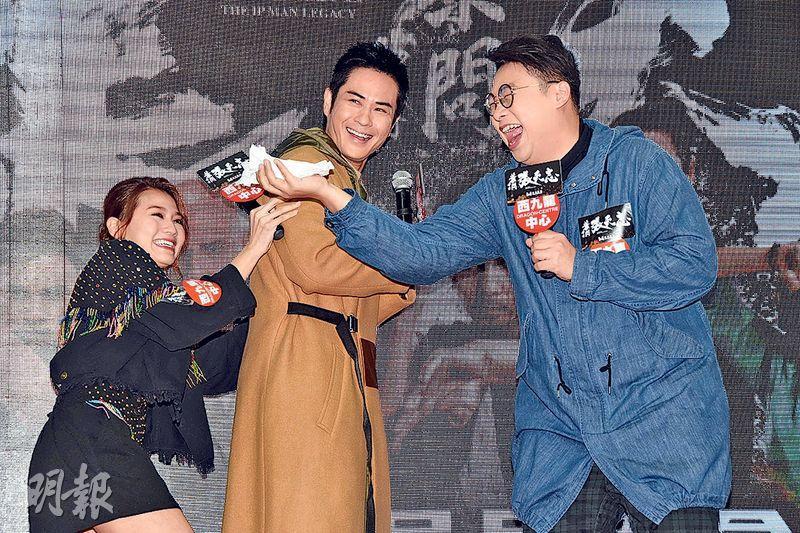 courtesy of mingpao.com
The Kevin Cheng Ka Wing, Chrissie Chau Sau Na and Anthony Ho Yuen Tung starred new film MASTER Z: IP MAN LEGACY (IP MAN OI JUEN: CHEUNG TIN CHI) yesterday promoted at a shopping center. Sister Na and Ho Yuen Tung had the chance for vengeance against Ka Wing because in the film Ka Wing often bullied them. This time they were able to reprise the slap and the forced fed bread scene. Ka Wing and Grace Chan Hoi Lam would spend their first Christmas as a married couple, but Ka Wing said that he would perform in the U.S. for milk money. As for presents, his wife said that they could both be exempted. However he still worried that he would not be able to avoid his wife's "poke".
Playing a villain in the film, Ka Wing said that his "subordinate" Ho Yuen Tung was very upset. "In the script he originally killed Sister Na, and even abused her to death in the end. However the story was changed in the end." Ho Yuen Tung joked that at first when he had the chance, he planned to take advantage of the scene. Now that it was not shot he had a lot of regret. Luckily she still treated him to dinner to make up for it. Ka Wing praised how suitable for comedy Ho Yuen Tung was, because he was able to make serious stories very cute. As a villain he did not play him bad. Ho Yuen Tung said that he had a good boss, because Ka Wing often pushed him around he had a lot more exposure.
As a father Ka Wing said that he would not stop playing villains because he became a father. "I believe in the future the kid will be in my business, as an actor you don't get to choose your roles. You have to see the role's potential." With Christmas on the way, Ka Wing said that he would perform in the U.S. with Roger Kwok Chun On and Nancy Wu Ting Yan for milk money. Has he prepared a gift for his wife? He said, "I asked her if she wanted a gift, she said we could both skip it. I don't know whether she would 'poke me, I would need some time to think about it."
Chau Sau Na explained that she did not turn down the abuse scene. The script was changed because the dramatic effect was not strong enough. "If Ho Yuen Tung killed me, the impression would be that he wasn't bad enough to and had little to do with Ka Wing. Later Cheung Tin Chi (Max Zhang Jin) would come for revenge after he found out." In the film Ka Wing slapped Sister Na, yesterday she avenged herself with a big palm. She said, "It's great, but I experienced the tremendous pressure of hitting someone. I was afraid that I would hurt someone." She said that on the first day of work she had to work on the slap scene. The director Lord Eight (Yuen Woo Ping) was very demanding as he would not accept a take until he got a real slap. In the end after the shoot her face was red and swollen with a palm mark. She had short term hearing loss and needed to be treated with ice.