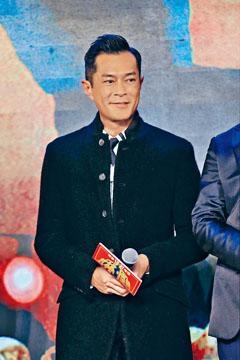 courtesy of singtao.com
The film KUNG FU MONSTER (MO LUM GWAI SAU) two nights ago held its Beijing premiere. Director Andrew Lau Wai Keung, producer Derek Yee Tung Sing and actors Louis Koo Tin Lok, Alex Fong Chung Shun, Zhou Dongyu, Chen Xuedong, Bea Hayden (Kuo Bi-Ting) attended.
The live audience was very interested in Goo Jai's dance sequence in the film. When asked he was full of confidence. "Dancing to me has always been very easy, I am constantly dancing at home." The host tested him, "But this time in the film two people have to dance together!" Goo Jai said, "That's fine! Because at home I would dance with Mama. She is my great dance partner." Goo Jai's fellow dancer Kuo Bi-Ting said, "In comparison to wire work, I feel dancing is even easier! I am very excited about acting with Koo Tin Lok this time, actually I practiced the dance sequence for a month, but Koo Tin Lok only practiced for two days and was ready for the shoot. I am very envious of him!"
As for another Hong Kong actor Fong Chung Shun, he said that in the film he would play Goo Jai's enemy. Although they were enemies they had a love hate relationship. Fong Chung Shun said, "In the film Koo Tin Lok and I have emotional scenes. I love him very much. I keep chasing him and even have to fight several women over him. I would even whine to him!" Goo Jai had an easier time with his role, because in the film he kept rejecting Fong Chung Shun he did not need to give him too much emotion.