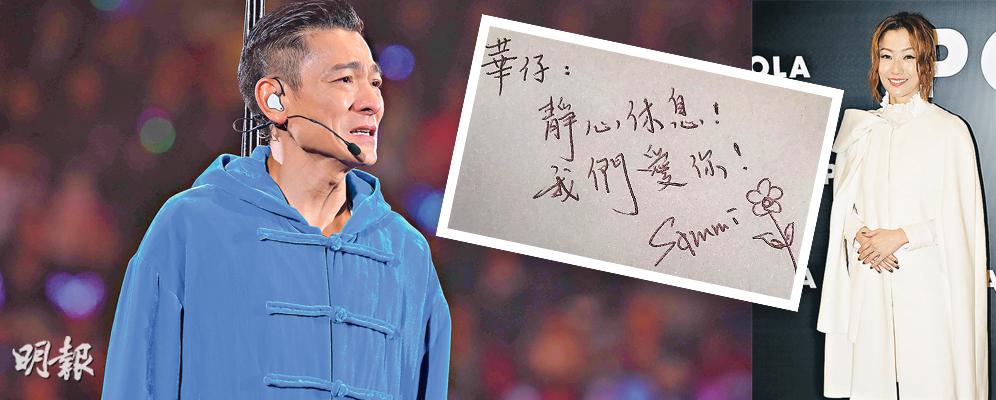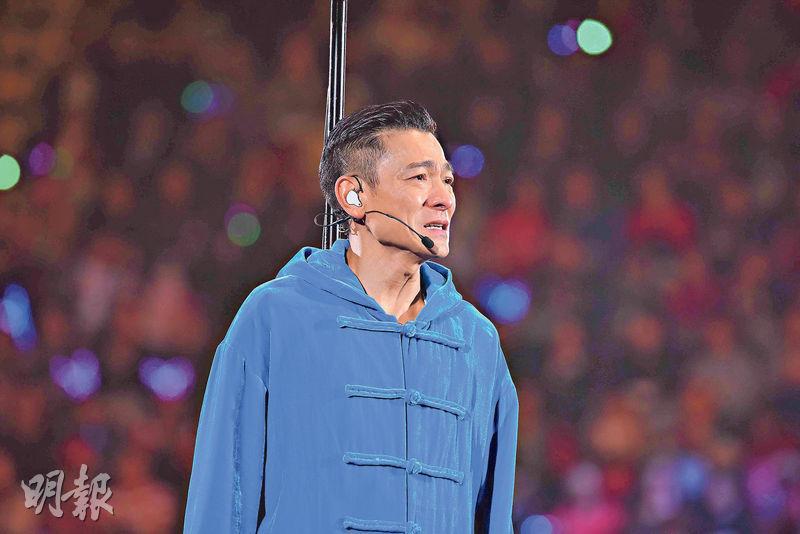 Sammi Cheng personally pens a note of support for Andy Lau online
courtesy of mingpao.com
The 57 year old Andy Lau Tak Wa's 20 show MY LOVE ANDY LAU WORLD TOUR Hong Kong concerts have run into obstacle after obstacle. Due to a throat infection he lost hs voice and had to cancel December 28 to 30 shows. Last night the organizer further announced that the remaining concerts from the 31st to January 3th 2019 will also be cancelled; Wa Jai was diagnosed withe flu and needed rest. The organizer said that it would announce details later and apologized to those who have purchased tickets. Many fans on the official site posted that they would understand and support Wa Jai, wish him an early recovery and hope that make up concerts will take place later for him to sing for everyone again.
Lau Tak Wa's concert series this time have run into obstacle after obstacle. Originally it was to take place at the end of last year. Because early last year he was injured after felling off a horse and needed to recover, it was postponed until the end of this year. In early September buyers were attacked while in line at the box office, Wa Jai immediately announced that in person ticket sales were cancelled for online sales. Then last Friday (the 28th), he lost his voice due to a throat infection. Around 9PM he tearfully expressed that the doctor recommended against him continuing the show. Despite his reluctance he did not want everyone to listen his voice like that all night. In addition he truly could not continue, so he decided to end the show after finishing IF ONE DAY. He cried brokenheartedly as he sang, bowed in apology to the audience. The audience understood, applauded and cheered him on for encouragement. The next day (the 29th) the organizer issued special notice to cancel the 29th and 30th shows and expressed hope that Wa Jai would be able to continue to perform after more rest.
As fans looked forward to Wa Jai's recovery to be able to countdown to and welcome 2019 with everyone tonight (the 31st), in the end the show as well as shows on January 1st to 3rd have also been cancelled. Last night the official concert site issued a special notice to cancel all shows between December 28th 2018 and January 3rd 2019. "Earlier Mr. Lau Tak Wa due to a throat infection, at the recommendation of rest from the doctor, was forced to announce the cancellation of 3 shows. Today at the hospital the doctor confirmed that he had the flu and required rest. The organizer now decides to announce the cancellation of the remaining 4 shows (December 31s 2018 to January 3rd 2019). We apologize to all those who support and love Mr. Lau Tak Wa and have already further tickets. For those with valid tickets for concerts between December 28 2018 to January 3rd 2019, please hold on to the tickets. The organizers will soon announce further details. Please forgive us for any inconvenience this may have caused!" Fans left messages to cheer on Wa Jai, told him to properly rest and would support him forever. The most important was health and after recovery he would return to the stage again.
Having lost her voice at her concert, Sammi Cheng Sau man last night personally penned a letter to support Wa Jai online. "Wa Jai: Rest peacefully! We love you! Sammi. Everyone only want you to be healthy and recover soon. We know you take being unable to finish the remaining shows harder than anyone but you can't control illness. Everyone would understand."