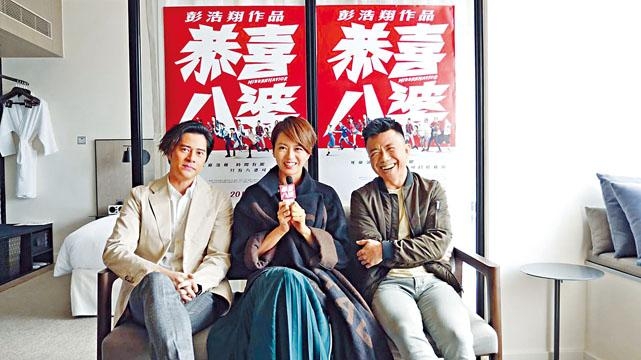 Tsui Tin Yau, Gigi Leung and Hanjin Tan
courtesy of singtao.com
Gigi Leung Wing Kei, Hanjin Tan (Chan Woon Yan) and Tsui Tin Yau promoted their Lunar New Year film MISSBEHAVIOR (GUNG HEI BAK POR). The three married people talked about how they would celebrate Christmas. Gigi and Tin Yau both said that they had to have a Christmas tree. Tin Yau already prepared a 7 foot Christmas tree at home and said that he wanted to surprise his wife.
Gigi invited Hanjin to spend a "Spanish" Christmas at her home. She said, "It's nothing special though, just eating and napping." Hanjin continued to say that being with "BB" was enough for Christmas, Gigi was surprised as she thought that he secretly had a child. Actually Hanjin and his wife called each other "BB". "She is just 4, so there is a child walking around at home. It's 'BB'."