courtesy of on.cc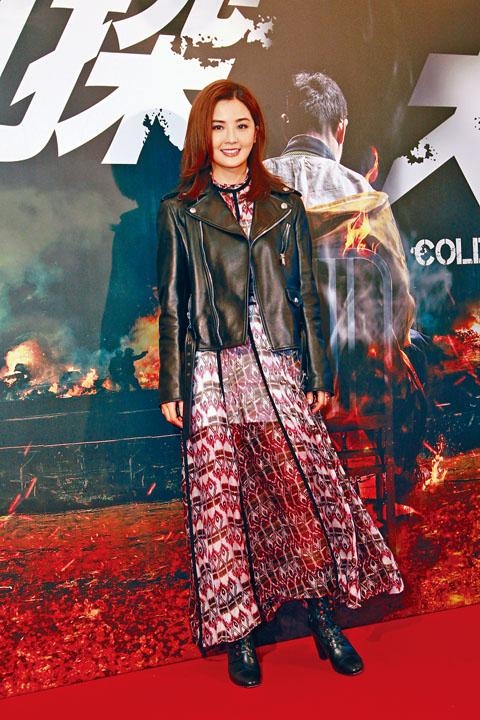 courtesy of singtao.com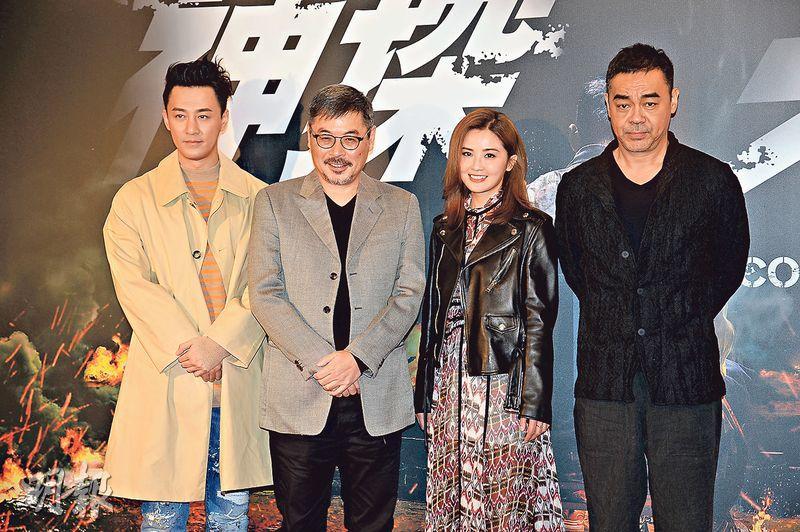 Raymond Lam, Wai Ka Fai, Charlene Choi, Sean Lau
courtesy of mingpao.com
The Wai Ka Fai directed film THE COLD DETECTIVE (SUN TAM DAI JIN) yesterday held a production wrap banquet, Emperor boss Albert Yeung Sau Sing, artists Charlene Choi Cheuk Yin, Sean Lau Ching Wan, Raymond Lam Fung, Kathy Yuen (Tong Yi), Deep Ng Ho Hong attended. Working with Director Wai for the first time, Ah Sa felt like it was a reunion after surviving a disaster. In one scene she felt "death" when her head was wrapped in plastic wrap. She also had to jump into the sea and walk into the sewer. Each scene was full of thrills as she completely sensed that life had no second take!
Ah Sa said that she gave her all in her performance, seeing actors in the film again felt like a reunion after surviving a disaster. Everyone spent four months together, sharing both joy and pain. During the shoot the explosive was right next to her, the entire set was filled with explosives bu the director felt they were not enough. In the winter she had to jump into the sea and walk in the sewer. Did she feel like "death"? She admitted, "I really did. Every shot felt like life has no second take. Normally with other films I would give several acting methods for the director to choose from, but this film was too realistic. Often real reaction came out. (Did you show a scared or cool expression?) I couldn't bother with it too much. In one scene my head was wrapped in plastic wrap, at first I got two holes for me to breathe through. However the director said that they would show up on film and need another layer of plastic wrap. The director even wanted me to breathe hard, from which the brain would easily lack oxygen. This scene took 30 seconds to a minute to shoot, I really felt like I wanted to die."
"The sewer was near the location of the shoot, after the shoot I couldn't keep any food down and wanted to vomit. (Was it very stressful?) The first month was very stressful, everyone said that I looked darker. I didn't sleep well and had nightmares. Director Wai's style was the script would only be available on the day of the shoot, everyday was like a test that made me question whether I knew how to act. Then once the director said that I did very well, finally I relaxed and felt that I knew how to act."
Speaking of Gillian Chung Yun Tung's marriage registration two days ago, Ah Sa said, "Earlier at the U.S. wedding party, I got very emotional for 24 hours. I was still crying on the flight back. This time I laughed more than I cried, (Joey) Yung Cho Yee seemed to come to start trouble. My mouth cracked from all the laughing." Niki Chow Lai Kei also announced her marriage, Ah Sa messed up and thought the wedding was next month. Thus she was unable to attend. "Niki informed me in November that her boyfriend already proposed and they were getting ready to get married. I never thought that it would happen in the same month. Luckily she did not confirm the flight that she booked. (Have you seen her husband?) Several times, the impression is great. (Niki has been called a mistress?) I don't know when they met, I only feel that everyone has a past. You can't be stubborn with other people's past. The marriage of two people is a joyous event, everyone should have a heart of blessing."
Mr. Yeung was asked about his female artists getting married one after another. He happily said, "The best would be getting married. (Who would you rush to get married next?) I won't rush them, they should get married when they find the right one for them. (Would you have to prepare a lot of big gifts?) That's fine, we have worked together for over a decade, they contributed a lot to the company. Every gift would be the same for everyone. (Only Ah Sa and Joey are left?) I wish them finding a good home soon." Mr. Yeung said that he has met Niki's husband, the impression was pretty good. He only found out two or three days before Niki's wedding announcement.
Lau Ching Wan and Wai Ka Fai reunited after ten years for their new film THE COLD DETECTIVE. Ching Wan felt that Wai's films were very suitable for him. "As long as you can do it he would let you. Everyday the script changes. I am very suitable for this type of movies. (Are you a masochist?) Haha, I don't dare to object. This time every scene is packaged with action. (Ah Sa said that it has many thrilling scenes?) That's right, at first I was worried for Ah Sa. I know that she doesn't understand how Mr. Wai works, I have worked with him so I would understand. However Ah Sa is very brave, she does a lot that she has never done before in film, like working on the wire nine stories above, jumping into the sea, explosions, the most dangerous was driving fast. Through this film Ah Sa shows off another potential, I believe no one has been in a car that Ah Sa is driving so fast, I am the lucky survivor. I can never image that she can do so well."
Ching Wan said that another thrilling scene was jumping into the rapids. "The water has a lot of rocks, before the shoot the stunt coordinator demonstrates once. I need two takes to finish and get scratched up a little. The water almost washes me away. (You have to recharge so you would work on another Wai Ka Fai film in another ten years?) Let's see if he asks me first, haha."
Lam Fung was very honored to be able to participate in the Wai Ka Fai film, which made him understand acting anew. This time the entire scrip and production were very challenging for each actor, so he had to remain alert at work everyday. He would not know what he would do until he took his mark, spiritually and physically he kept accepting challenges. Thus everyone had the feeling of reuniting after a disaster, but the film was absolutely worth it."
With Christmas on the way, Lam Fung planned to spend it with his family. Why not spend it with girlfriend Zhang Xinyue? He said, "I worked on characters that required proper rest for the brain for several months, when I have time I would give myself space. (This year will be your first Christmas together?) No comment. (Would you exchange gifts?) Gifts aren't important, the most important is normal life outside work."