Gift for guests
HotCha
C Kwan and his fiance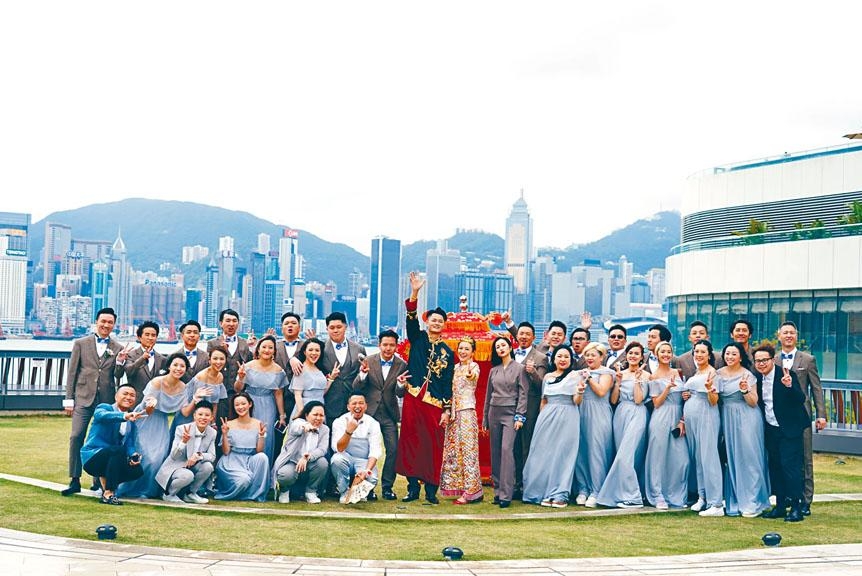 courtesy of singtao.com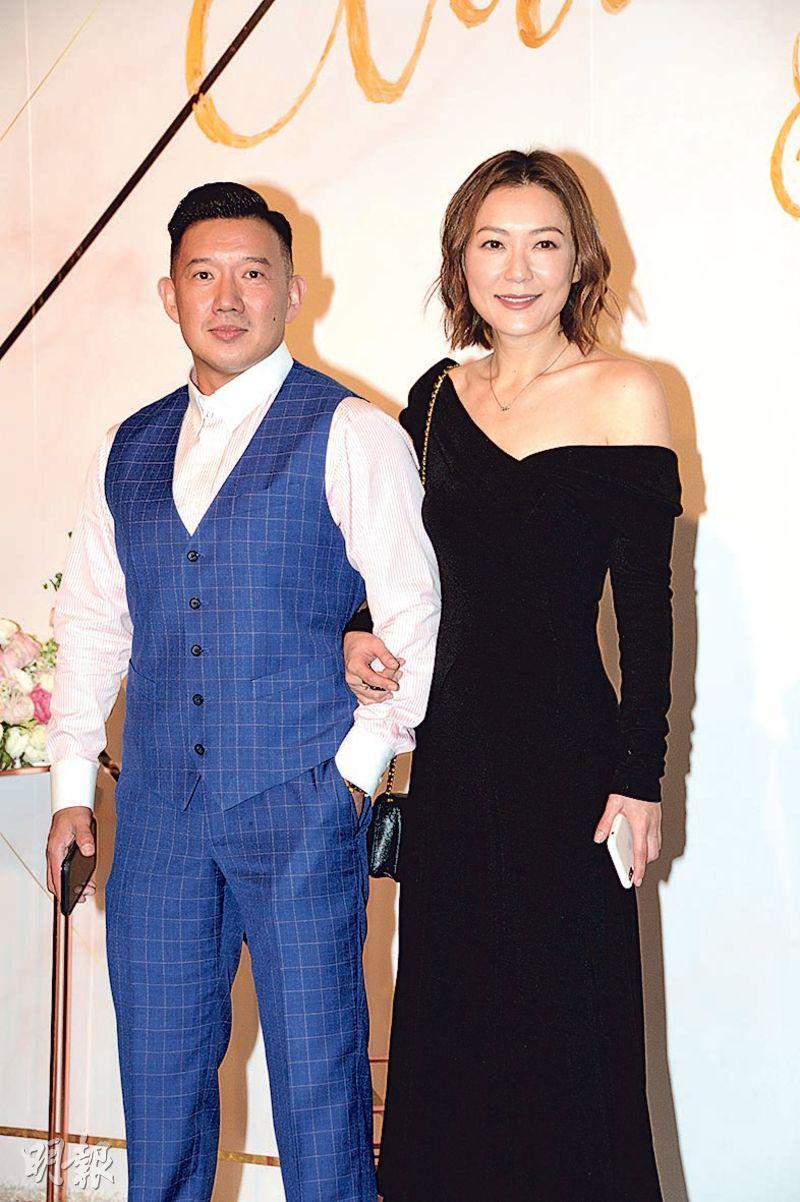 Chapman To and Kristal Tin are happy for Elanne Kong
Vivian Chow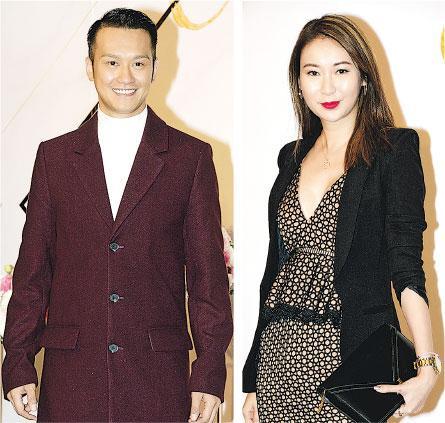 Deep Ng, Jacquelin Chong
courtesy of mingpao.com
31 year old Elanne Kong Yeuk Lam and 37 year old "Shengjian Bao Prince" Oscar Siu Yun Bong yesterday wed. The new couple followed all the traditions. When they read their vows during their registration they affected everyone on hand. The groom declared that he would be willing to take wind, rain and thunder for her, promised to love only her for life. The bride instantly became a cry baby. Elanne stated that she would love this man without regret for life. They even kissed three times for the media, the last one lasted 20 seconds. After marriage they would try to have a child in full force in hopes of making a Year of the Pig baby!
The groom headed to pick up the bride Kong Yeuk Lam with 17 brothers. The best man Kay Tse On Kay led a group of brothers including Louis Cheung Kai Chung, Donald, Danny So (Sai So), Jerald, JW's boyfriend Tarzan Ip o the hotel. Maid of Honor Terence Siufay with the bridal party members JW, Winkie Lai Mei Yin, Crystal Cheung Man Ka and Regen Cheung Wai Nga were on hand with games for the bride. Oscar boldly prepared a stack of cash for door opening lai see, but still had to pass the games. They had to dress like Sailor Moon. The groom Oscar put on a blonde wig and turned into "Usagi Tsukino", Cheung Kai Chung into "Rei Hino", then they had to wear mouth guards and danced to Kong Yeuk Lam's song SHOW YOU. Later Oscar declared his love to Elanne through the door, as brothers asked him how many girls he has been with over 11 years. The terrified groom said "none". Kong Yeuk Lam then through video conference broadcast the bride pick up live. Finally Oscar successfully reached the beauty. The groom even followed tradition fully with a 8 person red sedan o welcome the bride. The new couple wore Chinese wedding costumes to present tea to parents.
At noon, Oscar and Elanne held a registration ceremony outdoors. The bride entered with her father, the couple with maid of honor Siufay and best man Tse On Kay read their vows to the guess. Oscar was nervous as he stuttered, "You are my apple, I am your apple tree. When the sun shines, I get it first. In a shower I get it first. Thunder hits me first, how is that? I would not change how I treat you for life, I love you!" The bride was moved to tears as Oscar attentively wiped them away for his wife.
Elanne declared, "In the past ten years, we kept experiencing and learning in our lives. I am very grateful that when I felt that this world was hopeless and dark Heaven had you appear in front of me in another identity. I once asked you, you are so big, did you come to block wind and rain for me, but you said no, you came to block bullets! Indeed in my life were many mistakes and wrong decisions, but I am very certain about one thing, today my choice to marry you would be my most correct choice in life without any regret." Elanne sobbed through her vows. Her husband again wiped away her eyes. Then they exchanged rings, kissed and the crowd cheered. The bouquet was tossed and JW caught it.
The newlyweds held a wedding banquet at a Hung Hom hotel last night. Guests included Vivian Chow Wai Man, Anne Heung Hoi Lan, Michael Tse Tin Wa, Kristal Tin Yui Nei and others. The groom spent 7 figures on the wedding only to make his wife happy. Elanne responded to her husband that she was "very happy". The couple around 6PM met the press hand in hand and even kissed three times at the request of the media. The last one lasted 20 seconds, as Elanne joked that she was a little dizzy from the kiss!
As for parenthood plans, Oscar said that his wife was a big girl and everything would depend on fate. He revealed that he would take no precaution. Elanne hoped to be able to have a Year of the Pig baby in time.
Oscar put a lot of thought into the two karat diamond engagement and wedding rings. The brand that he ordered them from required identification from the groom, as each man could only order each once in a lifetime. On the wedding day, Oscar even spent millions on a "only true life on a lifetime" theme diamond accessories for his wife for his wife to become a glittering bride.
Guests yesterday also included Deep Ng Ho Hong, Commercial Radio DJ Jim Yan (Siu Yeh Jim), Josephine Ng (Chu Fun), C Kwan and his fiance, Jacquelin Chong Sze Man. Chong Sze Man said that the zipper on what she was going to wear broke so she changed into what she wore now. Speaking of old flame Ng Ho Hong also being present, she said, "No problem, we stayed in touch bu we haven't seen each other in a long time. We kept texting so it won't be awkward."
The groom revealed the troubles he went through during the bride pick up. "I had to play Sailor Moon. The brothers all posted those photos online, I couldn't stop them. Luckily I looked pretty foreign, but I was afraid that the guests would make fun of me. I truly lost all my cred in a moment." Elanne joked that she would blow up the photo for display, making the groom hopping mad. "The brothers aside from dancing were no help at all. The love declaration completely came from my heart. We have known each other for almost 12 years. I left this business and went very far away, finally like a circle we got together again. It should be rather rare. When she started, I already thought that she was very pretty and great, she caught my eye, haha." Elanne revealed that because everyone was betting who would cry first at their wedding, Oscar cried first so she won. The wager would be used to pay for the wedding. Oscar said, "17 Brothers and sisters on each side, as soon as they got the lai see they immediately let us in. All of them very seriously wanted to mess with me sooner, embarrass me. Originally my mouth was small, for the mouth guard I got chapped lips, then I had to sing my wife's SHOW YOU. I have been practicing this song. When the music video was release I already thought it was the best." The bride rolled her eyes and pretended to hit her husband. Oscar kept going. "Now at the head of the bed is my wife's glitter card. Back then wasn't lucky enough to have a photo with her. I made one and pretended to have one. It was just like an ID photo."
Elanne said that at the moment of the hair brushing ceremony, when Mommy brushed she already could not stop crying. Yet during the pick up she did not want her party to lose, so she held back her tears until Papa lifted up her veil for her. Oscar said during the registration when his wife's song ONE AND ONLY played and his wife appeared, he felt like he was in a dream. Then he bit his lips like he was pouting. Everyone thought that he was crying. However at the moment he was moved to tears. He said that the bride pick up was a lot of fun, the certificate singing was very serious. Then they flirtatiously asked each other whether they would "chicken out".
JW and boyfriend Tarzan IP were in the wedding party. JW even caught the bouquet. When everyone said that she would be the next bride, she happily said, "Thank you, actually when I imagined when I caught the bouquet it would be lik this. The day before the wedding someone already asked me whether I would be at the bouquet toss, a the time I deliberately stood further away. Yet everyone still pushed me to catch it. The bouquet happened to hit my head and I caught it. I kept laughing after I got it, I really was very happy. (Was this time joy upon joy?) Of course, I was a part of the wedding and caught the bouquet." JW said, "I don't have any plan to wed because my boyfriend and I want to focus on work first and make more money. (Your boyfriend is from a rich family.) We are close in age, we really want to achieve something with our own abilities."
Tse On Kay was the best man, while her husband Cheung Kai Chung was in the groom party and the afternoon wedding emcee. Oscar complained that the brothers were no help at all. Ah Chung said, "New era, new style. My sailor suit didn't fit but I forced myself into it. However this was the first time that I saw brothers not helping the groom. Actually we wanted the bride to see with her own eyes her husband could take anything, strengthen her confidence in him and would be more moved. This was rather fitting for the newlyweds' style, because the groom was humorous such games were very suitable to the light tone. I also saw when the groom was moved to tears, however Oscar has always been a tough guy."
Kay did not put on the sailor suit because it did no fit. "I have been working out, which really has been effective. I had no problem carrying the sedan with the brothers.
Speaking of boss Stephen Shiu Jr.'s HMV bankruptcy, Ah Chung said, "It has no effect on me. (Are you worried that the company would have financial problem?) Siu Ting Yat and I have a management contract, aside from making the company's movies I can make other movies. Our contract still has awhile to go, but it's not too long either. I feel what (Julian) Cheung Chi Lam) said was right, business has ups and downs. We are in the same boat and unity is the most important. The boss is very talented, for now he ran into something bad. I believe he will be able to handle it."