Ringo Lam dedicated his life to film. He intended for his son to carry on in the industry but was unable to fulfill his wish.
Alan Tam and Joyce Ni's ESPRIT D'AMOUR solidified both Alan Tam and Ringo Lam's positions in film
Maria Cordero cannot accept the news of her benefactor's passing
courtesy of on.cc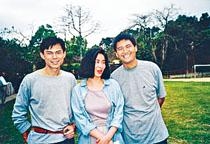 courtesy of singtao.com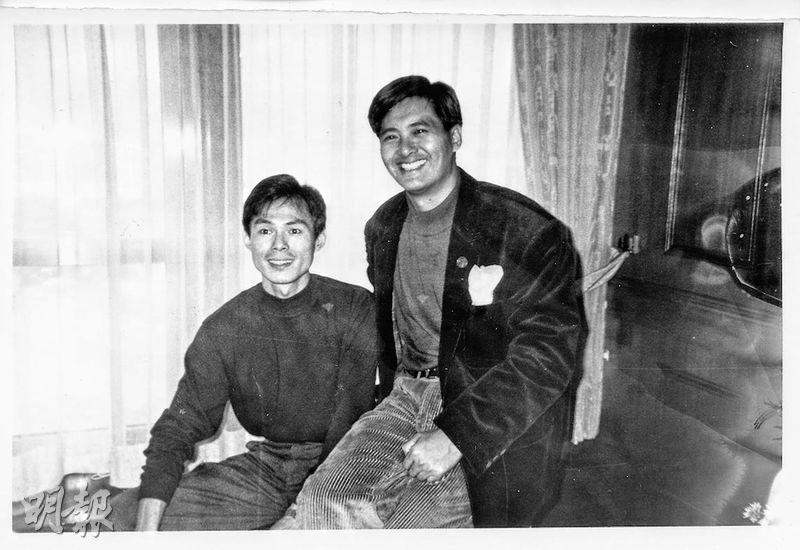 Ringo Lam and Chow Yun Fat were TVB training class classmates. Chow starred in his films like CITY ON FIRE, PRISON ON FIRE, FULL CONTACT and WILD SEARCH.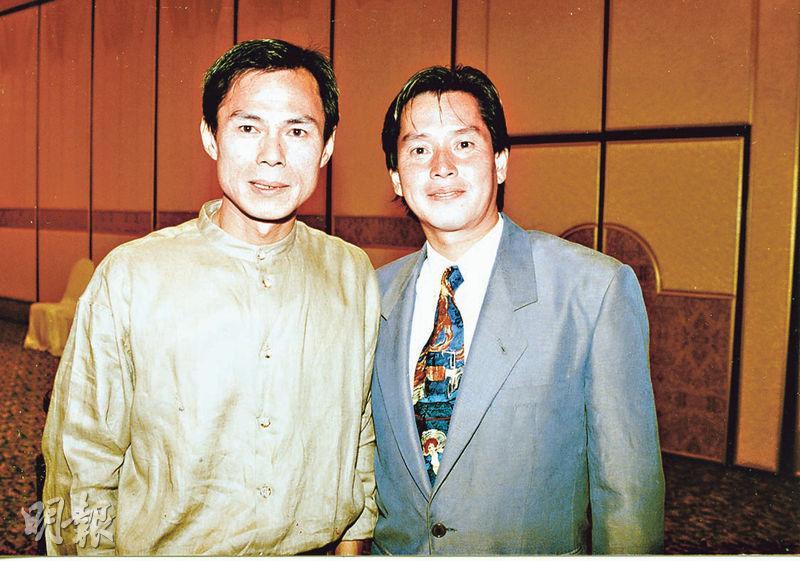 Ringo Lam's first two films, ESPRIT D'AMOUR and THE OTHER SIDE OF GENTLEMAN, starred Alan Tam
courtesy of mingpao.com
Ringo Lam often worked with Johnnie To, Tsui Hark and Louis Koo
Ringo Lam's wife found Ringo Lam unconscious in their Ma On Shan home
At the SKY ON FIRE premiere
courtesy of on.cc
Famous director Ringo Lam Lan Tung yesterday was found dead at his home. The "ON FIRE" trilogy director won the Hong Kong Film Award Best Director with CITY ON FIRE (LUNG FU FUNG WON). The news of his sudden passing shocked show business. Roy Cheung Yiu Yeung who saw Director Lam as his mentor broke down after hearing the news. Friend Eddie Cheung Siu Fai also was unable to believe that it was real.
According to the police, a 63 year old man with the last name Lam was found dead at a home on Ma On Shan's Sai Sha Road. The police received a call from Lam's wife, citing that Lam Lan Tung collapsed in bed. When medical personnel arrived his death was confirmed. After initial investigation nothing suspicious was found and the cause of death would have to wait until the autopsy report. The hearse took away the body last night around 7PM. His wife and son also saw the hearse off. Reportedly Lam Lan Tung has always had stomach illness. Recently he caught the flu but did not see a doctor, as he was treated it with medication. Supposedly after he got up yesterday morning, he returned to bed after breakfast. Around 4PM his wife realized that he was still in bed. When she went to the bed to wake him, she realized that he was unconscious and contacted the police. His neighbor said that he greeted him days ago and the news was very surprising.
Cheung Yiu Yeung broke down when interviewed. "What! No way! I hope this isn't true. (When was the last time you saw him?) Two years ago at (Johnnie) To Kei Fung's dinner. He made him a star singlehandedly, which I would always remember in this lifetime. I always want to find a chance to thank him, but I was never able to." Cheung Yiu Yeung worked with Lam Lan Tung on films PRISON ON FIRE, CITY ON FIRE and SCHOOL ON FIRE, successfully making a name for him.
Cheung Siu Fai was speechless when he heard the news. "I really couldn't accept it. It's too sudden. He can be said as my training class elder." Earlier he worked together on the film SKY ON FIRE (CHUNG TIN FOR). Originally they wanted to work together again but their schedules conflicted. He also said that originally they tried to meet for dinner in March but again their schedules conflicted. "I regret very much that I wasn't able to have that dinner with him. He truly was a very nice guy, he was so healthy. I am really going to miss him!"
Lam Lan Tung's TVB training class classmates Chow Yun Fat and Johnnie To Kei Fung were as close as brothers. Thus when they heard the news their mood was particularly heavy and was unable to recover at once.
Having known Lam Lan Tung for over 40 years, Simon Yam Tat Wa after days of working on a film rested for a few hours in the afternoon. He never expected to receive the tragic news when he got up. "We always meet and have dinner when we are in Hong Kong. When such a good friend suddenly passed away, I am very upset. My heart really hurts, I really don't know how to describe it. I shed tears. Friendship like this I believe is rare in a lifetime! I just got off the phone with his wife. (How was she?) Heartbroken, but she was OK emotionally. (When did you see Director Lam last?) Two months ago I saw his in the recording studio, at the time we talked about life when we chatted. (Would you help with the funeral?) I definitely would, I would do my best."
Lam Lan Tung excelled in action films. His 2014 film WILD CITY starred Louis Koo Tin Lok, Shawn Yue Man Lok and Joseph Chang. Because Director Lam was rather demanding, he asked for real blades and both Yue Man Lok and Koo Tin Lok were hurt during the shoot. He also went to work in the U.S. in 1996. His first Hollywood film was the action film MAXIMUM RISK, which starred Jean-Claude Van Damme. They worked together again several times after, including REPLICANT and IN HELL. In addition, he said in an earlier interview that in the film world he was god, able to control everything; but in real life he was unable to control life and death. He posted, "I would like to extend my condolences to his family, friends and loved ones."
Director Dante Lam Chiu Yin said, "Why was it so sudden? He was my idol. The final school massacre scene in THE STOOL PIGEON was my salute to his SCHOOL ON FIRE. At the time I told (Nick) Cheung Ka Fai that I really like Lam Lan Tung. Ka Fai helped me arrange a meeting with him. I always tell people, I want to work with him. Now I really won't get a chance to, which is very regrettable."
Yue Man Lok posted a black and white photo of Lam Lan Tung on social media. "Too sudden, really it's too sudden......I don't know how to react. Director have a safe journey, I will always love you, respect you......"
The 2016 film SKY ON FIRE became Lam Lan Tung's final film. Director Lam's lead actor Daniel Wu (Ng Yin Cho) posted their photo on social media and praised him for his many classic films like CITY ON FIRE and PRISON ON FIRE. As a representative of the Hong Kong 80's and 90's New Wave he promoted Hong Kong films to international renown. "We have lost a true film master. Rest in Peace! We will carry on your will!"
Louis Koo Tin Lok remembered on social media, "On the way home I got the news of director Lam Lan Tung's passing. Emotionally I didn't want this to be true, but after seeing many filmmakers' eulogies I have to accept it. I worked with Director Lam in as early as 1998, unknowingly it has already been 20 years. In recent years we also made WILD CITY and he remained very demanding on himself, a creator who would always challenge himself. He has always taught me a lot, a good colleague who was both a teacher and a friend. I would always miss him."
Having worked with Lam Lan Tung on HOUSE OF THE DAMNED (SI HEI BIK YUN) and LOOKING FOR MISTER PERFECT (KEI FUNG DIK SAU), Chapman To Man Chak was heartbroken and remembered him online. He said that Lam Lan Tung deeply influenced his journey as a director. "I would always remember what you said to me on the set, how to be able to make a movie good."
Wayne Lai Yiu Cheung said, "I have quite an impression of him because over a decade ago I worked on his VICTIM (MUK LO HUNG GUONG), at the time we were all kids. We didn't get to go out and make movies too often. He taught me a lot, back then he appreciated and encouraged me. Over a year ago he asked me to work on SKY ON FIRE. Although it wasn't any major role, he remembered me to ask me to guest star. To me it was a huge encouragement."
Wong Jing months ago had dinner with Lam Lan Tung. At the time he looked fine and very healthy. Wong Jing said, "No way, I would die before he would. However life is unexpected after 60. He and I are too familiar, I didn't believe the news when I heard it. I am very saddened!"
Lam Lan Tung and To Kei Fung were both once Wong Tin Lam's disciples. Two nights ago Wong Tin Lam's Wong Jing posted on social media. "Ah Tung's passing was too sudden, my heartbreak couldn't come fast enough as only wave after wave of memories flooded in. He was Father's second disciple. When we met we were 20, but my impression of him felt much older -- like a big brother. Later I realized that he just matured early. I wrote the first show after he was promoted to head writer. Later because he rose to fame with the ON FIRE series he went to Hollywood. When he came back we even properly worked together on FULL ALERT. Have a safe journey, we will catch up again."
Alan Tam Wing Lun starred in Lam Lan Tung's film directing debut ESPRIT D'AMOUR (YUM YEUNG CHOR) in 1983, later they worked together on THE OTHER SIDE OF GENTLEMAN (GWUN JI HO KAU). "What Ah Tung wanted was different from other directors. He was more explosive, his requests more alternative, more special. Even for an ordinary shot, he wanted to force and force you into another level in order to meet his demand. He was a rather demanding director. I worked with him on several films, and felt that he wasn't a simple director. He had his own style."
"I heard that he was planning a movie. At our last dinner, a group of us Old Mak (Karl Maka), (Dean) Shek Tin, (Raymond) Wong Pak Ming, Cheung Ngai Ga (Sylvia Chang), Shi Nansun all came. We would occasionally get together for dinner, they would more so. The last time I saw him he was fine, he was in great spirits so it was very regrettable. It is a loss to the film industry."
Lam Lan Tung discovered Maria Cordero at a night spot and asked her to perform the theme song of CITY ON FIRE and PRISON ON FIRE, making her an overnight success and changed her destiny. She responded, "I still can't accept it. Without him I wouldn't be here today. Each time I saw him I would call him benefactor. I would always run into him Sabah. He told me that he was always planting vegetable and was very healthy. The last time I ran into him in Tsim Sha Tsui, I loudly called out 'Benefactor' and he called me crazy again! When I heard the news, I couldn't accept it right away. He truly was talented and a nice guy there couldn't be more of, my condolences to his family!"
Director Lam Lan Tung excelled in action films, among them the ON FIRE trilogy CITY ON FIRE, PRISON ON FIRE and SCHOOL ON FIRE were the best known. In 1987 with CITY he won the Hong Kong Film Award Best Director, lead actor Chow Yun Fat also won Best Actor. In 1997, Lam Lan Tung made FULL ALERT (GO DOH GAI BEI) and brought his career to new heights. In 2007 he worked with directors Tsui Hark and Johnnie To Kei Fung on TRIANGLE (TEET SAM GOK). In 2014 he directed WILD CITY with Koo Tin Lok, Yue Man Lok, Joseph Chang and Tong Liya. Yue Man Lok revealed that Lam Lan Tung for realism almost permitted actors to fight with real blades, which stunned Yue Man Lok! In addition, the prop currency that was used for WILD CITY due to its high level of realism led to charges for prop team member Law Yun Lam and prop master Cheung Wai Chuen. Luckily the verdict were overturned. His 2016 film SKY ON FIRE became his final work.
Lam Lan Tung's family originated from Chaozhou, Guangdong. In 1973 after graduating from Saint Peter Secondary School he joined the TVB third artist training class and was a classmate of Chow Yun Fat and Ng Man Tat. In 1974 he was a production assistant, in 1976 he was promoted to head writer. In 1978 he joined CTV and made the film GUP SIN FUNG. Later he emigrated to Canada and studied film at York University. years ago he made countless films, including TWIN DRAGONS, BURNING PARADISE, THE ADVENTURERS, FULL ALERT and THE SUSPECT (GIK DOH CHUNG FAN).