Gin Lee
Alfred Hui
Vincy Chan
Super Girls
MC Jin
William So gained some baby weight as a father
courtesy of on.cc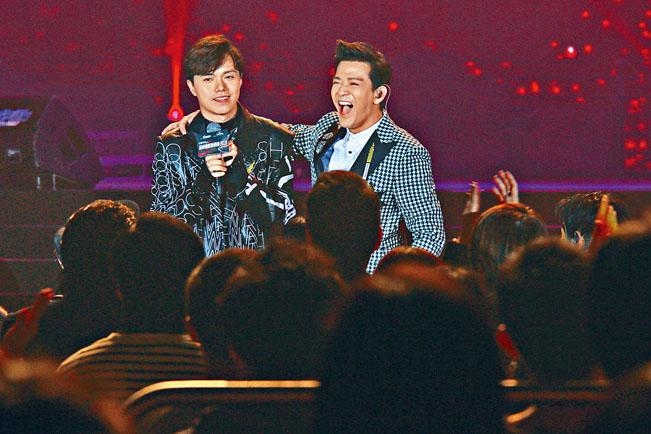 Daniel Chan congratulates big winner Hins Cheung
courtesy of singtao.com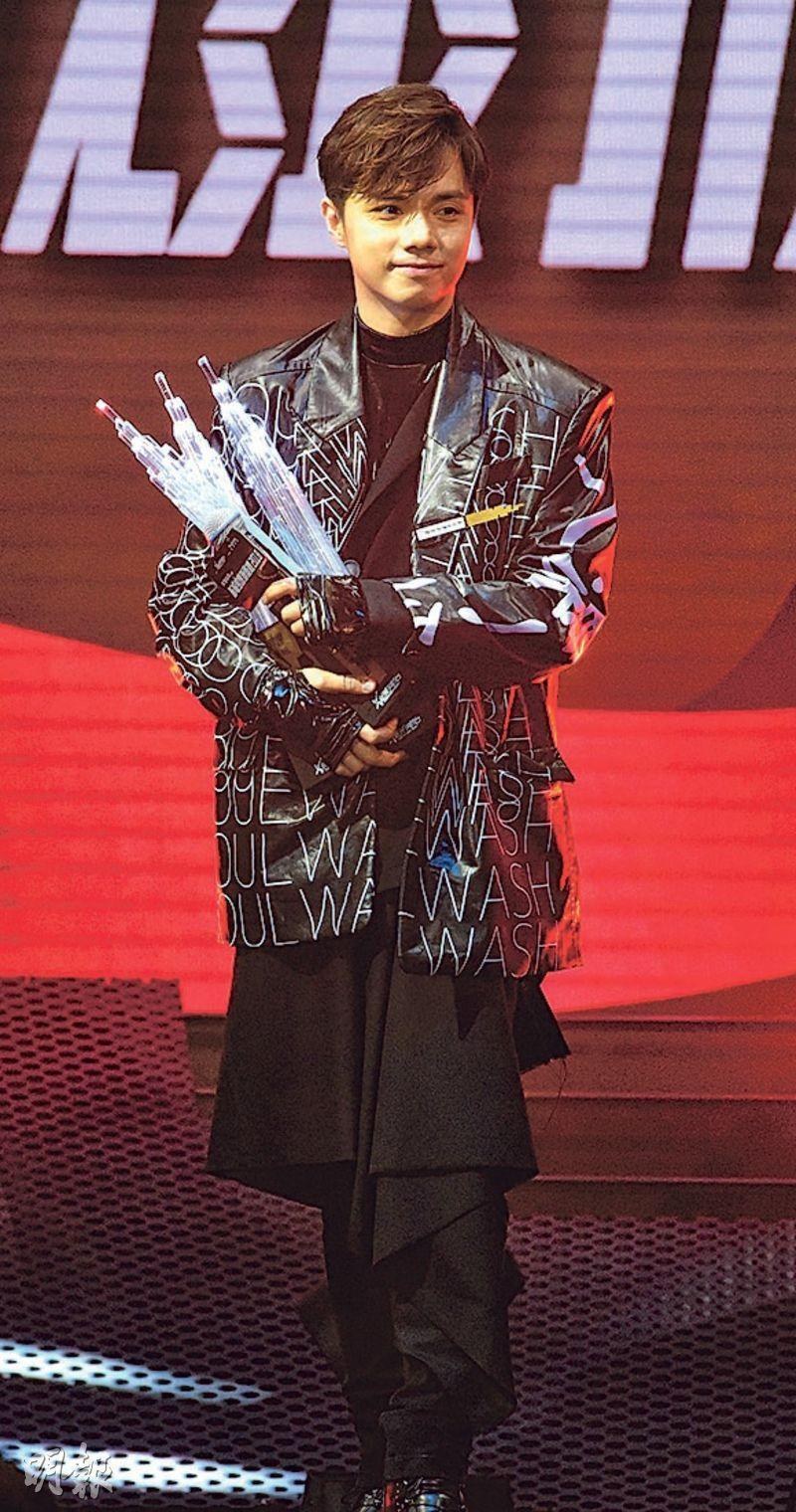 Hins Cheung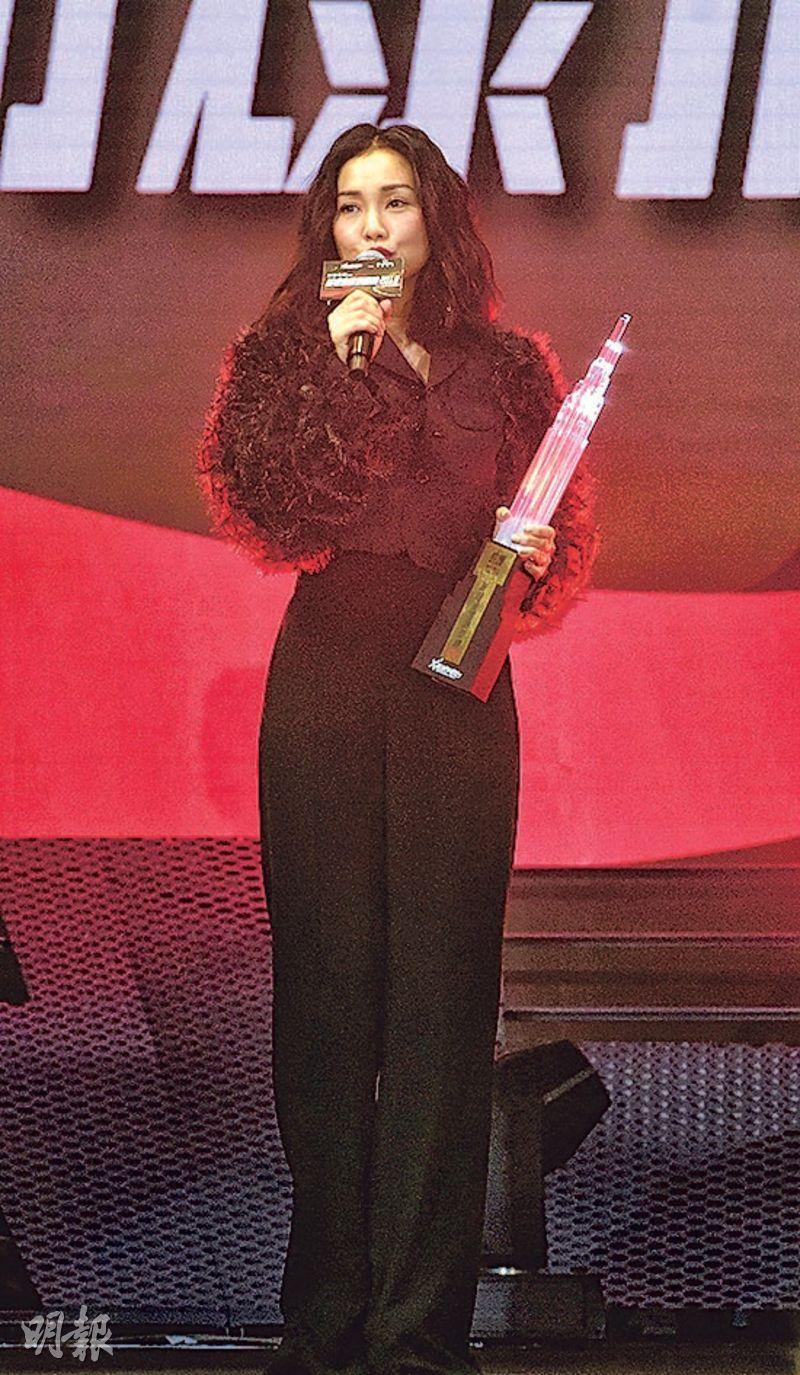 Kay Tse won 2.5 awards, unfortunately she did not have the chance to perform the winning duet with Louis Koo
Pakho Chau tried something new with his hair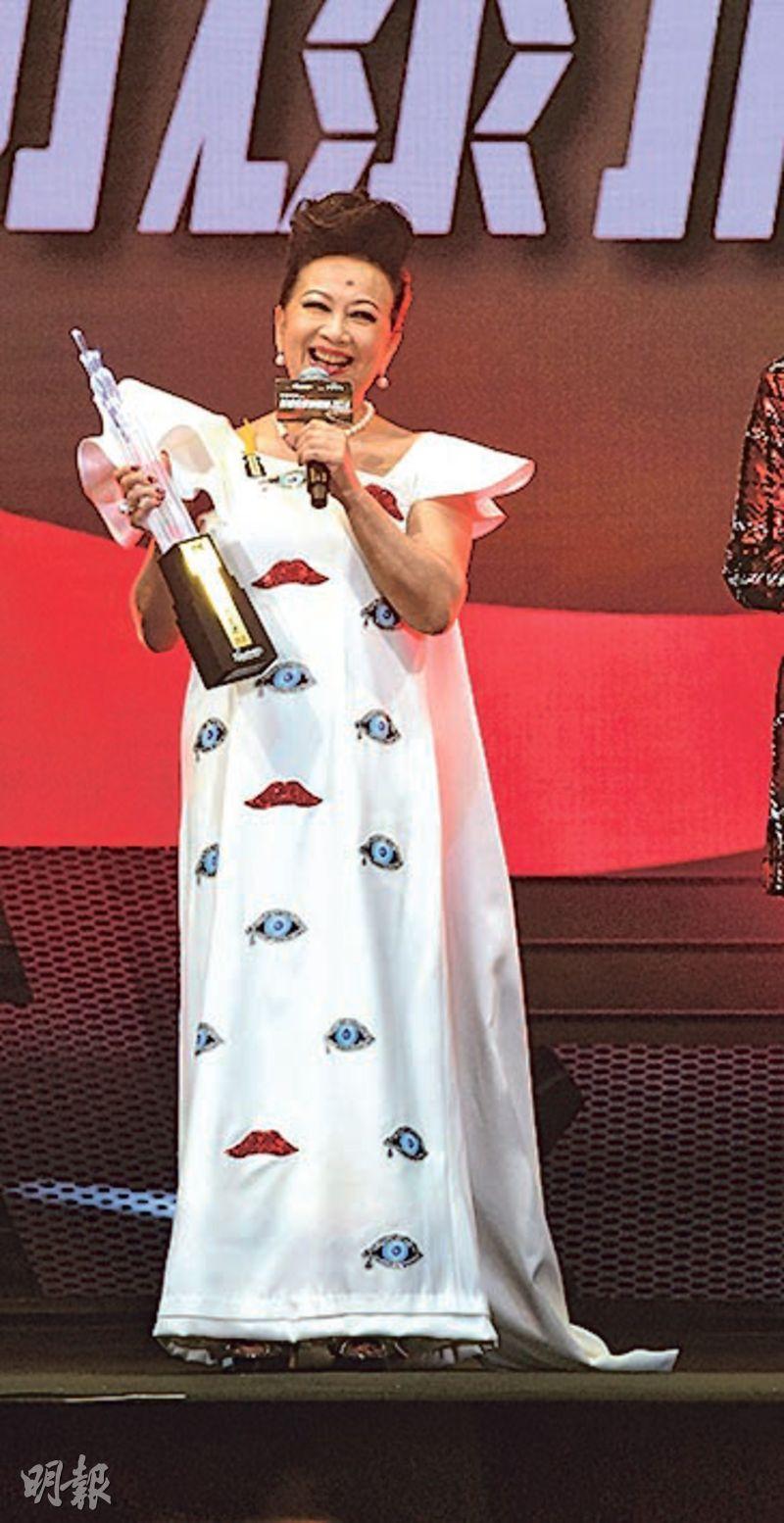 Nancy Sit performed her famous cross step dance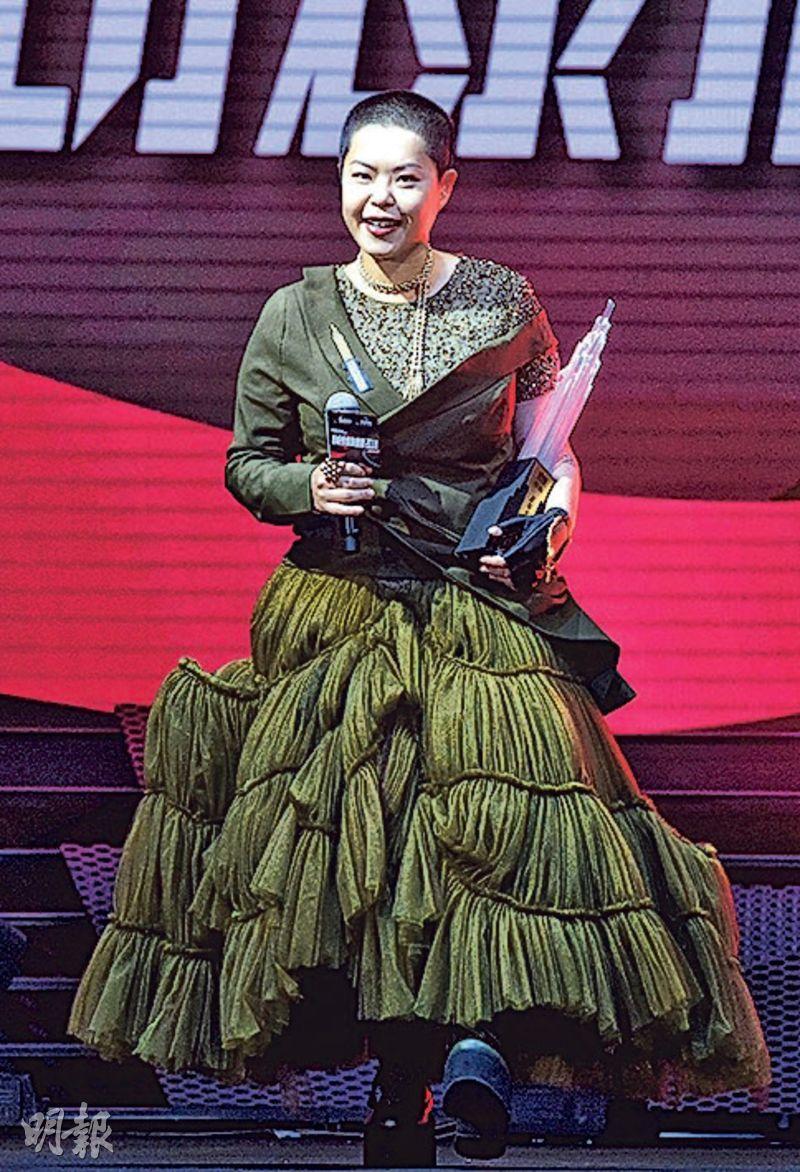 Eman Lam
Daniel Chan invited Joyce Cheng to dance during his performance
courtesy of mingpao.com
This year's second Hong Kong music report card the Metro Radio Hit Awards 2018 took place last night at the Convention Center. The entire event presented 59 awards to singers, less than 61 last year. Hins Cheung King Hin won 3 major awards, Hit Singer of the Year, Hit Record, and Hit Airplay Index Song to become the big winner. Jason Chan Pak Yu, Pakho Chau, Alfred Hui Ting Hung, James Ng Yip Kwan followed with two awards each. As for female singers, Kay Tse On Kay had two and a half awards, Hit Performance, Hit female Singer and the Hit Duet with Louis Koo Tin Lok. Gin Lee Hung Ngai and G.E.M. (Tang Chi Kei) also received won two awards.
This year's Hit theme slogan was "music transforms life". Aside from honoring singers for producing exciting and outstanding music, the event also hoped that they through the power of music and song enjoy the joy that music itself brought to the audience, for music fans to play good songs and spread positive energy. After the award show began, guest performer William So Wing Hong performed many classic Cantonese songs and Mandarin songs. Attending singers stood to show their support and warm up the entire evening's atmosphere.
Pakho Chau struck first with PEACE FOR YOUNG AND OLD as it won the first "Hit Song" award. He said that this song expressed all that he wanted to say inside. As he grew older his wants became simpler, the most important was happiness, joy and health. He wished everyone Happy New Year and Peace for Young and Old. The second song award went to Eman Lam's LOVE IS A TYPE OF FRENCH DESSERT. She said that the music production process was a relay race, she only was the first leg representative of team in accepting the award. She also said that the song was very important to her, as she would put her heart into singing it for everyone at anywhere. The third song went to Vincy Chan (Wing Yi)'s PIGGYBACK. She said that this year she only released one song, but the song was very meaningful to her because it was songwriter Bert's personal experience.
The second guest performer MC Jin appeared as he freestyled a part of a hip hop song. He remembered coming to Hong Kong ten years ago and at the time he also performed hip hop, but as soon as the music began the audience headed for the bathroom. He knew hip hop's development in Hong Kong would be a very difficult challenge, but for ten years he always enjoyed the process. The event later presented a "Excellent Hip Hop Performance Award" to MC Jin. He also revealed the new singer awards to Tsang Lok Tung, Kaho Hung and Joey Thye (Dai Cho Yee).
This year's "Hit Male Singers" were Chan Pak Ho, Pakho Chau and Hui Ting Hung, "Hit Female Singers" were Tse On Kay, Gin Lee and Joyce Cheng Yun Yi. Past award show frequent flyers Eason Chan Yik Shun, Joey Yung Cho Yee, Miriam Yeung Chin Wa and Hacken Lee Hak Kun all went home empty handed perhaps due to their absence. Hins Cheung King Hin also won the "Hit Singer of the Year", with the "Hit Record" and "Hit Airplay Index Song" Hin Jai won three awards to become the big winner of the night.
As for Mandarin songs, Tang Chi Kei with COUNTDOWN won the "Mandarin Power song" and also retained her crown as the "Hit Mandarin Power Singer". The event also presented a special "Hit Performance Colorful 60 Award" to Nancy Sit Ka Yin to celebrate her 60th year in the business. Kenny Bee (Chung Chun To) also received the "Hit Best Singer" award. With countless awards in film, Louis Koo Tin Lok this year with Kay Tse On Kay won his first Hit Duet award for (A MAN) A WOMAN AND THE BATHROOM.
METRO HIT AWARDS 2018
HIT SONG
SERIOUS AS EVER (Jason Chan)
PEACE FOR YOUNG AND OLD (Pakho Chau)
SPARE A LISTEN (Alfred Hui)
I FEEL GOOD ABOUT MYSELF (Gin Lee)
WISH WE NEVER MET (Dear Jane)
HALF GLASS INTO THE SOUL (Justin Lo)
LOVE IS A TYPE OF FRENCH DESSERT (Eman Lam)
WHO CARES ABOUT BEING ALONE IN THE END (Deep Ng)
ONLY WANT TO BE WITH YOU AGAIN (Hana Kuk)
PIGGYBACK (Vincy Chan)
HIT AIRPLAY INDEX SONG:
GENIUS CHILDREN 1985 (Hins Cheung)
HIT SINGER OF THE YEAR:
Hins Cheung
HIT RECORD:
SENSES INHERITED (Hins Cheung)
HIT PERFORMANCE:
PSEUDO ART OF BEING A WIFE (Kay Tse)
HIT PERFORMANCE COLORFUL 60:
Nancy Sit
HIT PRIME SINGER:
Kenny Bee
HIT MANDARIN POWER RECORD:
AFTERTHOUGHT (Hanjin Tan)
HIT MANDARIN POWER SINGER:
G.E.M
HIT MANDARIN POWER SONG:
COUNTDOWN (G.E.M)
HIT MALE SINGER:
Jason Chan/Pakho Chau/Alfred Hui
HIT FEMALE SINGER:
Kay Tse/Gin Lee/Joyce Cheng
HIT BAND:
Dear Jane/Supper Moment/ToNick
HIT GROUP:
Robynn & Kendy/Super Girls/Lil' Ashes
HIT CREATIVE SINGER:
Justin Lo/Phil Lam/AGA
HIT DUET:
(A MAN) A WOMAN AND A BATHROOM (Louis Koo/Kay Tse)
NOT WASTED (Sammy Sum/3Think/Mok Hoi Him)
HIT SINGER I SUPPORT:
James Ng
HIT SONG I SUPPORT:
ARC DE TRIOMPHE (James Ng)
HIT NEW COMER I SUPPORT:
Cath Wong
HIT IMPROVED SINGER:
Andy Leung/Tang Siu Hau/Stephanie Cheng/Sherman Chung/Angela Hui/Hubert Wu/Alan Po/Sukie S/MastaMic
HIT NEW COMER:
Kaho Hung/Tsang Lok Tung/Joey Thye
EXCELLENT HIP HOP PERFORMANCE:
MC Jin
HIT INDEPENDAN MUSICIAN:
Panther Chen, Hinry Lau