courtesy of on.cc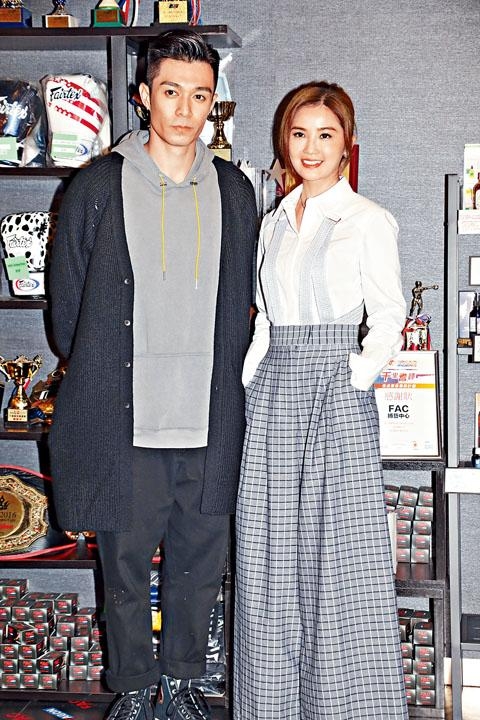 courtesy of singtao.com
Charlene Choi reunites with Pakho Chau but praises new addition Mario as handsome
courtesy of mingpao.com
The film 77 HEARWARMINGS (GUM DUNG TA 77 CHI) last night held its production start ceremony. Actors Kara Wai Ying Hung, Charlene Choi Cheuk Yin, Pakho Chau and Jeana Ho Pui Yu attended. Gillian Chung Yun Tung will hold her wedding banquet this month, Ah Sa said that she and Joey Yung Cho Yee would present an almost HK$ 100,000 wedding cake to their friend.
Wai Ying Hung said that this would be a continuation of the previous film 77 HEARTBREAKS (YUEN LOI TA 77 CHI). She would again play Choi Cheuk Yin's mother, but her character would not be as tragic as last time. Instead she would have a wedding ceremony in the film, for now she still has no idea who would the Prince Charming be. Later Sister Hung would have to attend a wedding gown tailoring. She said, "I haven't had much luck with wedding gowns, I only had one wedding gown photo shoot in film!" She pointed out that she did not know whether she would be able to dress up a little. "In the film I play a woman in her 50s, I won't be all that pretty. I only hope that the wedding gown won't be too low cut. My cleavage isn't that great." Reporters praised her for having a career line. Sister Hung joked, "Mine is a change jar!" Reporters then suggested for her to bare her back. She said that she would leave that for Ah Sa. Someone said that Ah Sa did not have much to look at anywhere. Sister Hung joked, "I am probably better than her, haha! Whatever the director wants I would do, but the audience has to be willing to watch. I am still OK this year, I don't know about next year. They get worse every year!"
Pakho Chau at the end of the last film ended up in an argument with Ah Sa. This time he grew up from his immaturity and would raise his score somewhat. In it he would fight over Ah Sa with Thai actor Mario Maurer. Would they have any intimate scene? Ah Sa said that this would not be the focus, which would be the examination of the couple relationship. Pakho said that if they would they would not go too far, so they would not have any bed scene. Perhaps the director was afraid of the cold in the winter. Ah Sa joked, "The actors would be cold, if it's not required there is no reason for me to add it!" Ah Sa said that in one scene Mario would have to kiss her hand. "It's already very daring, Thais are a little more reserved!"