Have you seen Max Zhang as a stunt double for a woman?
courtesy of on.cc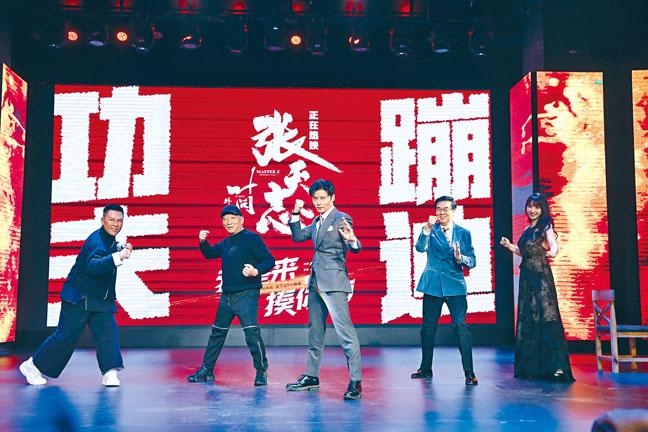 courtesy of singtao.com
The Yuen Woo Ping (Lord Eight) directed, Raymond Wong Pak Ming, Donnie Yen Chi Tan produced, Max Zhang Jin, Dave Bautista, Ada Liu Yan, Michelle Yeoh (Yeung Chi King), Tony Jaa, Kevin Cheng Ka Wing, Chrissie Chau Sau Na, Shi Yanneng, Patrick Tam Yiu Man starred kung fu epic MASTER Z: IP MAN LEGACY already made 4 million in its 4 day release.
Producer Wong Pak Ming, Lord Eight led Zhang Jin, Liu Yan and Shi Yanneng earlier attended the Beijing press conference, each talked about their defeat experience. Known as the "the world's best action director" Lord Eight said that he was almost "defeated by success". He recalled that when his SNAKE IN THE EAGLE'S SHADOW became the box office champion and brought him to the peak, stress followed as he worried that his future work would not surpass it. "At that time I really thought about quitting." Yet when life reached this stage, everything was gone with the wind. He only hoped to be able to continue to make kung fu films and never say retirement.
Wong Pak Ming recalled how he wen from making comedy to kung fu films, saying that time would not defeat him. Instead he insisted on making action films that he did not understand. Finally he created the IP MAN intellectual property to MASTER Z now. He hoped in the future to be able to create a "kung fu universe" that belonged to Chinese film.
Zhang Jin remembered when he went from a national athlete to a stunt double for women, his step by step journey to lead actor absolutely was no easy. He urged young people not to be defeated by reality, and at the same time he even showed his photo with Yeung Chi King as an action stunt double in CROUCHING TIGER HIDDEN DRAGON.

The event prepared a special "Secret To Be A Good Man" scroll for Zhang Jin to recite. When he read "Able to wait for wife during make up", Zhang Jin revealed that his wife Ada Choi Siu Fun did not like to apply make up and liked to go out au natural. Instead he had to keep reminding her that she should have the self awareness of a female artist! Zhang Jin revealed more and more, joking that because he trusted his wife too much he used pain cream for toothpaste for a week. Luckily he did not die from it. In the end it even became his husband motto. "Wife's words should be handled properly, you cannot completely, unconditionally and blindly follow them!"