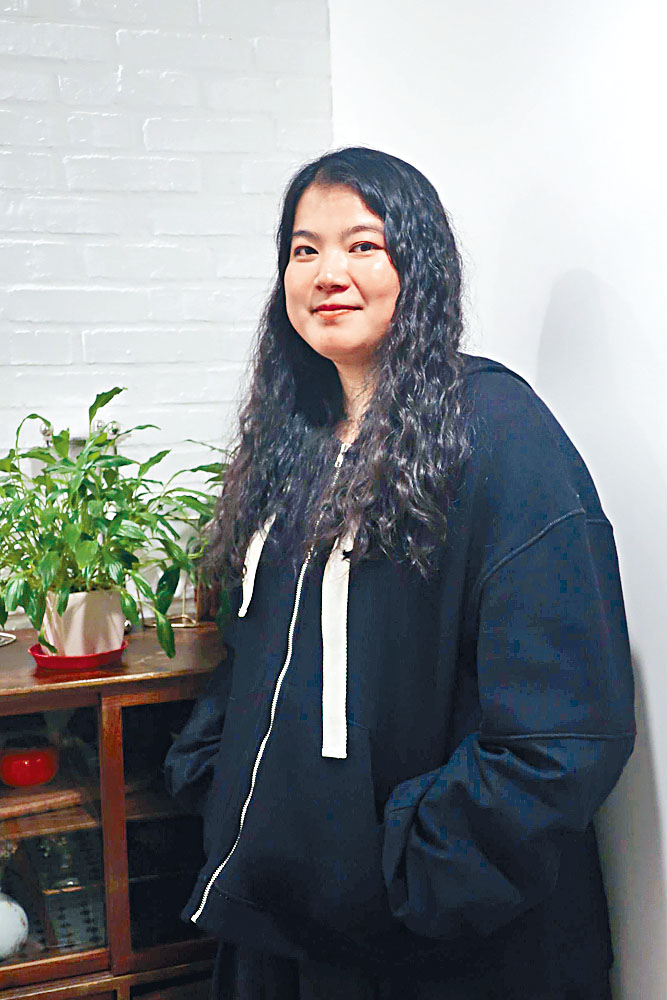 In the five years Emily Chan spends to write MADALENA script, life also drastically changes
courtesy of singtao.com
New Macau female director Emily Chan Nga Lei directed and wrote the Louis Cheung Kai Chung and Chrissie Chau Sau Na starred film MADALENA. Cheung Kai Chung played the divorced taxi driver "MADA" and Chau Sau Na played the hard working single parent laborer "LENA", who ran into each other in Macau in the love story. Chan Nga Lei took five years from writing the script to starting production. During the script writing process she experienced the entire painful journey of being proposed to, waiting for a wedding date but knowing he was not the one.
Chan Nga Lei while writing the script ran into the "29+1" important age for women, but also the painful condition of being proposed to by the "wrong one". From that she understood only by learning to let go would she be able to have true love. She said, "After finishing the script, I already let go! I started a new relationship and he treats me well without condition. Then we even got married and had a daughter. From when I started to write the script to the production, coincidentally I experienced a romantic setback. In the end I got a happy ending. So everyone would see that when the film started MADA and LENA gave a very pessimistic impression, slowly they had romantic element and in the end they would have an Easter egg 'dessert'! Originally it actually isn't there, but both Cheung Kai Chung and Goo Jai (Louis Koo Tin Lok) it's necessary! I also feel there is a variety of viewers, so I choose the Easter egg 'dessert' to appear in the second half to give people the impression of two different choices. I think I want to bring out the message that no matter how poor the environment is, actually as long as you have faith you would still have a chance to start over."
Although Cheung Kai Chung's image has always been comedic, this time in the film he was very serious. He was not even half comedic, the contrast was rather enormous. Chan Nga Lei said that early in the script the male lead was an older man in the 50's, but the producer and the investor suggested why not choose the younger actor Cheung Kai Chung. She immediately became awake. "I feel Cheung Kai Chung is a very hard working actor, with great luck with the audience. If I ask him to perform it would be a work of transition. For a director it would be very challenging and very fun. Instead his addition made the matter even better."
As for the lead actress Chau Sau Na, actually Chan Nga Lei contacted her three years before. However the production did not start until three years later. She recalled when she brought her second draft to meet Sister Na for the first time, she really liked the story. "As soon as Sister Na sat down she said, 'You are a Macau director! Why would you ask me?' She liked the story so she would bring up some not so mature places in the script. She would give her suggestion. I remembered when we left I even told her, 'If I find an investor, I definitely would ask you!' Playing Sister Na's daughter in the film actually is Chan Nga Lei's daughter. During the costume fitting Chan Nga Lei even brought her daughter for Sister Na to get familiar with the baby. "Because Sister Na said that she didn't really know how to play with a baby! We all know how to deal with the baby, but once in her hands we would ignore her. My daughter just kept crying and she slowly picked it up."
After the film earlier was invited to the 23rd Udine Far East Film Festival competition, it also became the Hong Kong Asian Film Festival 2021 opening film and then invited to the Rising Sun International Film Festival competition in Japan. Speaking of whether she had confidence in Cheung Kai Chung and Chau Sau Na to win awards at various film awards? She said, "I do! I hope even more people would watch it at the movies. They both perform very well, I hope Sister Na can win Best Actress."