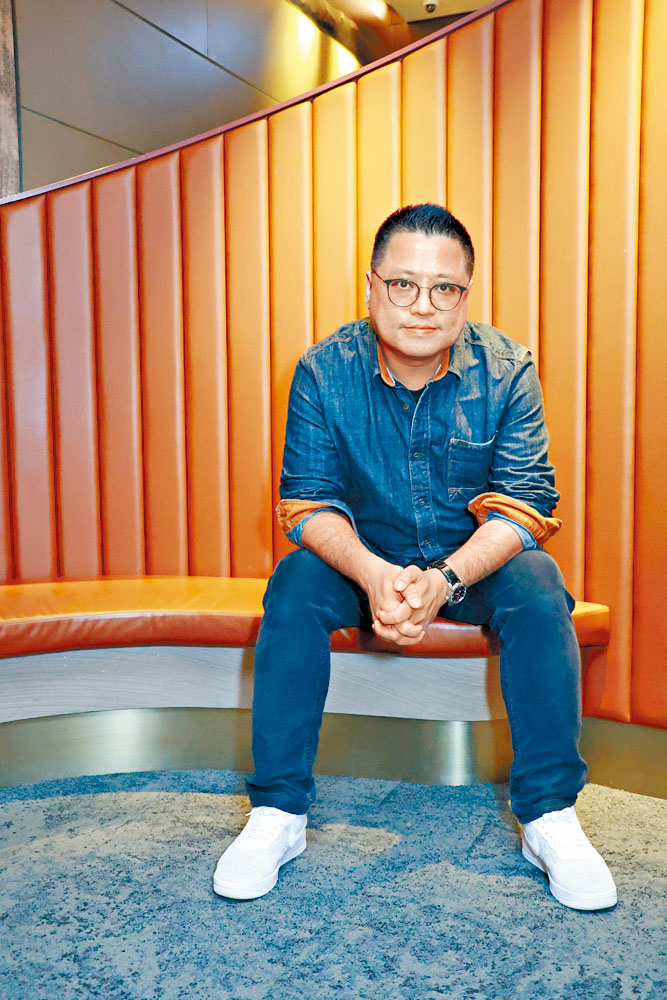 Longman Leung says that it was difficult to compress Anita Mui's life into just two hours
courtesy of singtao.com
The biographical film ANITA's subject was the life of a superstar of a generation Anita Mui Yim Fong. To shrink down Sister Mui's 40 years of life into over 2 hours, director Longman Leung stated that it was an enormous challenge. Although they had no way to clone Sister Mui, the team did its best to bring back the past. He declared that being able to complete the film was his fortune. Hong Kong was lucky to have had Sister Mui.
Among ANITA's production team, many have worked with Sister Mui. Director Longman Leung only met her once, but he felt that this instead was an advantage production wise. "Sister Mui's colleagues and friends would have too many memories and feelings of her. If they had to turn her life into a film, they would not know where to start. As the younger generation, having some distance from her instead was my advantage. Sister Mui and that generation of superstars all gave me an impression, they were all very friendly and easy going, cared about people, did not put on air at all, very demanding of themselves, we tried our best to bring back Sister Mui in everyone's heart. Ultimately we had no way to clone Sister Mui, but to be able to complete this film was my fortune, Hong Kong was lucky to have had Sister Mui."
Longman Leung looked back at when boss Bill Kong Chi Keung 6 years ago asked him to make a movie about Sister Mui, he agreed right away before considering in detail its difficulties. He joked that if he was a few years older he might not have so easily agreed. "Looking back now, this was a very meaningful lifetime project, the entire team was very involved. We wouldn't often have the chance to make a biography film, so we had to grasp the opportunity. At the time we didn't think about how enormous the difficulties would be, after we began we realized that we had to face a lot of challenges."
The challenges that Longman Leung talked about, aside from choosing the right actors and bringing back the past Hong Kong, included how to concentrate Sister Mui's 40 year long life into over two hours. Longman Leung said that he spent a lot of time and effort on it. "Our team first listed Sister Mui's 40 year experience from childhood to adulthood. Finally we decided to use 4 main stories, including her family with her sister (Ann Mui Oi Fong), her friendship with Gor Gor (Leslie Cheung Kwok wing), her mentors and friends in her career like Eddie (Lau Pui Kei) and Mr. So, how Capital Artists records cultivated her, and in the end two romances of Sister Mui. After deciding on the directions, we knew how to tell the story."
Longman Leung said that a biographical film was like a story of an uprising. On the foundation of facts the film also contained some creative elements. "The emotions in the story are real. Drama appeared in the events that happened within, but we believed that when Sister Mui faced disappointment and hardship, or even between her friendship with Gor Gor, they indeed had similar conversations like the ones in the film."
Speaking of the film's 3 young actors, Louise Wong Dan Nei, Fish Liew Chi Yu and Terrance Lau Chun Him, Longman Leung had nothing but praise for them. He was also grateful that Sister Mui and Heaven permitted them to find Wong Dan Nei. Although it was her acting role, she still put a lot of effort into playing Sister Mui's spirit. When they decided on Wong Dan Nei, they then decided on other characters' actor choices and chose the pairing with the most chemical reaction. "Very early on I already noticed Liew Chi Yu, I have always really wanted to work with her. After we decided on Wong Dan Nei, I thought of Liew Chi Yu. Later when I chatted with her again, I learned that actually she was an older sister too. In a lot of aspects she matched up with the role very well. Before the production began we arranged for many activities for them to get familiar with each other. The sisterly love they performed in the film moved me. As for Gor Gor Cheung Kwok Wing, I told the team I wanted to find the most handsome one in Hong Kong. The assistant director team then suggested Lau Chun Him. He too had to audition twice. From certain angles he resembled Gor Gor, but I still told them, this wasn't an impersonation contest. I hoped that they would be able to capture the spirit of the two superstars, or magnify where their resemblance lie. Lau Chun Him had a type of artist determination and sentimental side, this part he was very much like Gor Gor."