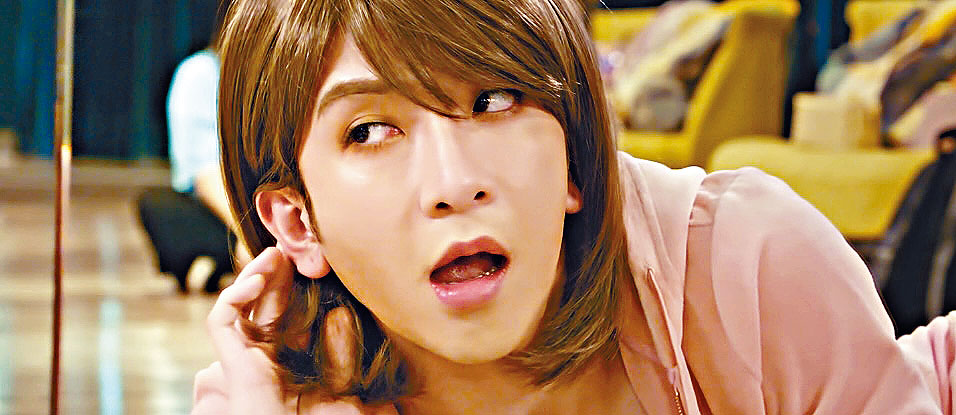 OMG! The Cult Leader is playing with "her" hair
courtesy of singtao.com
courtesy of on.cc
MIRROR member "Cult Leader" Anson Lo Hon Ting landed the male lead in his first debut. The youth comedy SHOWBIZ SPY (GA MO NUI TUEN) will open on November 25th. Yesterday the latest video was released, the Cult Leader threw away his idol baggage for his first led in a movie. He had to play a security guard and fight. The most exciting of course was disguising himself in order to join a girl group, wearing a wig and big bust to play a cute young girl.
The Charlie Wong Wing Fung produced, Keian Chui Tze Yiu directed and written young comedy SHOWBIZ SPY not only starred Anson Lo but also Chloe So Ho Yi, Summer Chan Chi Huen, Heidi Lee Ching Yi and Alina Lee Yan Yi, as well as guest stars ERROR member 193, Patrick Tam Yiu Man, MC $OHO (So Chi Ho) and Andrew Lam Man Chung. In his first lead film role Anson Lo in the film gave his all, not only training hard for his martial art action but also disguising himself as a girl to go undercover.
Anson Lo this time had to overcome his mental obstacle, undoubtedly it was a huge challenge to his psychological quality and acting. In the latest trailer, Cult Leader had many fight scenes and even had to play a girl. His naked performance at the end even shocked the viewers' eyes. In the film he also showed off his dance skills. Leaving his idol burden behind, in the film he was even misunderstood for being a cross dressing pervert. Anson Lo on and off scene had no hesitation and performed extremely professionally. He also did not hesitate to show off his body for the film. Aside from benefiting the audience, how much effort would Anson Lo contribute to the role could be seen.
The female leads held their own as well. Aside from the choreography they also had to handle many action scenes. Heidi had to break a bottle, Summer and Chloe demonstrated their leg skills, and Alina displayed her dance skills and action scenes. The audience conceivably would have plenty to watch.