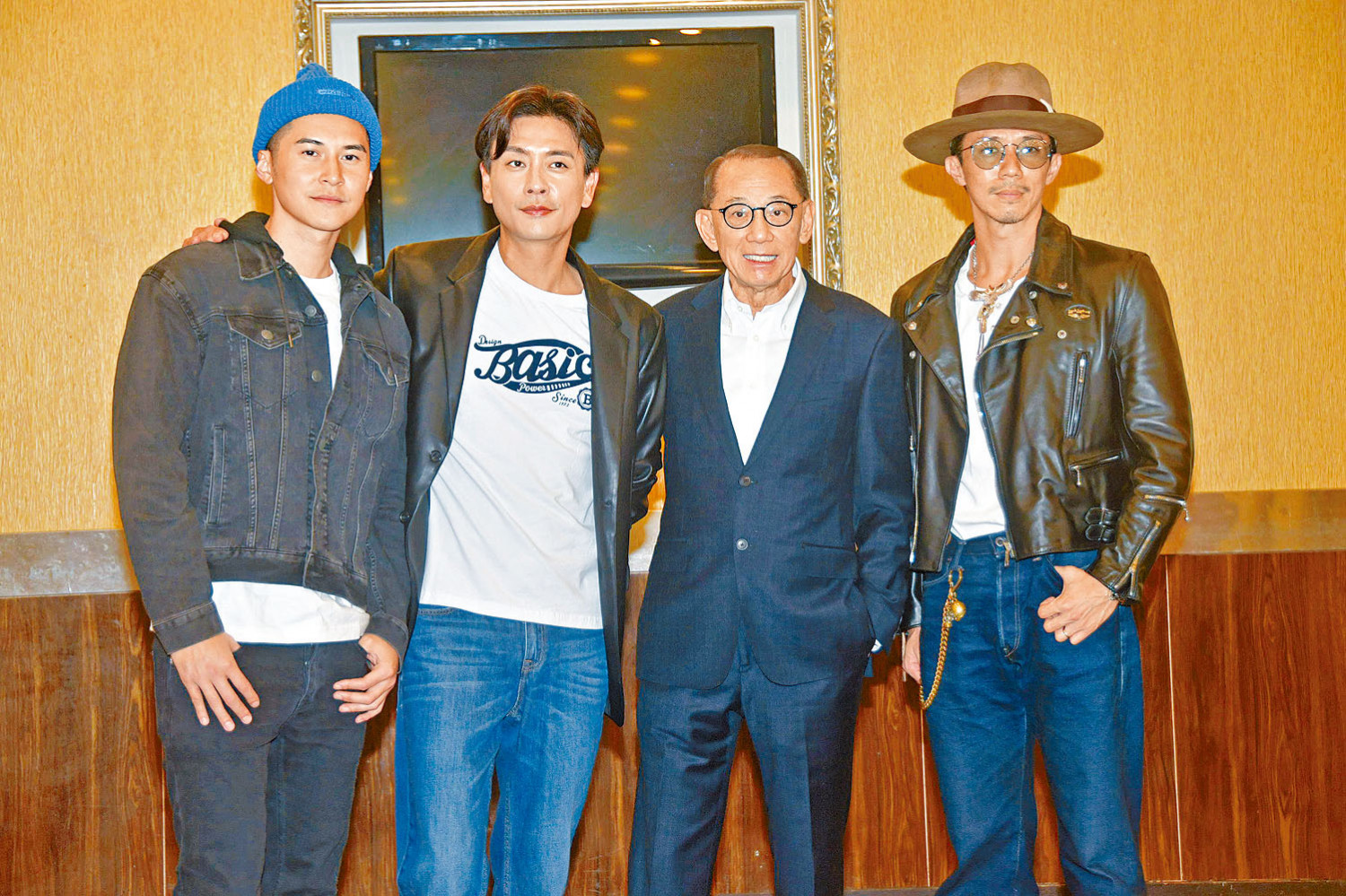 Carlos Chan, Bosco Wong, Albert Yeung, Louis Cheung at the TRIAD 2 production start ceremony
courtesy of singtao.com
Bosco Wong, Carlos Chan and Louis Cheung talk about being chased
Niki Chow and Michelle Wai
courtesy of on.cc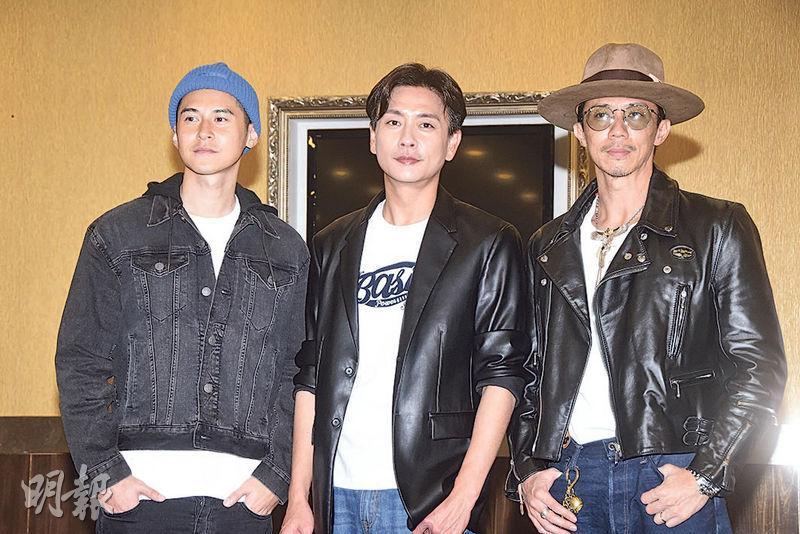 Carlos Chan, Bosco Wong and Louis Cheung star in TRIAD 2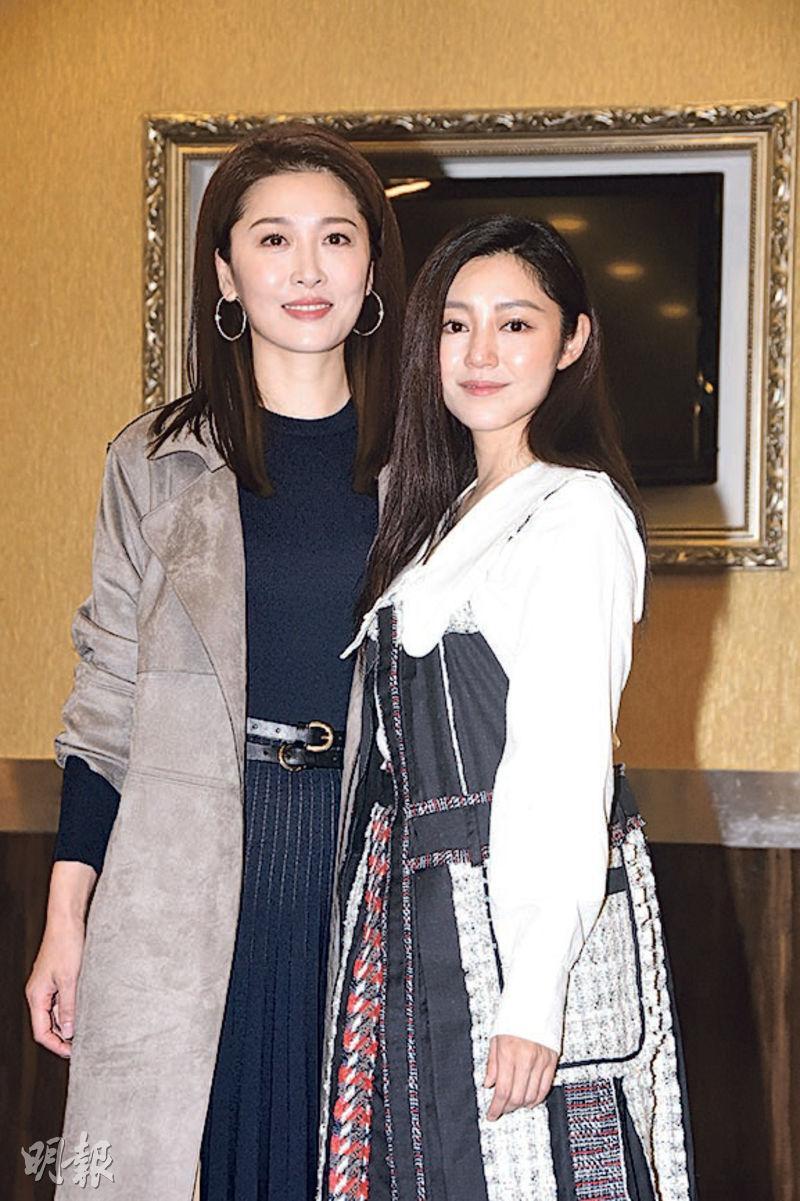 Niki Chow wants to bring her son to the set and Michelle Wai offers her babysitting services
courtesy of mingpao.com
The film TRIAD 2 (JAT JIK 2) yesterday held a production start ceremony. Investor Albert Yeung Sau Sing led the cast that included Bosco Wong Chung Chak, Carlos Chan Ka Lok, Louis Cheung Kai Chung, Niki Chow Lai Kei, Kent Cheng Juk Si, Melvin Wong Kam Sun, Kenny Wong Tak Bun and Michelle Wai Sze Nga to the worship and roast pig cutting ceremony. Bosco this time would play a "Wise Guy" and have his share of chase and fight scenes. The "sprinting" scene even gave him foot pain for two full days. The rarest part of this role was that it had no romantic scene with any actress, his first in his film career!
In this film, Bosco, Chan Ka Lok and Cheung Kai Chung played three brethren who grew up together but had different personalities and destinies. Started as small time thugs, they rose in the mob and thus led to various troubles. Yesterday Bosco wore a leather suit and jeans in a 90's look. He joked that he never thought he would still be able to play a "Wise Guy". In the film the three brethren had their share of fight scenes, chased and fought a big group of people. The three brethren even fought with each other. Cheung Kai Chung said that he had the most action scenes. "Because the previous film also had fight scenes, before the old wounds healed new ones accumulated. Everyday I got 'prizes' home, so now I still need acupuncture!"
Earlier the three brothers shot a chase scene and a big gang fight on the busy streets of Tsim Sha Tsui. From dark to light they shot for a dozen or so hours, after they kept chasing cars, jumping bridges and "sprinting", Bosco said that although he was not injured his foot hurt for two whole days. He even pointed out that Cheung Kai Chung was used to running the full marathon, so during the shoot he would tell them to run a little slower. Ah Chung joked that normally he jog, this time he had to run extremely fast. After his run his hip hurt just as much. As for Ka Lok he said that when they shot that scene that night, online chat rooms already posted photos of their chase. Someone in white shirt being chased and two brothers protected them. "After seeing the photos, I realized that the person in the white shirt was me. I don't blame them though, because earlier in that place they had struggles over a car so people would make up a story like this. I didn't leave a message to clarify. I didn't want to destroy the story the wrote, haha!"
In addition, Bosco and Ka Lok in the film did not have any romantic scenes with actresses. Bosco joked, "It really is the first time in my acting career, really without any romance with an actress. I really never would have guessed!" Instead Cheung Kai Chung and Wai Sze Nga in the film played husband and wife and could be romantic.
Chow Lai Kei in the film played Wong Kam Sun's daughter and Wong Tak Bun's wife, connecting all the characters in the film together. This role was also the type that she has never played before. On the surface she was harmless, but whenever she ran into a problem she would act. The role felt like it had layers. "Actually today is my first day at work. Earlier I was already looking forward to it very much, like a little student waiting for school to start!"
Chow Lai Kei yesterday before coming to work had to face her 1 and a half year old son, who was crying because he did not want her to leave. She said, "I can't say I won't miss him, Mommy is watching him for me. In addition since he was born to now I raised him. It is time for me to return to work and we have to gradually separate a little!" She also said that her son was making baby sounds and beginning to crawl and walk. While the stage has been very fun, she was also afraid that he could get into danger. So she would keep an eye on him even more.
Wai Sze Nga said that this was already the fourth time she has been coupled up with Cheung Kai Chung. This time she would be pregnant in the film. Yesterday she asked Chow Lai Kei for advice so she would be able to get into her role more. Chow Lai Kei even told her that pregnancy during the pandemic was a little different from the ordinary situation. Constantly being at home was rather dull. During the pregnancy she often had contraction pain. Wai Sze Nga who always liked children would like to have one. As for when it would be her turn to share childbirth advice, Chow Lai Kei told her to keep trying and cheer for her. Wai Sze Nga said, "Actually this time you and I won't have scenes together. Why don't I go to your home to babysit your son while you are at work? When I look at the family photos you share, your son is very cute!" Chow Lai Kei answered, "That's good, he really liked pretty sisters, but you should still hurry up and have one of your own!"