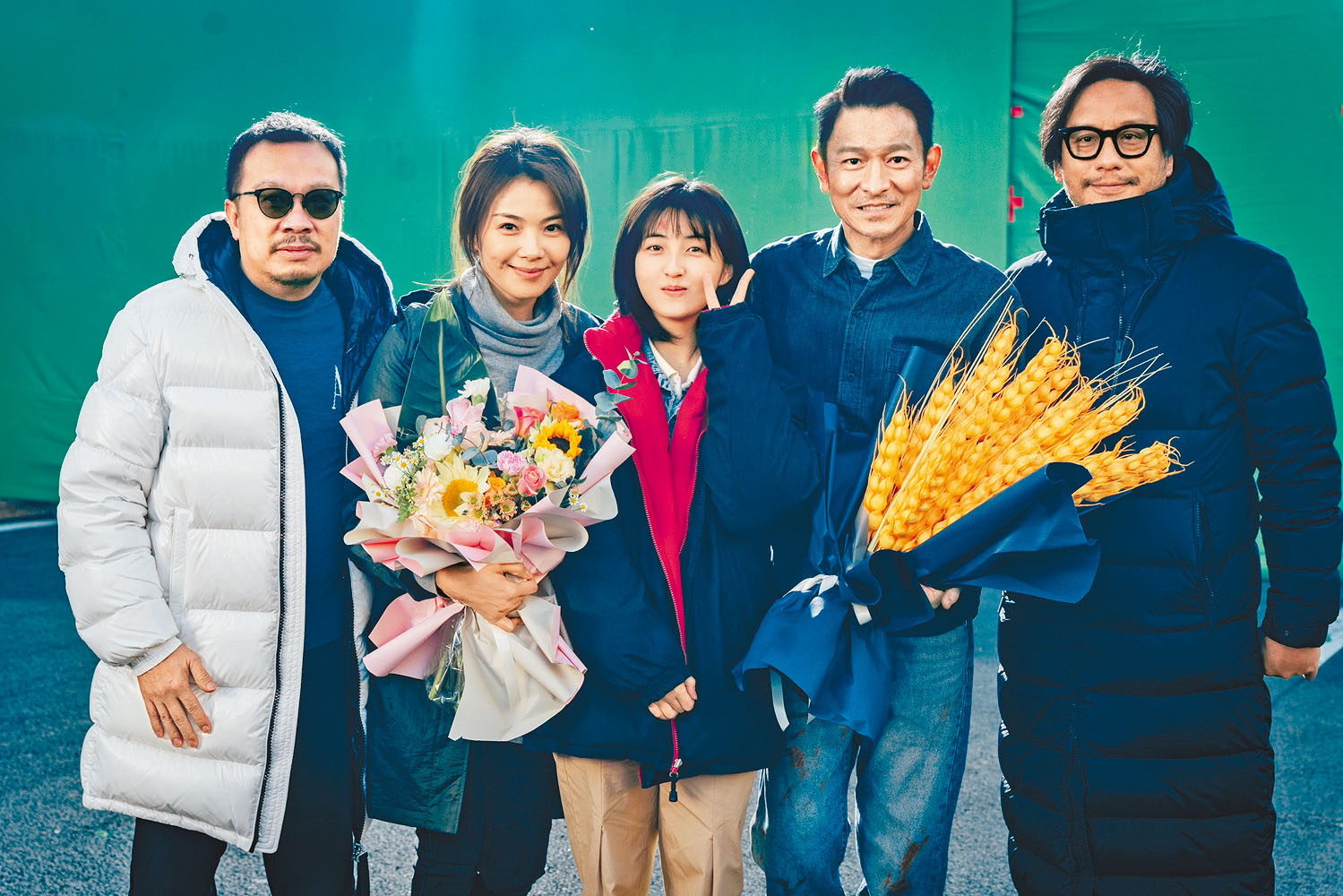 Producer Daneil Lam, Liu Tao, Zhang Zifeng, Andy Lau, and director Oxide Pang
courtesy of singtao.com
courtesy of mingpao.com
The Andy Lau Tak Wa produced and starred, Oxide Pang Chun directed air crime film NGAI GEI HONG SI (CRISIS FLIGHT) officially announced its production wrap in Qingdao. In he film Liu Tao played Wa Jai's former wife, Zhang Zifeng played Wa Jai's daughter. The cast have been together for almost two months for the production and were reluctant to part. Wa Jai said that Liu Tao and Zifeng already felt like family.
When the production began, Wa Jai and Zifeng's first "father and daughter" collaboration garnered a lot of attention. During the actual shoot their performance was full of spark. This pair of "father and daughter" in the film teamed up to battle brains and brawn against the enemies, while off cameras he was a mentor and a friend. The interaction was very warm and interesting.
Speaking about this collaboration during the wrap, Wa Jai said, "This time Zifeng and I had great chemistry as father and daughter. Zifeng, Liu Tao and I on the set often needed to cooperate and coordinate with each other. After a long period we are already very familiar, we really feel like a family of three."
Director Pang Chun said, "The action designs in the film took a lot of thought. Many stunts needed to be completed in limited space like the seats, runway, bathroom, air ducts, and ceiling in order to add ot the challenge and risk. They also inspired everyone's creativity." Many actors said that because of shooting action scenes between the seats, when they got into character they would inevitably trip and get hurt. Everyone had many bruises and minor wounds, but in order to make the action scenes even more smooth and crisp, exciting and intense, they felt it was worth the effort.
"China's first air crime film" would be about the hijacking of the largest triple deck luxury plane A380's maiden flight. The Wa Jai played father and Zifeng played daughter would team up against the hijackers tens of thousands of miles in the air. The film company made 1:1 scale A380 triple deck cockpit. The upper level had first class, duty free shop, restaurant, beauty salon, massage room, the middle level were the business and economy class, and the bottom level were the luggage storage, meal preparation area -- a perfect replica of the "five star hotel of the air". Because the film's main location was within the plane, the film did not change the scenery. Thus the film started production on September 28th and wrapped in less than two months. While the production went very fast, the post production conceivably would take a very long time.