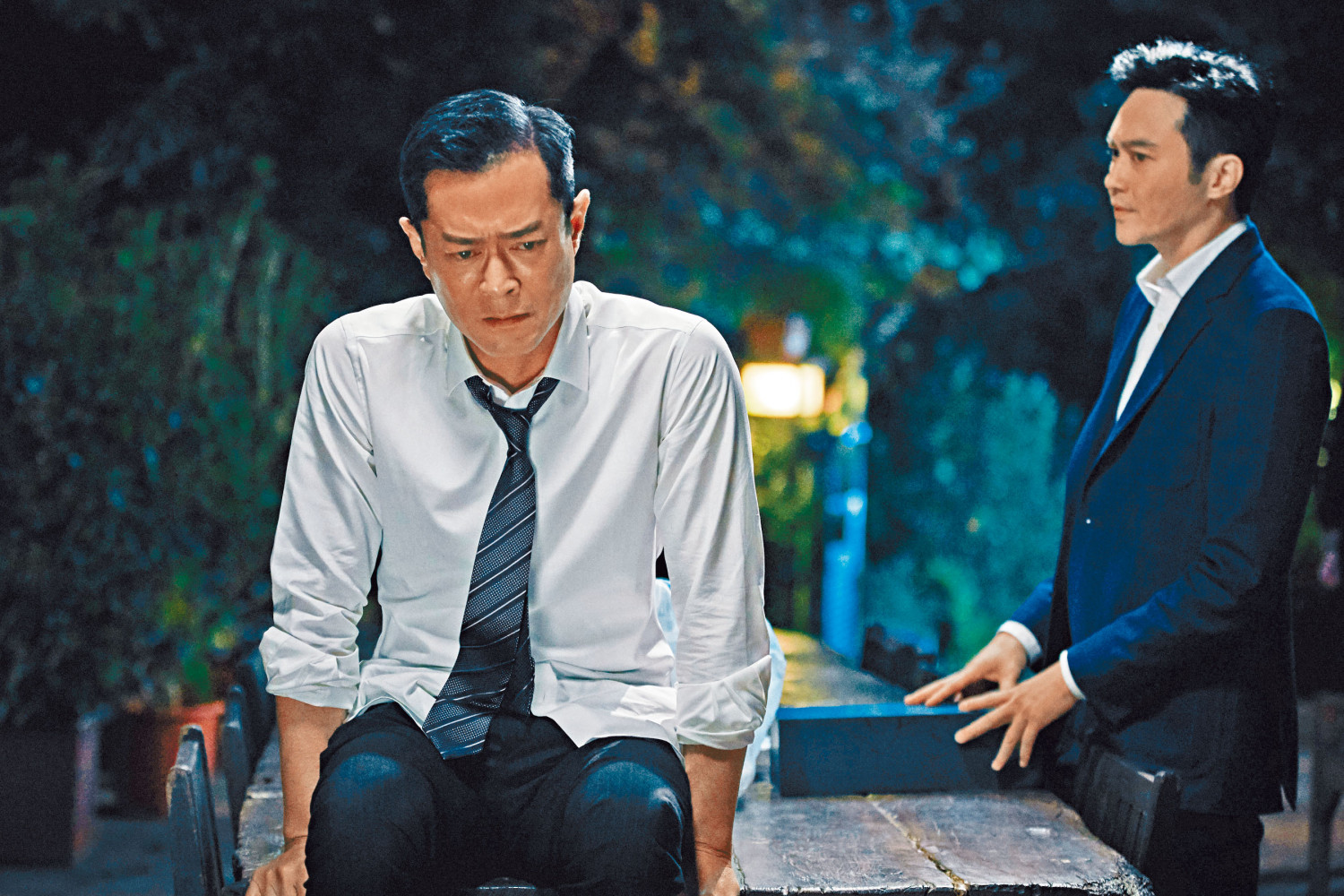 Louis Koo sheds tears for those lost in the film
courtesy of singtao.com
courtesy of on.cc
The Louis Koo Tin Lok starred, David Lam Tak Luk directed anti-corruption film series finale THE G STORM (G FUNG BO) yesterday released its trailer, previewing even more gun fights and explosion scenes than its predecessors. Koo Tin Lok this time broke down in tears as he lost those around him because of him.
The Raymond Wong Pak Ming produced, Lam Tak Luk directed THE Z STORM, THE S STORM, THE L STORM, THE P STORM and this New Year's Eve release finale THE G STORM wrapped up 5 films in seven years. The release company Mandarin Films yesterday released THE G STORM trailer. The top ICAC investigation supervisor who has been in all five films, Koo Tin Lok this time faced an unprecedented crisis. Playing a G4 agent, Julian Cheung Chi Lam in order to protect Jessica Hester Hsuan (Suen Huen) engaged a gun fight with the criminals in the busy streets; fellow ICAC investigator Kevin Cheng Ka Wing was stuck between a rock and a hard place, having to choose between his brother Bosco Wong Chung Chak or justice.
THE G STORM's main plot was about an international human trafficking group investigation. The case involved the Hong Kong Department of Immigration and other government department, more and more people as the investigation went on. The finale aside from Koo Tin Lok, Cheung Chi Lam and Cheng Ka Wing also added Suen Huen, Wong Chung Chak and Malaysian Best Acor Rosyam Nor, as well as Louis Cheung Kai Chung, DaDa Chan Jing, Michael Tse Tin Wa, Janelle Sing (Xia Yan), Dick Liu Kai Chi, Lo Hoi Ping, Eddie Kwan Lai Kit, Eddie Cheung Siu Fai, Wilfred Lau Ho Lung, Deon Cheung Chung Chi, Toby Chan Ting Yan, Cheung King Yan and others.
In THE G STORM trailer, the finale had even more action, gun fights, highway car chases, explosions scenes. This time it even shot around the busy streets of Tsim Sha Tsui near the Cultural Center and the Space Museum, with over 100 extras to make the scenes even more explosive. In the trailer Koo Tin Lok's character would suffer an emotional trauma, getting teary eyed over the loss of those around him. A broken hearted Goo Jai said, "People around me seem to die because of me." Director Lam Tak Luk also said that this finale would even more powerful guns and weapons than its predecessors. "This time used as many bullets as the first to the fourth films combined!"
Tse Tin Wa and the new added judge Suen Huen played key roles this time. Tin Wa was suspected as the mastermind behind everything. Over the phone he asked, "Are you really I am naive enough to think I can be innocent?" In another scene Suen Huen replied, "I feel you are even more naive!" They seemed to have quite a connection; G4 agent Cheung Chi Lam would carry the important task of protecting Suen Huen and engaged in a series of gun fights. Customs agent Wong Chung Chak asked his brother Cheng Ka Wing, "Cheng Sir, are you suspecting me?" Cheng Ka Wing asked, "Where did the money come from!" Cheng Ka Wing this time would fall into choosing between family and justice.