courtesy of on.cc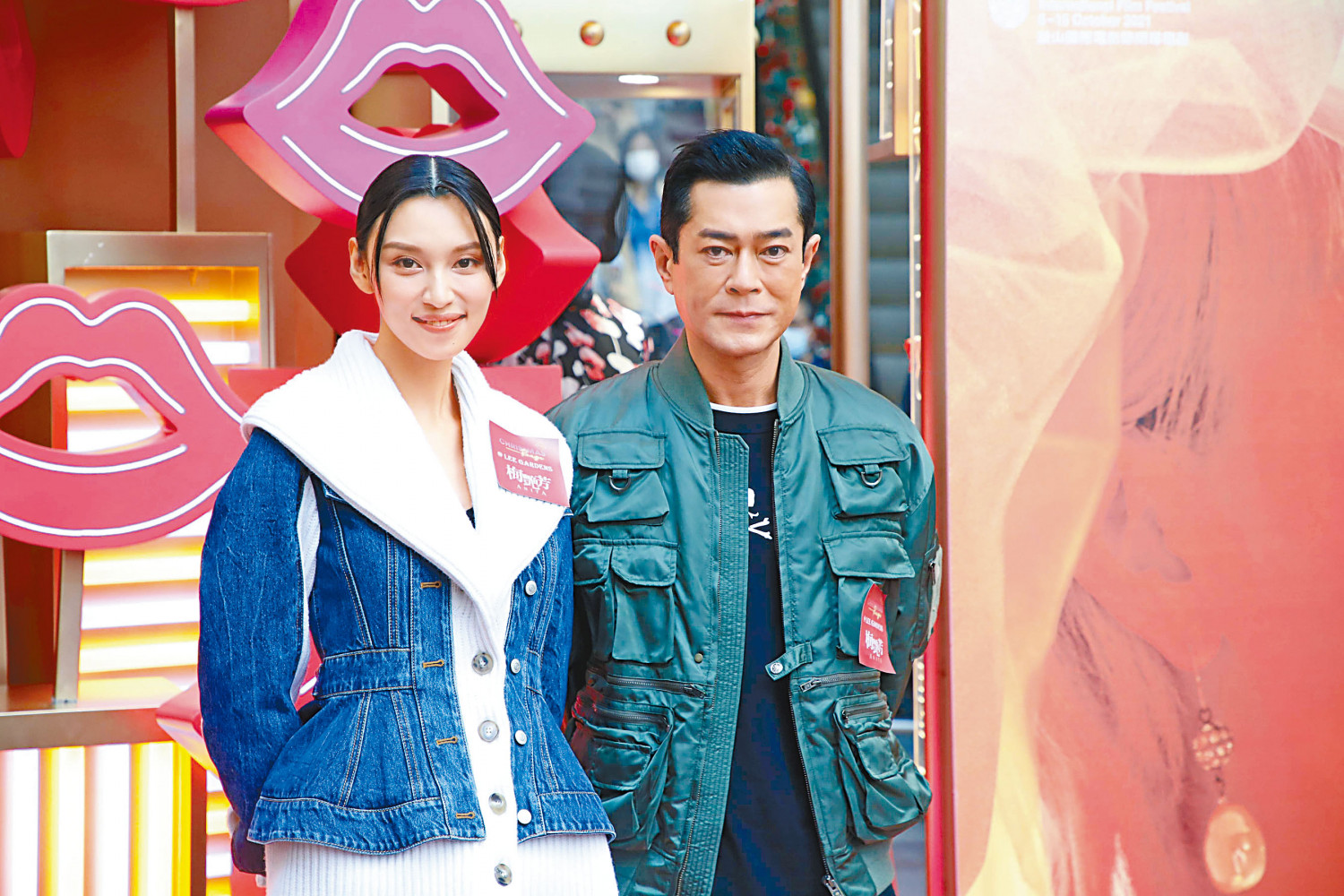 courtesy of singtao.com
courtesy of mingpao.com
Louis Koo Tin Lok, Louise Wong Dan Nei and director Longman Leung yesterday attended the "Lee Theatre Presents Christmas Rouge X Anita" unveiling. On display were a series of promotional photos that photographer Wing Shya (Ha Wing Hong) shot for the film ANITA. At the event Goo Jai and Wong Dan Nei shared the person that they wanted to thank the most in their careers. Goo Jai said that he wanted to thank his parents while Wong Dan Nei wanted to thank her elder who studied design and encouraged her to become a model, only then did she have the opportunity to play the role of Mui Yim Fong.
The Goo Jai and Wong Dan Nei starred ANITA has opened for more than two weeks and already passed the HK$ 40 million mark. Goo Jai was surprised as well. He asked, "Really? I am very surprised, very pleased!" He said that he knew on regular days many people still went to watch the movie. He only watched it once because he had to work recently. His Mommy has seen it as well. Although she did not cry from it, she praised how entertaining it was. As for Papa because he was less mobile, he has not seen it yet. However his friends have booked shows to watch it. Would Goo Jai like the box office to go higher? He said, "I only want to make entertaining movies that viewers would like s well. I haven't thought about the box office as much. However I have never had so many people who watched this film around me, maybe everyone around me was from that era and they had a lot of memories."
Wong Dan Nei said that she has seen the film many times. Her family has shown its support too and praised how entertaining it was. Each time she watched she has been moved to tears. Because many spots had memories and sentiments, she used many packs of tissues. Did the hardship drive to her tears? She denied and said, "I had a mission to play this role well, it was worth all the hardship." Speaking of her first film already making her a HK$ 40 million box office star, she admitted that the number was very encouraging. It was all the hard work from the entire team and it encouraged her to keep working hard. Has Goo Jai lent a hand to the younger generation and asked Wong Dan Nei to make a movie? Goo Jai said, "I have heard that many movies have approached her, I would consider any actor with potential." Wong Dan Nei revealed that earlier she volunteered for comedy. Goo Jai said, "Really?" Wong Dan Nei said, "That's why it was funny."
Goo Jai felt that comedy would not be easy to make and require a lo of personal style. The timing had to be precise and the person had to be creative, knowing which spot to cut in. Sometimes they would stop right in the middle of coming up with an idea, thus Hong Kong very rarely made comedy. The script was very hard to come up with, unless it would be for the Lunar New Year. However he agreed that the current climate would be suitable for more comedy.
With Christmas on the way, Goo Jai said that recently he has been busy with an action film. Wong Dan Nei also said that she would have to work and hoped to be able to make time to have a big Christmas feast with her family.