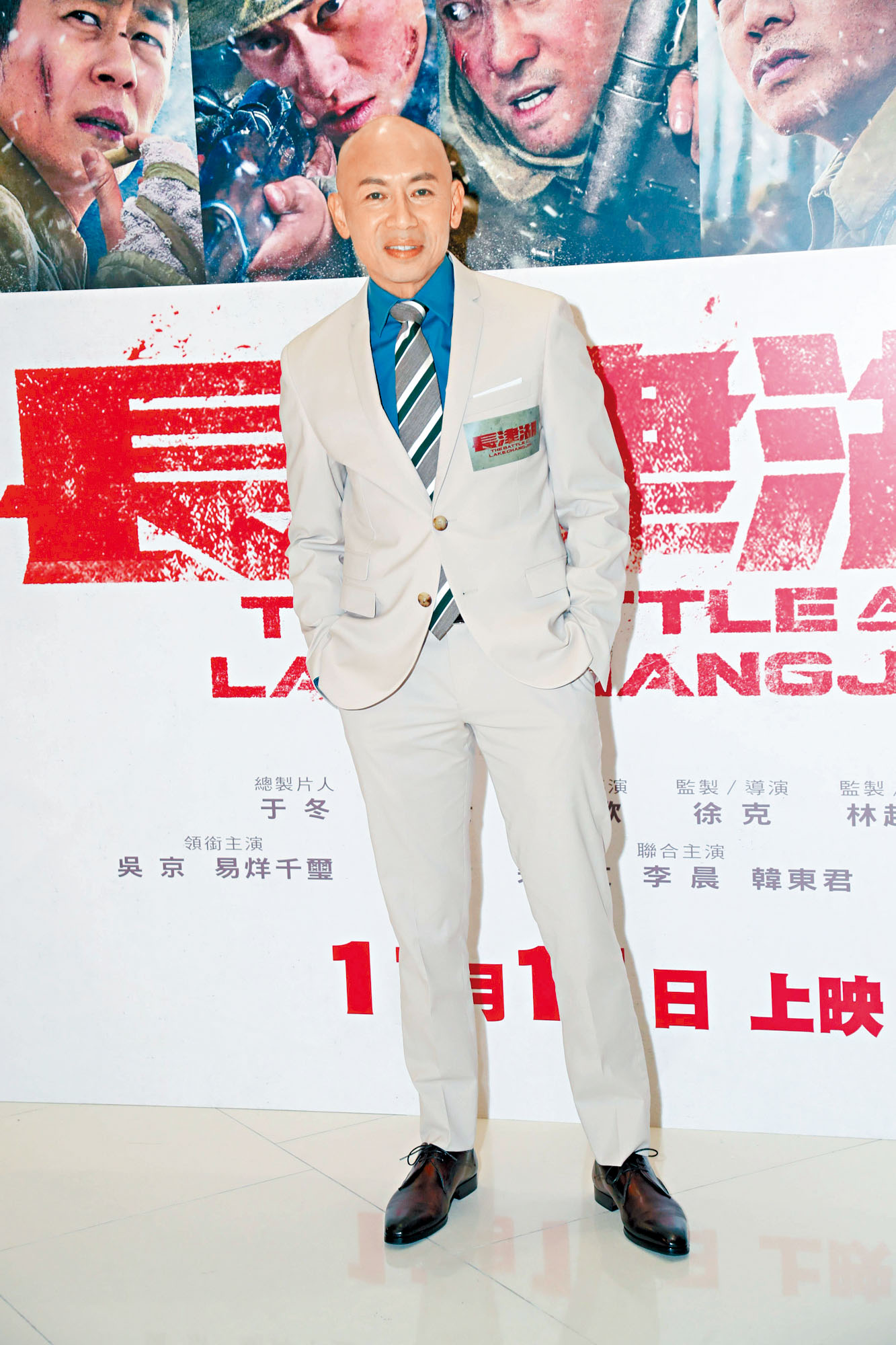 Dante Lam says that the continuation of THE BATTLE OF LAKE CHANGJIN is planned for a Spring Festival release next year
LAKE CHANGJIN directors Dante Lam, Chen Kaige and Tsui Hark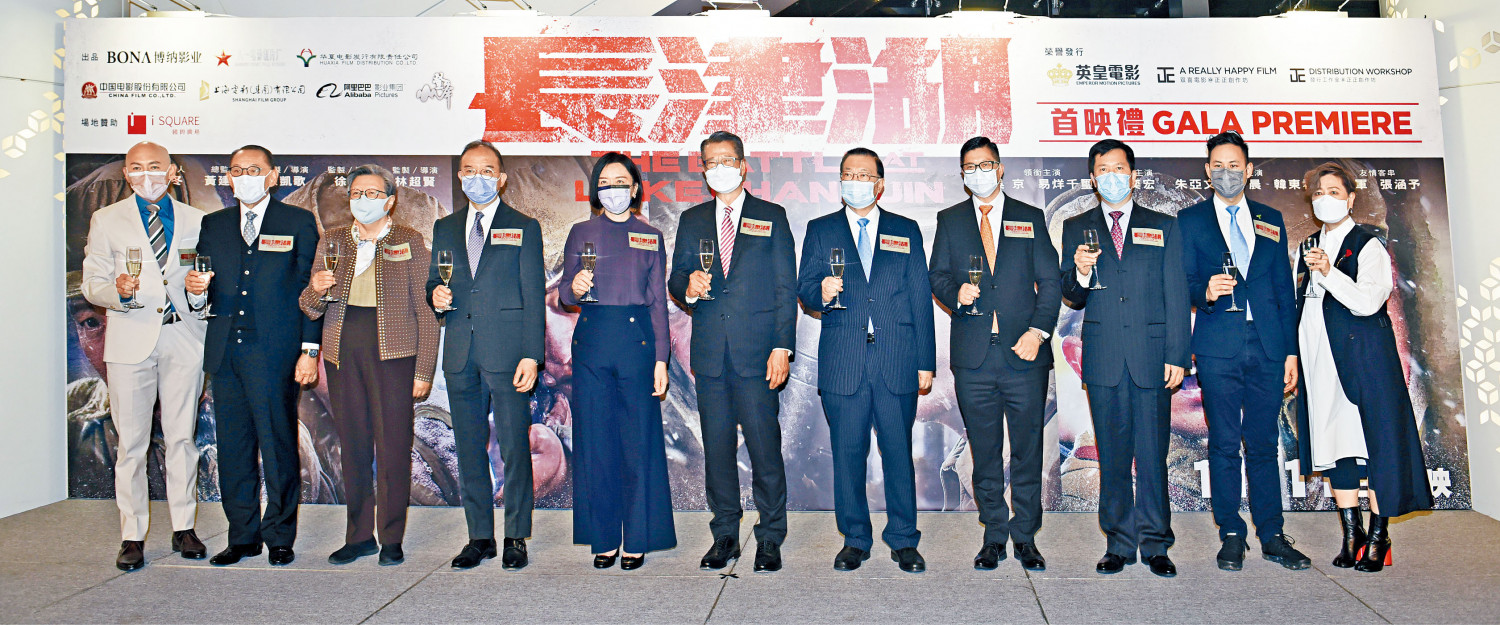 Dante Lam (left), Albert Yeung, various government officials, Alex Yeung (second right) and producer Leung Fung Ying attend the Hong Kong premiere of THE BATTLE OF LAKE CHANGJIN
courtesy of singtao.com
WATER GATE BRIDGE
Emperor artists attend the premiere
Macy Ma admires Michell Wai's determination to lose weight
Niki Chow tries to fight for work in Hong Kong to avoid before separating from her family
courtesy of on.cc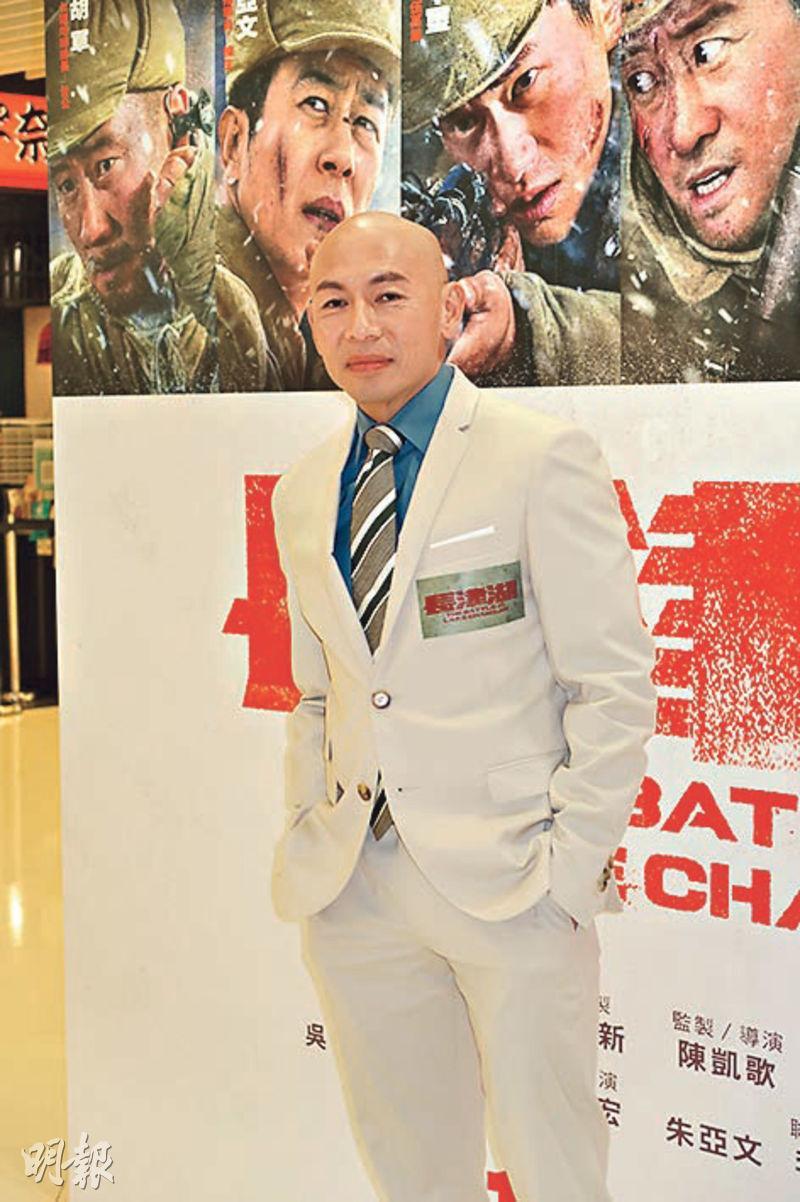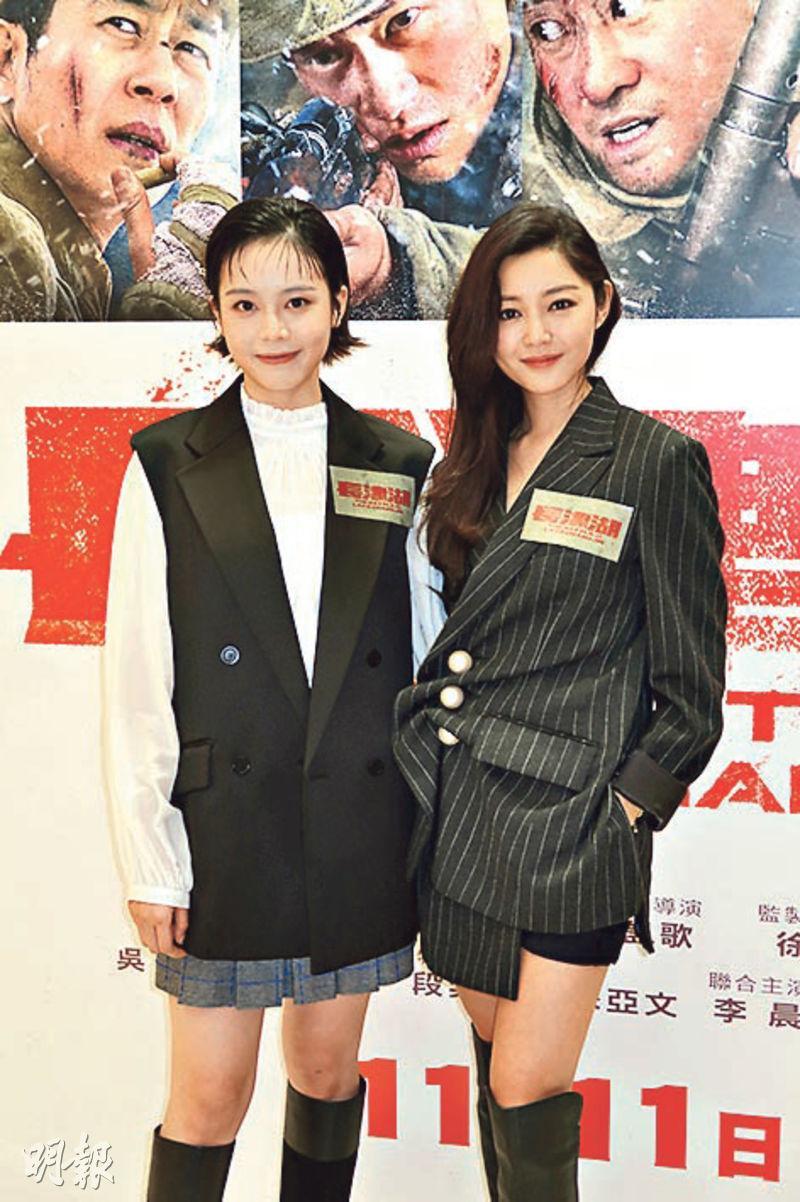 courtesy of mingpao.com
The Chen Kaige, Tsui Hark and Dante Lam Chiu Yin directed film THE BATTLE OF LAkE CHANGJIN two nights ago held its Hong Kong premiere in Tsim Sha Tsui. The film since its release has made over 5.6 billion yuan RMB to become this year's highest grossing film globally, second only to the top film in the Mainland box office history WOLF WARRIOR 2 with over 80 million yuan. Lam Chiu Yin joked that if he knew he would not have taken a salary and joked that he would rather fight for profit sharing. Although the boss has said that he would give a home to him, since he did not accept it before he would not accept it this time either.
Emperor group chief Albert Yeung Sau Sing, executive director Alex Yeung Ching Lung, Cally Kwong Mei Wan, Niki Chow Lai Kei, Michelle Wai Sze Nga, Macy Ma Sihui, Vincy Chan (Wing Yi) attended the premiere.
Lam Chiu Yin was surprised by the film's performance, and joked that if he knew in advance, he would not have taken a salary. "The good box office may be related to its release date. Originally scheduled for an August release, due to the pandemic it was postponed to October 1st. This time was relatively better. In addition the film after a week already made over 2 billion yuan, it was rather unexpected. (Would you get a bonus?) Please help me with getting online to fight for it. The boss said that he would give a home, but since I didn't take it before, this time I wouldn't take it either."
Some said that LAKE CHANGJIN would be in two parts. Lam Chiu Yin admitted that another film about the Water Gate Bridge incident would be released. "It's not a sequel, but another story with the original team. We have already completed production, but we don't know when it would be released. Hopefully it would be Lunar New Year next year." He also said that the LAKE CHANGJIN production was very tough. Under the 30 degrees below zero Celsius, for 60 nights in a row they shot all night on the mountain and almost sacrificed their bodies for the film. "In February I arrived in the Mainland to work, originally the release was in August. My part had to be done by May. The schedule was very stressful, I fainted and injured my head." On the stage he mentioned that he felt very honored to be able to co-direct with Chen Kaige and Tsui Hark, to have the opportunity to learn from two elders. He also said that they each was responsible for 1/3 of the story. He was in charge of the middle, but before the official shoot they communicated through video conference. Although the shoot experienced snow storms and hail, some of the crew suffered frostbite and even required amputation, however the cast and the crew were very united and completed the film together.
Wai Sze Nga and Ma Sihui attended the premiere. Ma Sihui revealed that she was working on a new film, suffering an injury earlier while working on an action scene. "At the time I had to dodge a punch, but I missed the timing and got hit in the face. I got a little dizzy on the spot, luckily after resting for awhile I was fine." In addition, both expressed interest in a war film. Wai Sze Nga even hoped to have a chance to participate. She joked that she has offered her services to Lam Chiu Yin for many years, but he never used her. Lam Chiu Yin said that he often made men's movie, and joked that even if he made romance it would be a life and death romance. He hoped to have the chance to try it in the future. Chow Lai Kei at the premiere mentioned that her son Morris is already 1 year old and she has been able to go to work at ease. Later she would work on a new film in Hong Kong. She joked that she had a destiny with water. Each time when the temperature dropped she had to work on a scene in the water. She stated that she would ask the director to shoot the water scene as soon as possible. Would she miss her son while working on the film? She said, "If I leave Hong Kong for work then I would miss him, but the new film would be shot in Hong Kong so I would be OK. After work I would be able to see him. While at work Mommy takes care of him. Hubby just left Hong Kong for work. Due to the pandemic many families had to be separated between two places. Nothing we can do about that." Speaking of LAKE CHANGJIN, Niki said that she liked to watch war films. She never thought that it would be released so soon in Hong Kong. She also said that she has played undercover roles before, if the chance presented itself she would like to participate in this type of movies. She said, "My husband constantly makes this type of movies. He always says that the shoot is very tough. If the shoot is tough, you can imagine how much tougher the actual situation was back then."
Both LAKE CHANGJIN and WOLF WARRIOR 2 starred Wu Jing, who kept setting his own box office records. Yeung Sau Sing praised him as a publicly recognized all purpose, a director, producer and actor in one with super strong box office draw. He really admired this rare performing art talent and looked forward to working with him on an Emperor Motion Picture and making even more critical and commercial hits. He even revealed his intent to bring Wu Jing to work with Nicholas Tse Ting Fung since INVISIBLE TARGET. "We produced and distributed the Chan Muk Sing directed RAGING FIRE, in which Ting Fung exceeded expectation with his fighting. Although Ting Fung didn't come from a martial art background, with his hard work and never quitting spirit, he kept fighting better and better. I feel he can be Jackie Chan's successor and a new generation representative figure in Chinese action films. I am actively trying to match Wu Jing to work with Ting Fung again. I believe the audience like me would look forward to it."