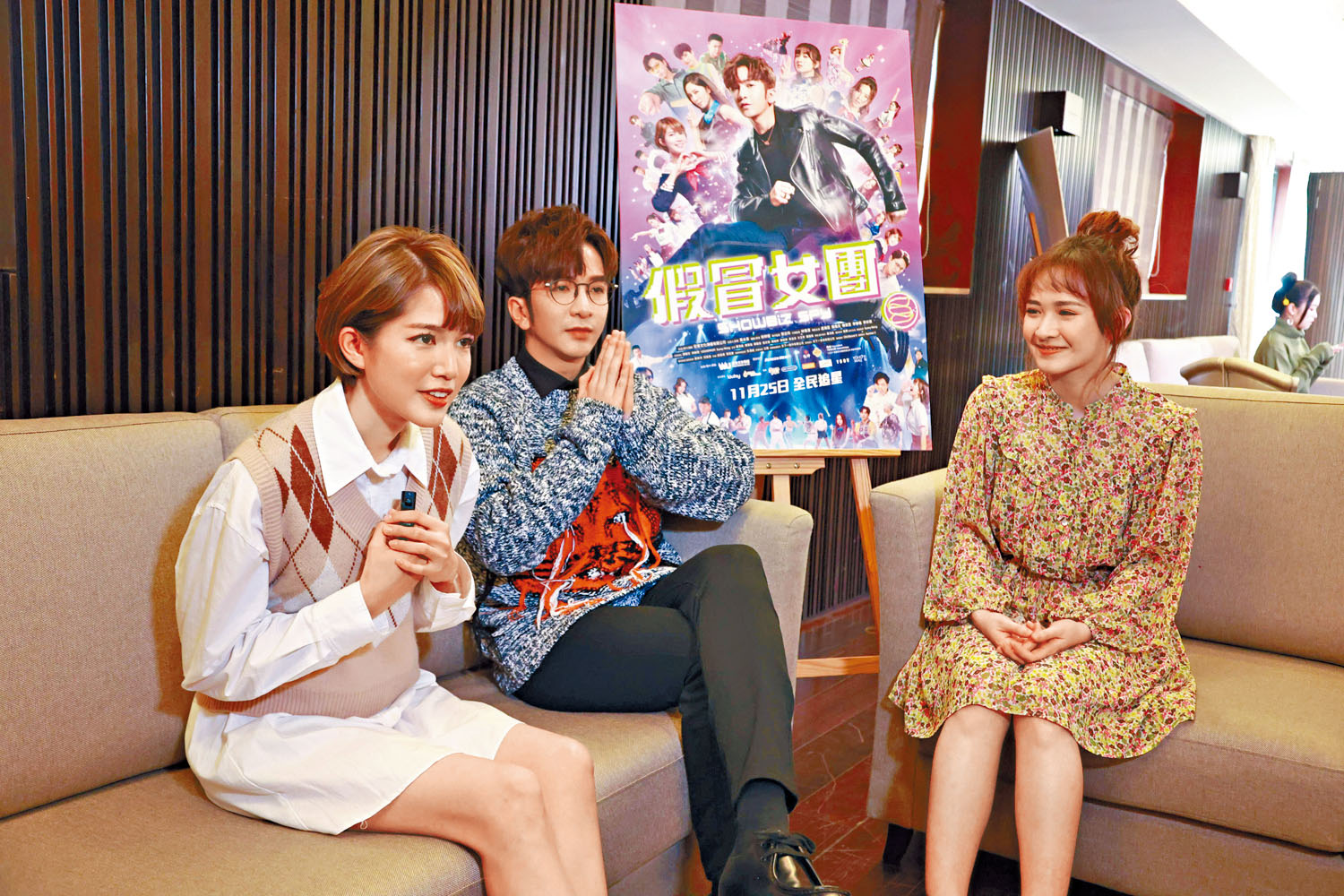 After working together on SHOWBIZ SPY the stars also become good friends
courtesy of singtao.com
"Cult Leader" Anson Lo Hon Ting's big screen debut made him a new film star. Normally a rather active idol singer dancer on the small screen, this time in the film he put on a female disguise. As a goddess his charm remained, his gorgeous disguise even earned him pretty girl praises. Co-star Chloe So Ho Yi revealed that Cult Leader had a "warm guy" presence and she was under his spell.
Anson Lo, So Ho Yi and Summer Chan Tze Huen starred in the youth film SHOWBIZ SPY completely let go of his idol baggage and daringly took the challenge of the role. His female disguise in the film even praised his two co-stars' praise, Cult Leader however awkwardly said, "I of course feel it isn't pretty, they say it is. However I have already done my best, I hope it wouldn't make anyone very nauseous. Because the female disguise can easily bring a type of resistant feeling." So Ho Yi joked that she enjoyed Cult Leader's visual experience as a girl. Seeing him in a wig, half covered appearance and higher voice, she thought he was funny. Suddenly becoming a woman was an enormous challenge for Cult Leader, and also made his realize that the pain of a woman with the fake eyelashes, eyeliners and such. The make up alone required several hours, the long hair in particular was very tough as it constantly covered up his face.
Playing the role in a light and exaggerated manner, Cult Leader said that his personality was solid in real life and he was no comedy expert. So Ho Yi praised him as a "warm guy". She was once upset at her own performance. When she was disappointed, Cult Leader attentively greeted her, "Out of 100 how upset are you?" He was very concerned about everyone. His first lead role gave Cult Leader a lot of pressure. He thanked producer Charlie Wong Wing Fung and director Keian Chui Tze Yiu for their trust and asking him to play the lead. He deeply remembered on the first day of the shoot, after the concert without any sleep or rest for 72 hours he went straight into work. He said, "That day was very blurry. I just got home at 5AM, after a shower I left for the shoot. Behind the camera I really fell asleep right away. As soon as I took my mark I was awake again. Thinking back I was pretty tired, but I already did my best."
Everyone have witnessed MIRROR's past performance in music, now Cult Leader is fortunate enough to become a rising film star he did not dare to hope for an award. He humbly said that he was only a rookie in acting. "I don't have the qualification or room to think about awards. I am already very happy with getting to work." For his debut, he would like to share it with brother Jer Lau the most. He even joked, "I asked him if he would get a ticket to support me, he said that he wouldn't. I was very heartbroken, but I would want to invite him to watch. In the past half a year I learned that Jer was very interested in acting. We had the common topic of acting to discuss." Cult Leader said that he even hoped for all 12 MIRROR members would be able to make a movie together, working with brothers would feel very secure.
So Ho Yi and Chan Tze Huen worked with Cult Leader, which would certainly become a hot topic among Disciples. They once worried about the fan reaction. So Ho Yi said, "Lo and I would rehearse in a tiny space, we are only ordinary friends. Fans probably won't be jealous." Cult Leader said, "Would they immediately cut ties with me? No, everyone know it's acting. Seeing such professional actors, viewers would have professional insight." They both fell under his spells like fans. Chan Tze Huen said, "Meeting him on the first day Anson Lo only spent a hour to catch up with all the choreography for the day. Actually a guy who knows how to dance is very charm(ing)." So Ho Yi felt that Cult Leader is both an idol and an actor. On and off screen he had different charm.