Miss Chinese International Hera Chan (Hong Kong)
Hera Chan has a mishap on the hula hoop
Second runner up Stephanie Wang (Hawaii)
Second runner up Gina Wu (New York)
Miss Friendship Tavee Meesang (Bangkok)
Morgane Yueng lands in the top five
Lisa He
Stitch Yu
Louisa Mak
Sammi Cheung
Karl Ting (left) asked candidate Kitty Huang for her Intergram during question and answer
All the awards were presented by last year's winners except second runner up. Juliette Louie was absence so Joe Ma presented in her place.
courtesy of on.cc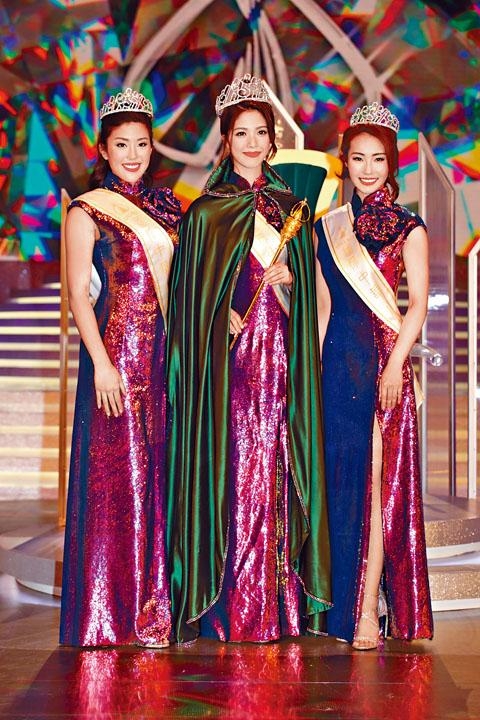 courtesy of singtao.com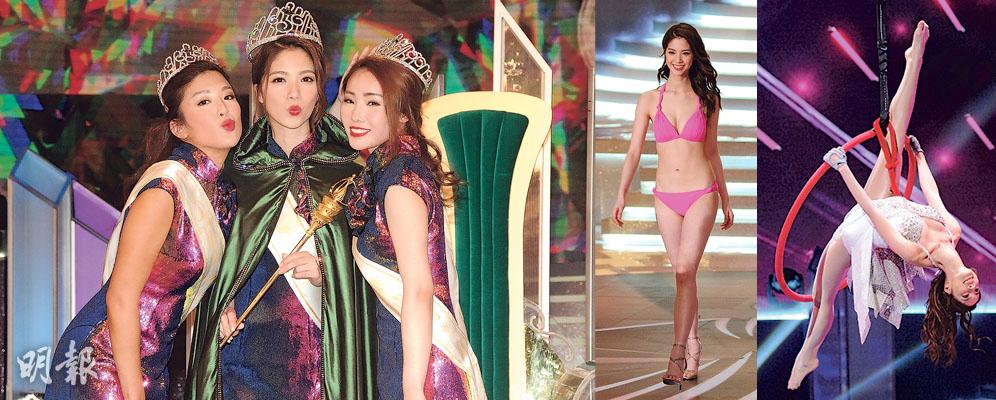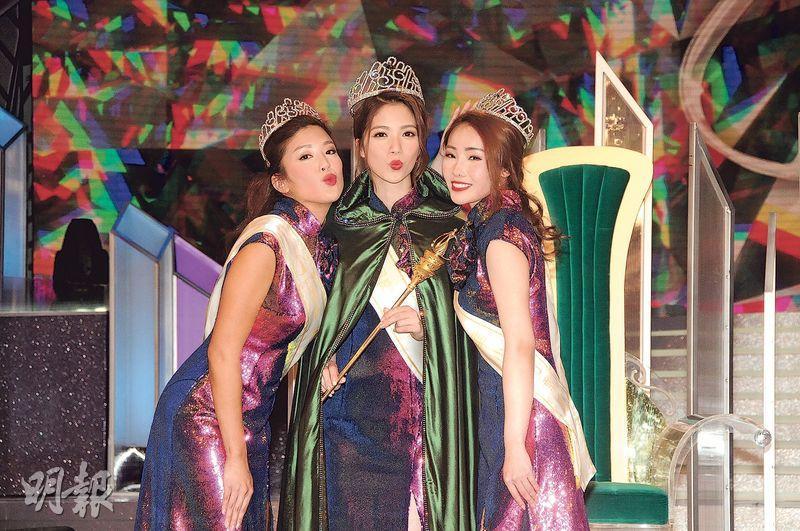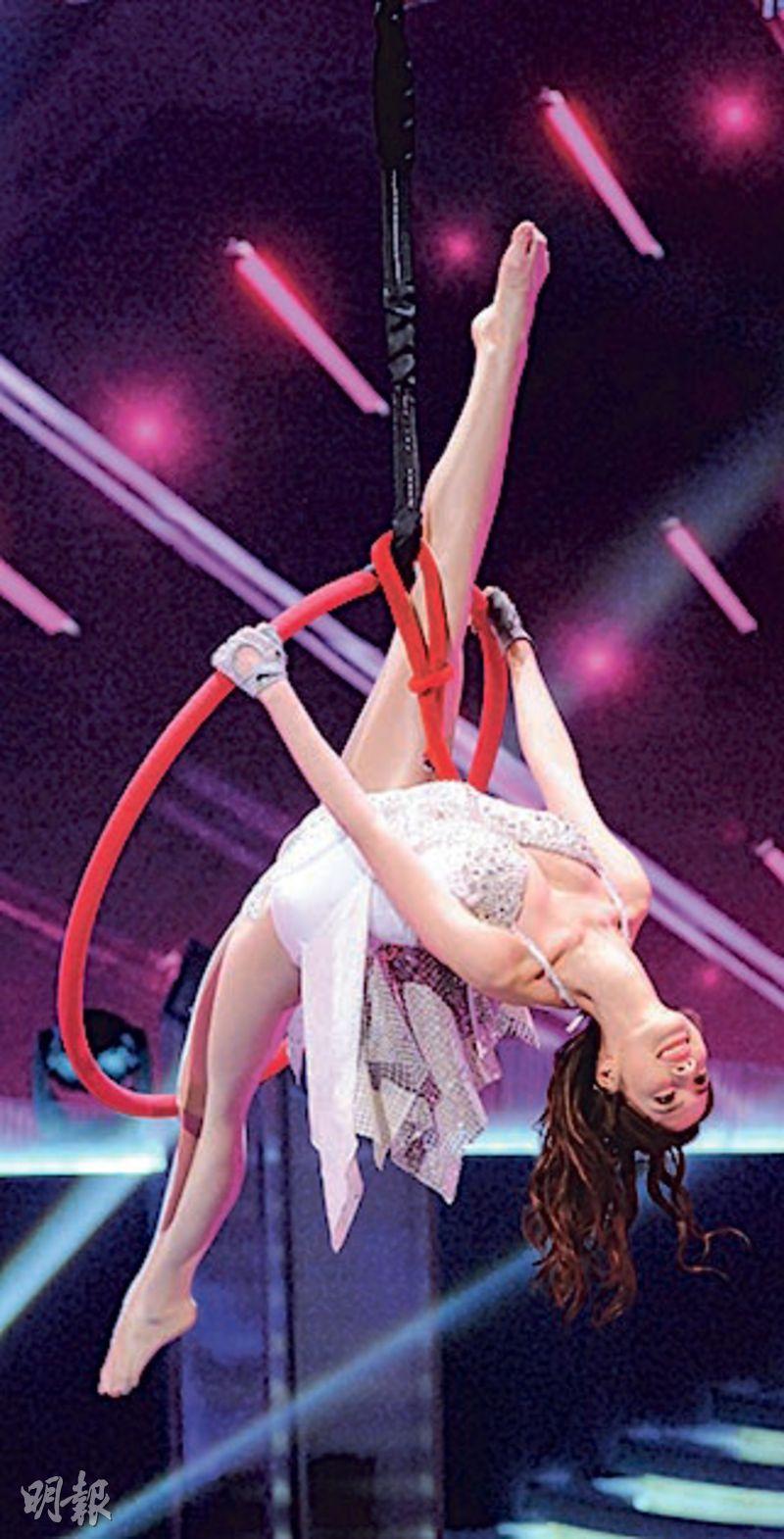 Hera Chan
Hawaii's Stephanie Wang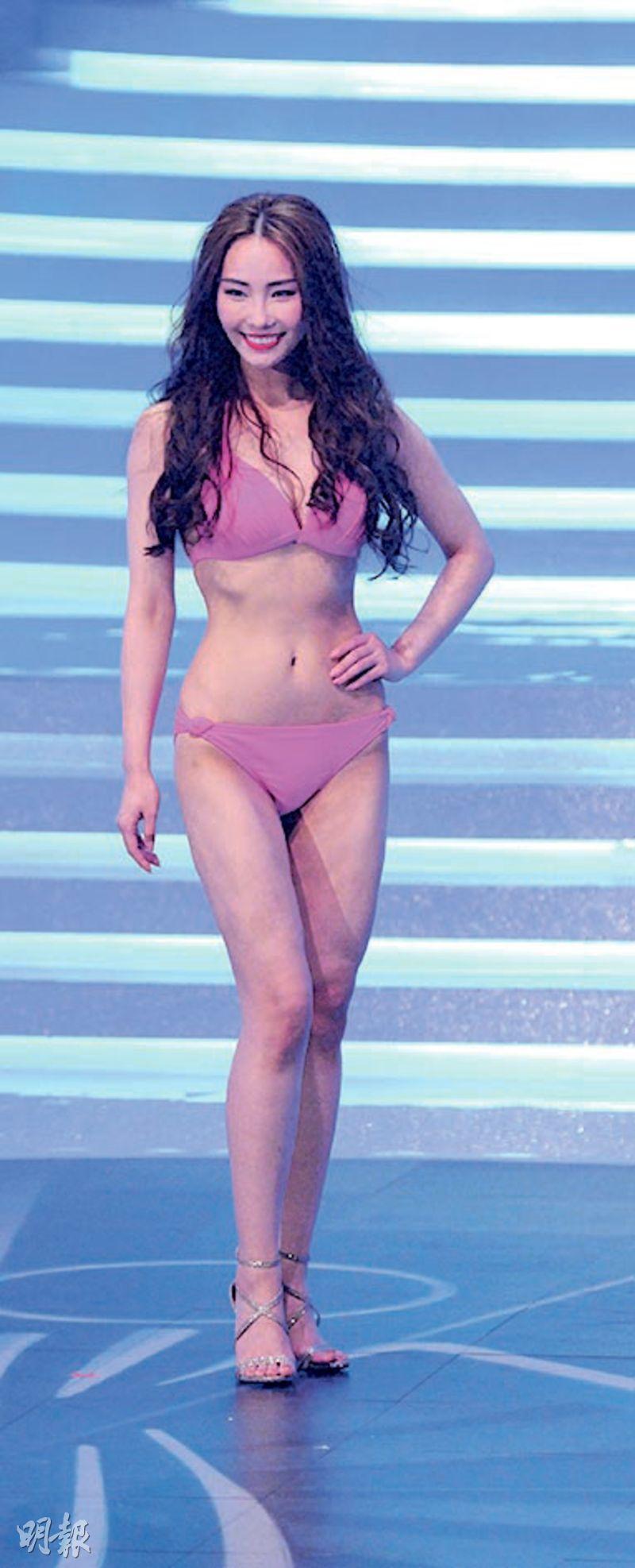 New York's Gina Wu denies having a tattoo and claims it is a birth mark. The event asks her to cover it up with make up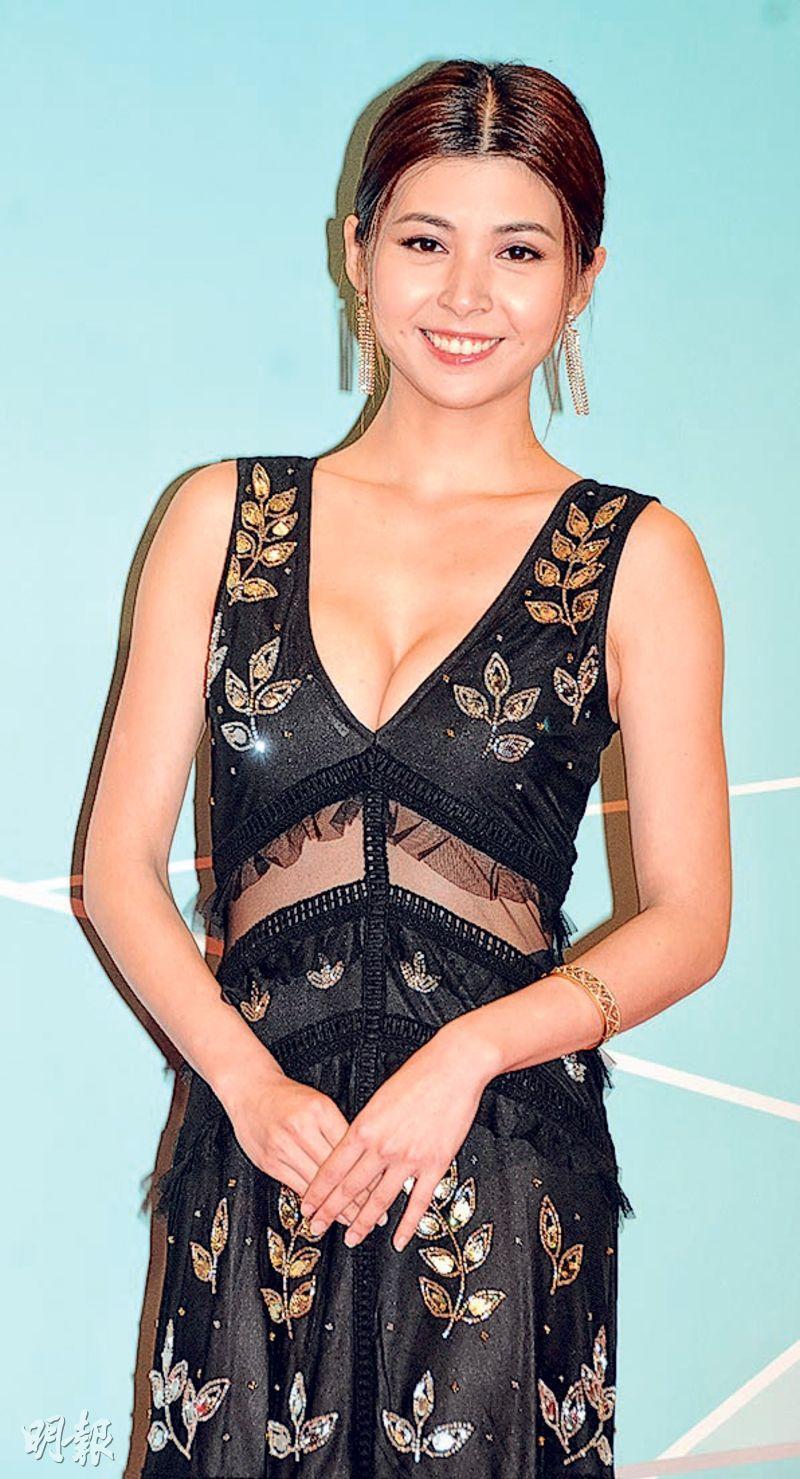 Sammi Cheung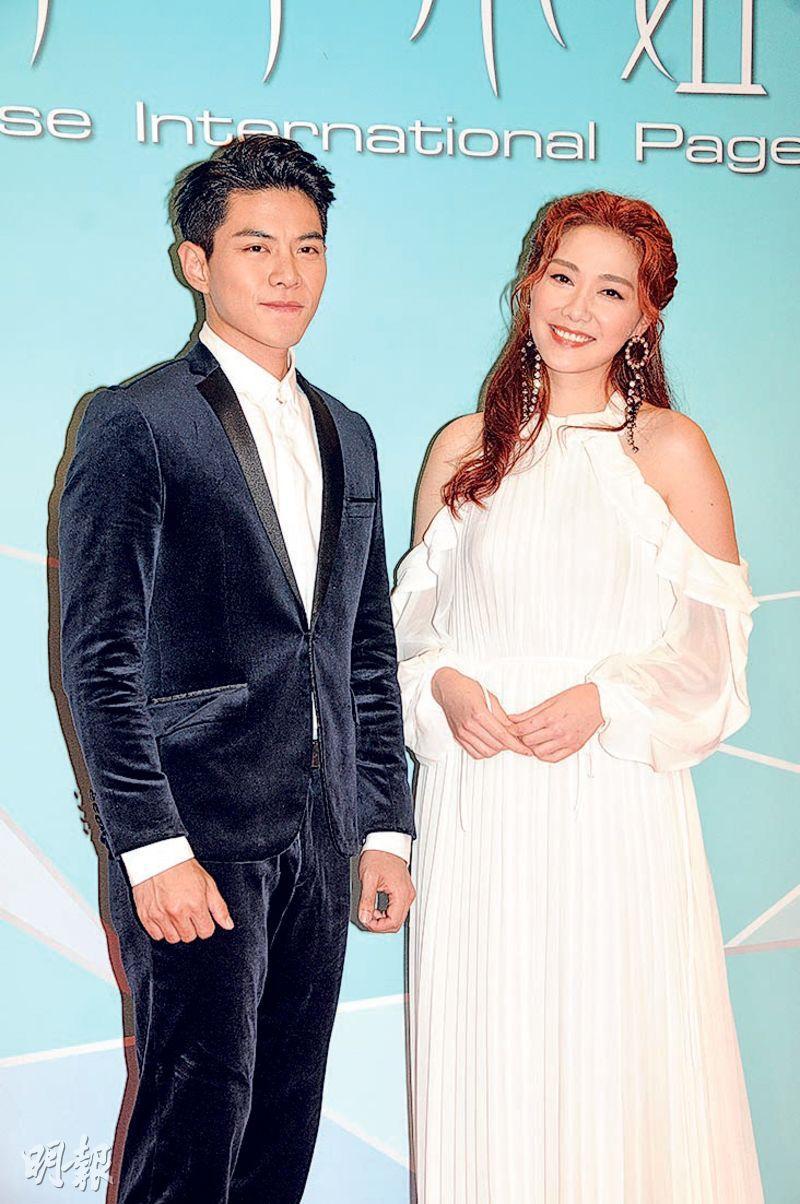 Joey Law and old flame Roxanne Tong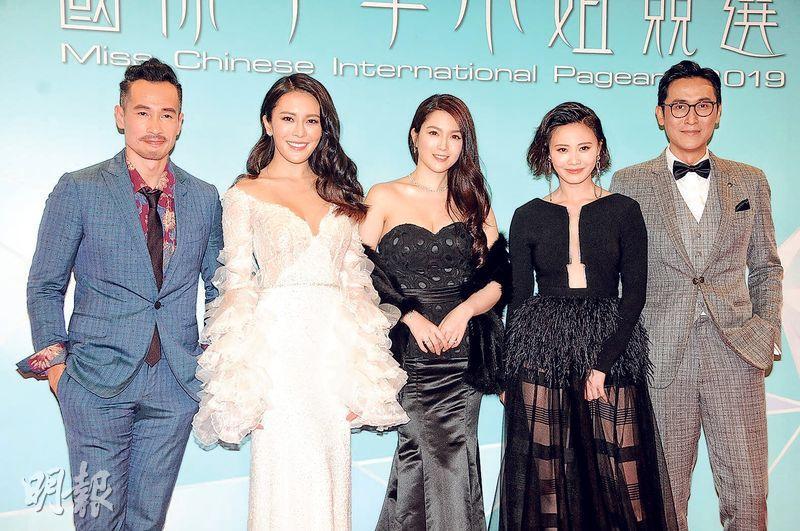 Moses Chan, Kelly Cheung, Christine Kuo, Rebecca Zhu and Joe Ma form the "diamond jury"
Rumored couple Dickson Yu and Sisley Choi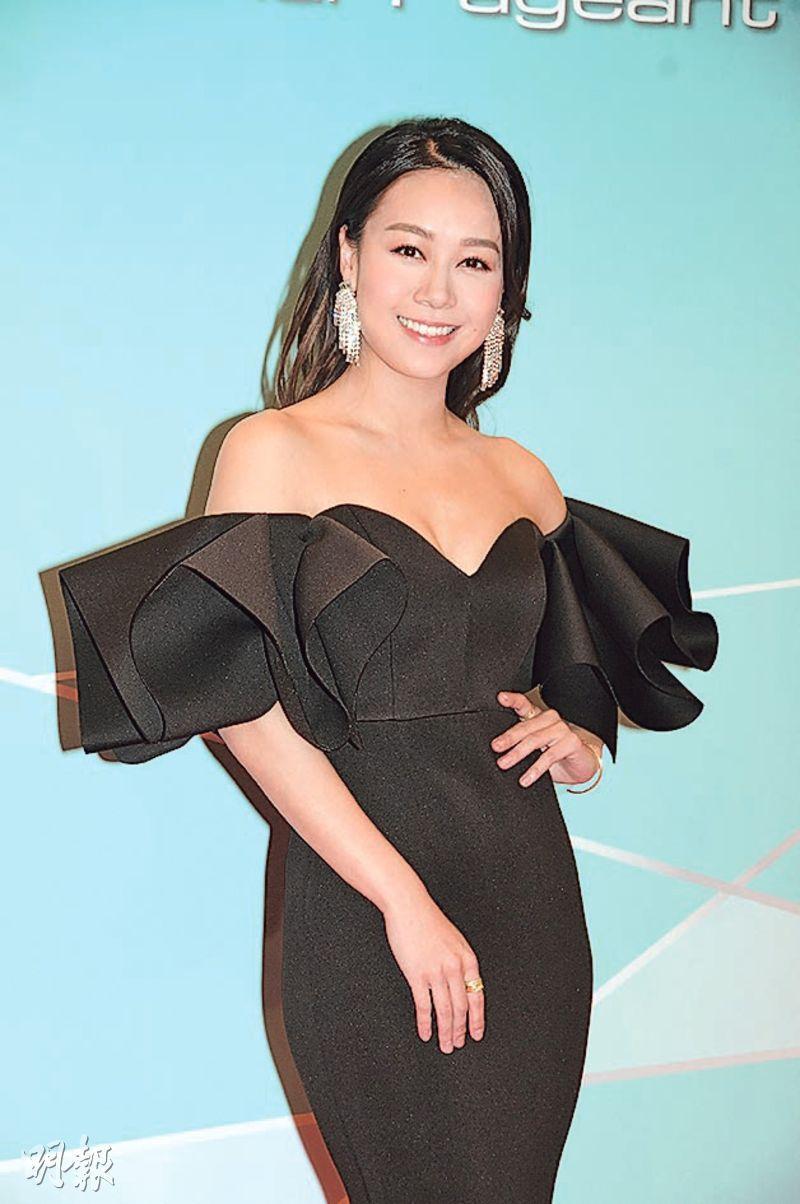 Jacqueline Wong
courtesy of mingpao.com
The 2019 Miss Chinese International pageant took place last night at the Tseung Kwan O Television City. The winner was the candidate 5 Hera Chan (Hong Kong), first and second runner up were candidate 4 Stephanie Wang (Hawaii) and 13 Gina Wu (New York). Hera Chan was the fourth Miss Hong Kong to win the title after Michelle Reis (Lee Ka Yan), Sonija Kwok Sin Nei, Grace Chan Hoi Lam. "Miss Friendship" went to candidate 1 Tavee Meesang (Cheng Chi Yi) (Bangkok).
The event's hosts were Louisa Mak Ming Sze, Andrew Yuen Man Kit and Lok Ho Ming. The "diamond jury" included Moses Chan Ho, Joe Ma Tak Chung, Christine Kuo, Kelly Cheung Hei Man and Rebecca Zhu; the "elegance jury" included a group of TVB artists including Tracey Chu Chin Suet, Jacqueline Wong Sum Wing, Sisley Choi Si Bui, Roxanne Tong Lok Man, Sammi Cheung Sau Man, Veronica Shiu Pui Sze, Bowie Cheung, Stitch Yu Si Ting, Ashley Chu Chi Yin, Joey Law Tin Yu, Dickson Yu, Brian Tse Tung Man and Karl Ting Tze Long.
19 candidates appeared in ruby evening gown and introduced themselves, then proceeded to the talent performance. Candidate 4 Stephanie Wang performed the hula dance, 5 Hera Man performed hula hoop in mid air, 6 Jovane Pang played the guzheng, 8 Lisa He (London)'s performed street dance. Then guest performer cyr wheel artist Yang performed 19 candidates in black and white evening wear.
Before the swimsuit portion, the event selected the top ten candidates. The pre race favorite 6 Jovane Pang's contest ended there. 4 Stephanie Wang, 5 Hera Chan, 8 Lisa He, 13 Gina Wu and 17 Morgane Yueng were in the top five. Finally, 5 Hera Chan, 4 Stephanie Wang and 13 Gina Wu were Miss Chinese International, first and second runner up respectively.
Hera Chan said that she never expected to win. She was not fully prepared, especially for the talent portion. She slipped at the start, which made her very nervous. As for fourth Miss Hong Kong and Miss Chinese International double winner, she said, "I really am very happy, very honored. Throughout tonight I really enjoyed the competition. Perhaps earlier during Miss Hong Kong I have stepped onto the stage, I was somewhat used to it. I only slipped at first during the talent portion, which put me in a frown." Did she feel she had a home field advantage for her victory? She said, "Mainly I am very relaxed and familiar with this studio, I have been on this stage before, and this beauty pageant format is similar to Miss Hong Kong's."
Joe Ma and Moses were asked about their judging standards. Ma God said that aside from appearance, conversation and presence were also very important. Presence would be even more important than figure. Would they use their own wives' standards to choose? Moses said, "Resemblance to my wife gets half point more. I haven't officially seen the girls, I just greeted them as I passed by the make up room." Ma Go said that he would not make the selection based on his wife, but he would give more points for real similarity to his wife.
Former Miss Chinese International Christine Kuo came with her husband Lok Hon Yeung. When asked why her husband came along, Lady Kuo joked that because of all the beauties many people wanted to come. Her husband was just like everyone else, as he wanted to appreciate beauty from different nations and regions. Winning the title ten years ago, she lamented, "How many decades does a lifetime have? Looking back I am a little sentimental, so I would cherish this experience very much."
As for her sexy dress, she said that her husband helped her pick it up and joked that during the swimsuit portion he would be too busy to look at her. Her old flame Joey Law Tin Yu was also present. She said that in the make up room she was busy with make up and did not see him. She would greet him if she would run into him because they have their own happy lives.
Chu Chin Suet and Tong Lok Man joked that they dressed conservatively because they did not want to see the candidates' spotlight. Len Tong also joked that because last time they came out people said that they looked like housewives, they had to coordinate what they wore this time. Len Tong also shared the stage with old flame Law Tin Yu for the first time after their breakup, she said that it would not be awkward. They were colleagues and could pose for photos together.
Choi Si Bui and Dickson Yu spoke to the media together. She said that as a woman judge she would be pickier. In addition she competed in a pageant before and knew what was needed at each spot. Thus she would be more stringent during the question and answer portion. She hoped that the candidates would be able to express their own wisdom.